New 2018 Ram 3500 Generates 930 lb-ft of Torque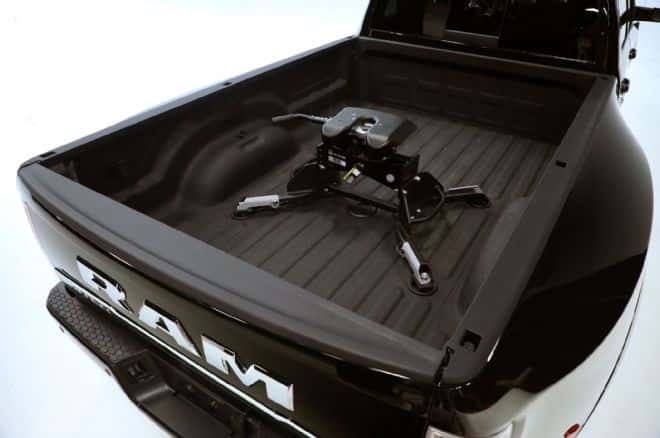 Ram is FCA's strongest brand when it comes torque. To back that up, Ram has created the new 2018 Ram 3500 Heavy Duty pickup truck which has capabilities like no other truck in its class. With a record-setting 930 lb-ft of torque, that's one heck of a truck. It's actually the most torque generated by a pickup truck ever.
Working closely with Cummins, the improvements to the Ram 3500 6.7L Cummins diesel engine include a higher boost limit and increased fuel injection flow rate, that together produce an additional 30 lb-ft of torque over the previous engine. When equipped with the new tweaked 6.7L Cummins diesel engine and a fifth-wheel hitch, the Ram 3500 boasts a towing capacity of 30,000 pounds. We have more information on hitching and loading trailers here. Basically, a fifth-wheel hitch is a hitch that is installed into the truck bed instead of connecting to the truck hitch, located below the tailgate.
"Ram maintains capability leadership by delivering the highest-ever torque rating for a pickup truck and heaviest fifth-wheel trailer towing capacity … We understand the attributes most important to our customers within the heavy-duty segment; they demand hard-working, long-lasting capability." – Mike Manley, Head of Jeep and Ram Brand.
Ever since the Ram brand split from Dodge/Dodge Ram, it has focused on giving Ram trucks a distinct identity that focuses on what their customers find valuable. This has led them to earn many awards, such as best-in-class gas towing (16,320 pounds on the Ram 2500), best-in-class fuel economy with the EcoDiesel (29 mpg on Ram 1500), and most capable full-size off-road pickup truck (Ram Power Wagon). This new 2018 Ram 3500 is just another shout out to their fans and loyal customers, giving them more bang for their buck and more capability on the road.
Interested in Ram pickup trucks? We have plenty in our inventory for you to check out. You can view our Ram truck inventory online here.
Photo Source/Copyright: FCA Media