Strategic Vision Names Three FCA Vehicles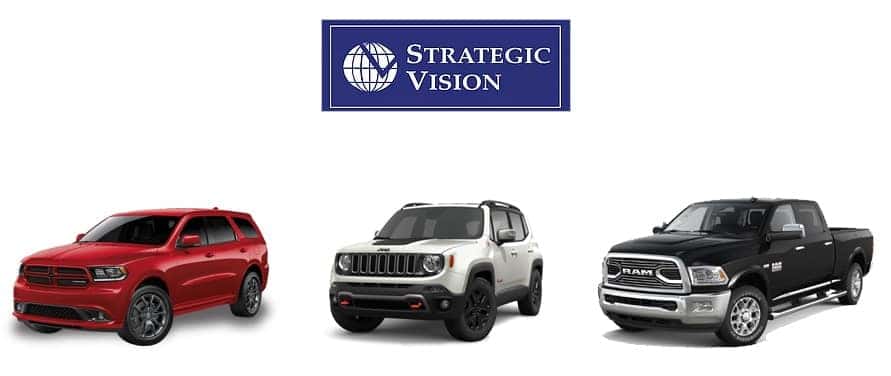 Automotive group Fiat Chrysler Automobiles (FCA) sure beat the competition in Texas during the 2018 Texas Truck Rodeo, taking home more than half of the awards with the 2019 Ram 1500, Dodge Durango, Jeep Grand Cherokee, Ram Power Wagon, and Jeep Renegade. That wasn't enough though. FCA is still out to claim awards, and Strategic Vision answered the call. When it comes to quality, three FCA vehicles were named on Strategic Vision's 24th Annual Total Quality Impact™ list.
Strategic Vision and Total Quality™ Impact
Strategic Vision is a research-based consultancy that has been surveying consumers' decision-making systems for over 35 years. This organization has unique expertise in using ValueCentered® Psychology to identify consumers' comprehensive and motivational hierarchies that impact how they purchase an automobile. Strategic Vision studies a consumers views on the product attributes, personal benefits, value/emotions, and images that drive perceptions and behaviors.
To better survey and study consumers views, a newly enhanced Total Quality metric combines the impact of problems with a vehicle and the drivers' analytical and emotional evaluations of its quality. Going on for 24 years, the annual Total Quality Impact™ (TQI) report is based on results from Strategic Vision's New Vehicle Experience Study® (NVES) surveying over 44,000 new vehicle buyers after 90 days of ownership between July and December.
"TQI shows how people feel about their vehicles in their own words, which reveal valuable recommendations for future products…From how customers are advocating about their products, automotive manufacturers can know where the future of the U.S. market is going." – Chris Chaney, Senior Vice President at Strategic Vision.
Based on the study and the results, the TQI found three FCA vehicles winning their respective segments. The Dodge Durango led the Mid-Size SUV segment, the Jeep® Renegade captured a win in the Entry SUV segment, and the Ram 2500/3500 won out in the Heavy-Duty Pickups segments. Wondering why?
2019 Dodge Durango
The 2019 Dodge Durango was surely a winner for its unmatched combination of utilities, advanced technology, class-leading towing and driving range, confident driving dynamics, and aggressive styling. For the fifth time in the last six years, the Durango has won as the leading Mid-Size SUV, and with 2019 around the corner, it will continue to demonstrate performance and quality.
2019 Jeep® Renegade
No surprise the Jeep Renegade gets named, delivering a unique combination of best-in-class off-road capability, open-air freedom, and convenience. A host of innovative safety and advanced technology features are available throughout the lineup, but we know what most Jeepers are looking for. The 2019 Jeep Renegade comes with the Active Drive and Active Drive Low 4×4 systems available for rock crawling and off-road glory.
Is there really any question? Ram Trucks builds America's longest-lasting pickups, proving a commitment to quality, reliability, and durability. Boasting 900 lb-ft of torque that offers a towing capacity of 31,210 pounds and 7,390 pounds of payload, these Ram three-quarter and one-ton pickup trucks are surely the trucks to buy for tough and commercial jobs.
Time to get an award-winning vehicle? Visit Aventura CJDR for the latest and greatest Dodge, Ram, or Jeep in stock.
Photo Source/Copyright: Chrysler Ad Planner and Strategic Vision