Sixth "Last Call" Dodge Model Announced – 2023 Dodge Challenger Black Ghost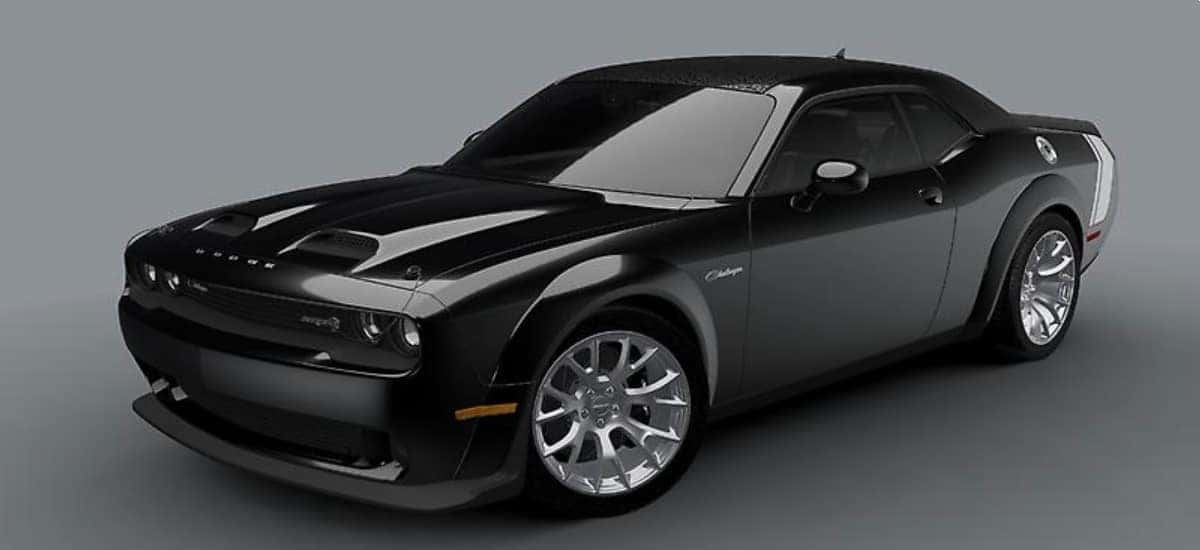 It's been several weeks since Dodge announced that the next generation of the Dodge Challenger and Dodge Charger will be electrified models. Before eMuscle is officially here, the muscle car automaker is giving fans one last chance to get a high-octane, high-performance model before they're all gone. Called "Last Call" models, there are seven in total. So far, we've seen the Dodge Challenger Shakedown, the 2023 Dodge Charger Super Bee, the 2023 Dodge Challenger Scat Pack Swinger and 2023 Dodge Charger Scat Pack Swinger models (we feel a little cheated with this one), and the 2023 Dodge Charger King Daytona. With only two left to go, Dodge has just released the brand's penultimate "Last Call" special-edition model, the 2023 Dodge Challenger Black Ghost.
"There are so many legendary muscle cars in Dodge brand history, it was hard to choose the seven vehicles we wanted to pay homage to with our Last Call lineup, but the Black Ghost was an easy pick…The 2023 Dodge Challenger Black Ghost is the prelude to what we're going to unveil with our seventh and final special-edition model." – Tim Kuniskis, Dodge brand chief executive officer – Stellantis
Paying homage to the original black 1970 Dodge Challenger RT SE (special edition) model, owned by Godfrey Qualls, the 1970 Challenger quickly became a legend in name alone. Powered by a 426 HEMI engine, Qualls was known for driving the Black Ghost on Woodward Avenue before disappearing into the night, hence the nickname it earned. In 2020, the model earned a spot on the National Historic Vehicle Register, and still belongs to the Qualls family so many years later. Wrapped in black and chrome, the Black Ghost comes with many unique features. Built on a Challenger SRT Hellcat Redeye Widebody and boasting 807 horsepower, this is a worthy salute to a legend.
With only 300 units to be produced, once the 2023 Dodge Challenger Black Ghost "Last Call" is gone, it's gone. Sporting a Pitch Black exterior color, the roof is black vinyl with "gator skin" graphics. Other small appearance changes always remain with the badges – a bright Dodge fascia badge; Challenger script grille, fender, and spoiler badges; a Midnight Metallic SRT grille badge; some slick white rear fender graphics; and a Black Ghost instrument panel badge found inside the cabin. Before we get there, the 2023 Dodge Challenger Black Ghost also comes with a bright fuel filler door, black six-piston Brembo brake system, a 3.09:1 rear axle ratio, and rides on 20-by-11-inch Satin Carbon Warp Speed wheels. Inside, consumers will find Alcantara/Laguna leather seats and door bolsters, complemented with an Alcantara steering wheel embroidered with a red SRT logo, real carbon fiber bezels, and Dynamica suede headliner.
There's one more to go, but Dodge has been adamant about keeping the seventh "Last Call" model under wraps until the 2022 SEMA Show in Las Vegas, scheduled for November 1-4, 2022. We wonder if it will be a Challenger or a Charger finishing up the "Last Call" lineup, and there is plenty of time for rumors and speculation between now and November. Part of the Dodge Never Lift 24-month road map, the "Last Call" models celebrate the automaker's heritage by bringing back B5 Blue, Plum Crazy purple Sublime green, and Destroyer Grey – some High-Impact Paint (HIP) colors that always got fans raving.
Orders open up for the 2023 Dodge Challenger Black Ghost soon, so be sure to follow along with us on Aventura Chrysler Jeep Dodge Ram social media to find out when they're available. Remember, they'll go fast, so be ready to order this autumn.
Photo Source/Copyright: Stellantis Media