Ram Reveals Revolution 1500 Concept at 2023 CES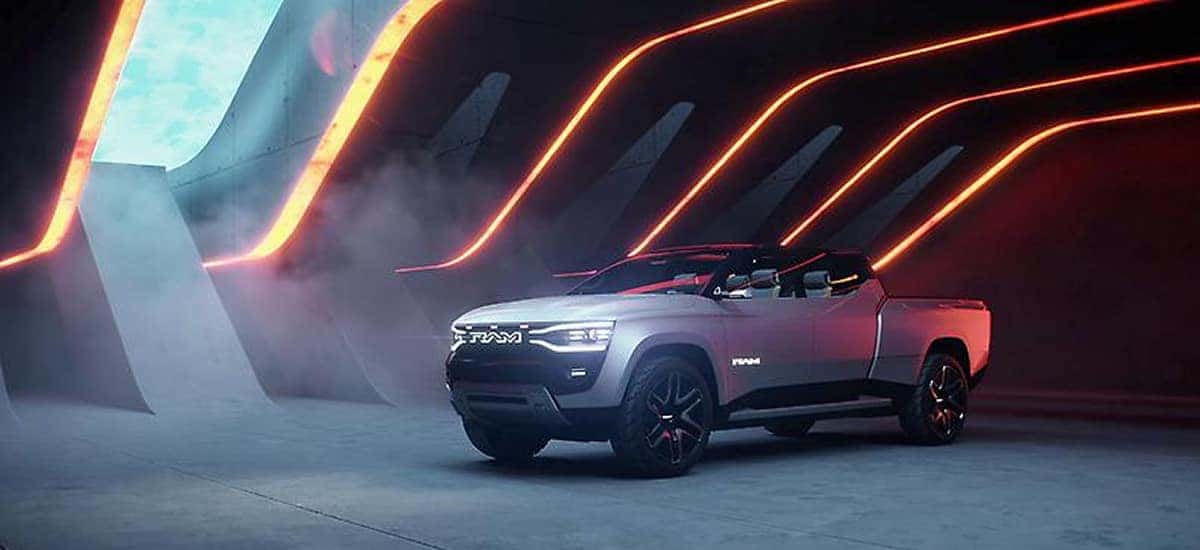 Early last year (2022), Ram Truck held the Ram Revolution event to celebrate its upcoming and first all-electric Ram 1500 model. Throughout year, fans could get updates unique visuals and content about the upcoming battery-electric vehicle (BEV), and even had a chance to name the new pickup truck. With auto shows year-round, the first show of the new year is 2023 the Consumer Electronics Show (CES), but don't let the name fool you. It's more than just appliances and smartphones – automakers have been showing up more often in recent years to share concepts that go beyond their automotive branch, and also as a chance to share something ground-breaking for the brand. Ram takes the 2023 CES as a chance to reveal the Ram 1500 Revolution BEV Concept.
Battery Power
Powered by two electric drive modules (EDMs), there is one positioned at each end of the vehicle. This makes it so the interior cabin has more space without the battery in the middle of the floor. Its power output was not yet reported, but charging is one of the major highlights. Able to add 100 miles of range in just 10 minutes, is huge for the BEV market. 20-30 minutes has been the standard for some time. Also showcased is the Ram Charger robot that consumers can purchase and install in the garage to autonomously recharge the vehicle. Perfect for forgetful nights when the bed looks so comfortable.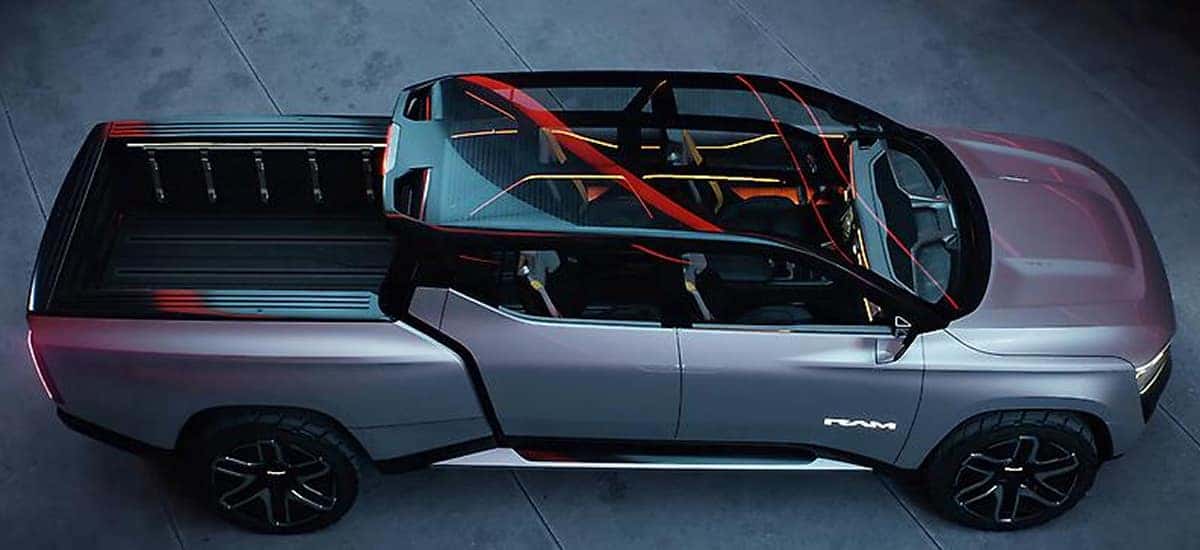 Highlighting Style
The exterior still looks like a pickup truck, but has put the muscular look of the body on steroids. Going for "heroic" strength, the look is called ""brutiful" – brutal yet beautiful." No, they really used that word in the PR. The new modernized "R-A-M" badge is illuminated by LEDs, and animated, adorning the front fascia. A new design for the doors make it look like the entrance to a bar with an old west grand saloon-style. Front bumper flares remind us of a certain "Widebody" package, and is fully highlighted by LEDs, matched with LED tail amps.
Electric vehicles (EVs) are known for going far beyond just the power unit. Now, everything is electric, such as the powered tailgate, powered side steps, and a powered rear step with active diffuser, a new powered frunk with one-touch open-and-close functionality, and a powered charge-port door on the driver's side that blinks while charging and chimes like a smartphone when plugged in. The side mirrors now come with digital cameras to capture the truck's surroundings, making for a smaller design, allowing the brand to make these from 3D printed materials. It all rides on 24-inch tires, with a larger RamBox configuration that comes with clear 35-inch tires to hold up the hourglass body.
Inside, the cabin is spacious and longer, increasing passenger comfort and cargo volume. With Ram's rail attachment/floor track system, Ram Track, the cabin can be modified for the seats and console to maximize its storage potential. Known as only a two-row pickup truck for about 50 years, Ram is giving the "revolution" a real kicker by adding a third-row to the cabin with jump seats – usually doors to either side that can fold up. For storing long items, the powered mid-gate also comes with powered glass, enabling a pass-through that can fit objects up to 18-feet in length (while still keeping the tailgate closed).
Making the Ram Revolution 1500 BEV concept more than just an all-electric pickup truck, the center console can be removed and converted into a workstation. Speakers that fold flat are ready to pop up and play some lofi while studying for an exam. Lightweight seats with integrated seatbelts make use of passenger space and seating configuration, able to turn the rear into a limo-like lounge with a large second row, third-row jump seats, and a Level 3+ autonomous mode that retracts the steering wheel to provide additional space. Add to this the multiple built-in projectors for a movie night anywhere. The touchscreen is even larger, offering up to 28-inches of visual clarity, and can be split in two, placing the upper screen on the Ram rail attachment system, and the lower display can be moved around the truck. For backing out of a parking space or the garage, the rear mirror now comes with a 360-degree view displayed on the touchscreen displays, plus a supplementary backup flood lamp and biometric cameras to sense objects faster.
A full glass roof comes with electro-chromatic panels and integrated roof rails. This entire electro-chromatic roof can be modified to change its opaqueness, from solid to transparent, and allows consumers to activate sun visors with a simple swiping motion. An augmented reality (AR) heads-up display (HUD) adds to the onboard tech, and luxury materials like Greyslate Nanostone veneer and Apple leather (yes, that Apple) enhance the interior cabin. The floor is made up of recycled rubber and cork particles.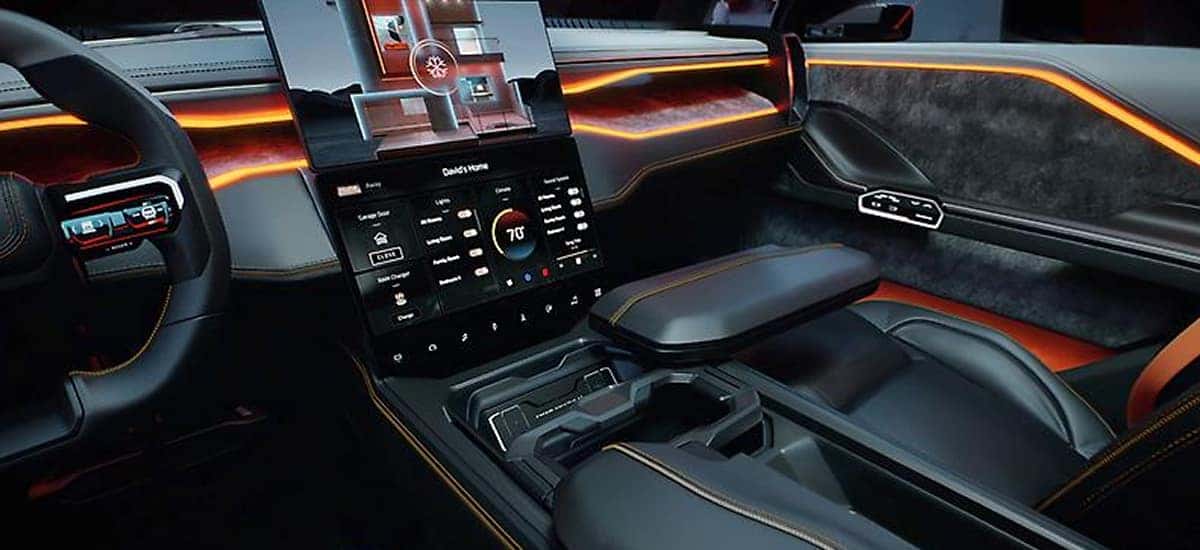 Tech
Artificial intelligence for autonomy was a large focus of Ram when designing the Revolution 1500 BEV concept. Thus, the Vehicle Personal Assistant was designed, given a 3D avatar face that responds to the owner of the vehicle. Able to give commands from outside of the vehicle, consumers can use the Revolution 1500 BEV to play music, take pictures, and even follow the owner around with a new "Shadow Mode". Using sensors and camera technology to navigate, the truck can follow someone walking in front of them, such as when setting up camp and not wanting to walk back and forth for equipment.
Other technologies include some of the features we expect to see in more STLA platforms, powered by Amazon. There is a My Day feature for trip planning and suggestions, and keeping tabs on user schedules. The interior cabin has multiple modes for adjusting interior lighting, seat position and orientation, window and skylight opacity, vehicle suspension, sound zones, and displaying content. Several modes come as the default – Productivity Mode, Social Mode, Party Mode, and Relax Mode. Users can also create their own. For those that like to eye how much their truck can carry, a new intelligent storage app can measure objects and show how the object may be positioned in the vehicle with an AR measuring tool. With Amazon working with Stellantis, sending commands to adjust paired devices is doable from the infotainment screen.
The new Ram Revolution 1500 BEV concept is turning out pretty amazing so far. Learn more about new and upcoming BEV models from Ram Truck when you follow us on Aventura Chrysler Jeep Dodge Ram social media.
Photo Source/Copyright: Stellantis Media