PSA: Have You Heard of Trunk or Treat?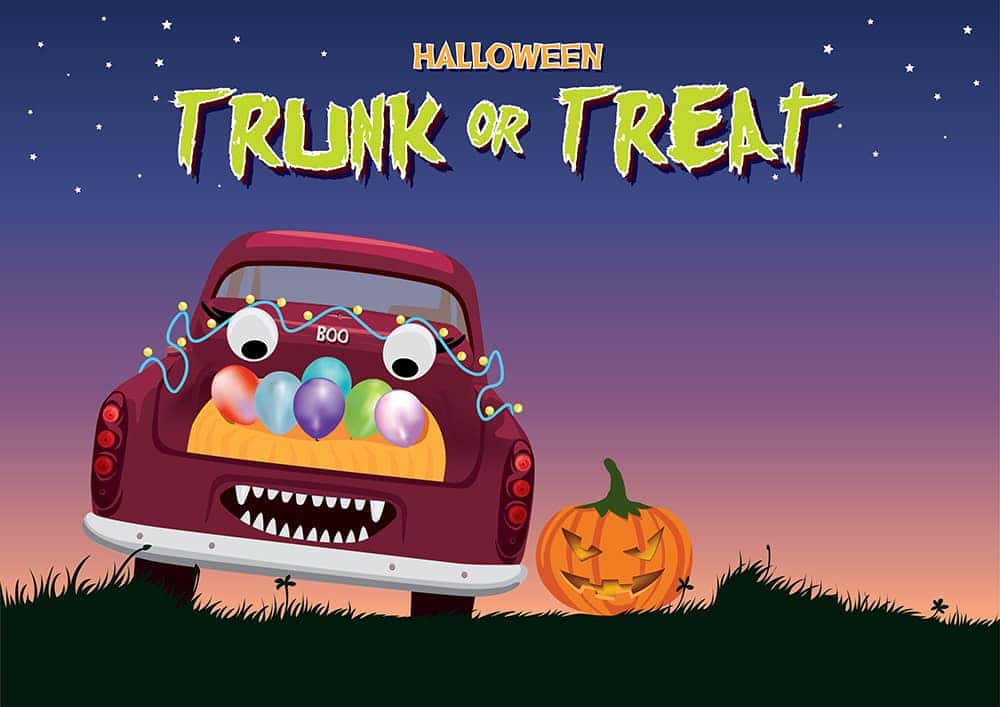 "Trunk or Treat!" Wait, that's not right. Well, actually, it is for some parents who want to give their kids a fun and safe way to go trick or treating this year. "Trunk or Treat" is a Halloween trend that's been gaining popularity. It's a family-fun activity, and with so many ways to host a Trunk or Treat party, you can do anything from hosting a block party to throwing a Halloween tailgate bash. Oh, and on that note, does anyone know the "Monster Mash"?
What's the Deal with Trunk or Treat?
We've all heard the stories. Kids finding razor blades or rotten items in their trick-or-treat bags, supposed to be filled with candy or fun trinkets. Many parents would find this alarming, and some may even be wary of bringing kids door-to-door after hearing of such an experience. And although as we get older, Halloween just seems like a sham to buy candy for strangers, it's also a way to keep some of that youth. They won't be kids forever, so why not let them celebrate in a safe and fun environment?
That's where the Trunk or Treat idea comes in. Imagine reserving a gazebo or patio area at the local park, or hosting a block party in the neighborhood. Get several families together who drive vehicles with a lot of trunk space, decorate the vehicle with a Halloween theme, and fill the trunk with candy! This way, instead of going door-to-door to strangers houses, the kids can still experience the whole trick-or-treat festivity by going trunk-to-trunk, with each vehicle another miniature adventure. Plus, you know who's on the guest list and can ensure candy or trinkets are the only things going into those trick-or-treat bags.
Parents can also get in on the fun. If it's a block party, maybe there's an "Adults Only" punch bowl, if you catch our drift. Or you know, dress up and be the spooky witch or werewolf of the night. We're down with giving people a good scare, it is Halloween you know.
Trunk or Treat Ideas
Some parties will have games, activities, or raffles that go on throughout the night, so that it's more than just a lineup of vehicles to collect candy, but an actual Halloween event. Trunk or Treat is a great way to start a neighborhood tradition. Speaking of tradition, did anyone else turn their garage into a haunted house every year? It's a fun family tradition and a quick way to become the talk of the neighborhood every year.
In the instance of a Trunk or Treat party, maybe going beyond decoration is an option. Sure, we can turn a hatchback into the mouth of a toothy monster, or turn our truck into a parade float, or even just have a car with a fancy tarp and a trunk full of candy. Or we could turn a vehicle into a tiny haunted house. Just be sure to clear this with all parents at the party, maybe have a safe to put the keys in so no one goes for a joy ride.
Just think of the possibilities though. The Chrysler Pacifica or Dodge Grand Caravan would be a good choice – really any minivan or large SUV. On the Pacifica or the Grand Caravan, with either Uconnect Theatre or a DVD console, we can play some spooky movies to give people chills. If not a spooky movie, some eerie Halloween soundtracks would sound great on the 13 Alpine speaker system or the 20 Harman Kardon speaker system, available in the Chrysler Pacifica.
Have any other Trunk or Treat ideas? Share them with us on Aventura CJDR social media.
Photo Source/Copyright: Shutterstock.com/Parinya Panyana