Prepping for a Day at the Raceway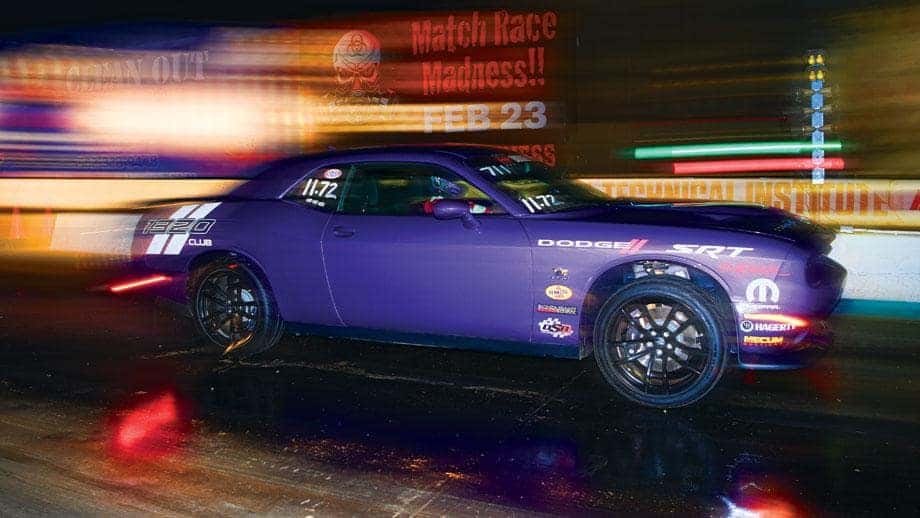 After Dodge announced the 1320 Club, muscle car enthusiasts and drag racers from all over wanted to test their mettle and land on the leaderboards. When it comes to drag racing at a speedway or the tracks, there's nothing like gunning it taking off in a Dodge Challenger. Plus, vehicles like the Dodge Challenger SRT Hellcat and 2019 Dodge Challenger SRT Hellcat Redeye come with SRT Performance Pages, very similar to the performance pages powered by Uconnect. Before hitting a raceway though, there are a few things that can help the day go smooth.
Preparation
Anyone looking to legally race should first find the appropriate location. The easiest way to go about this would be to check the NHRA website. Drivers can find a list of NHRA member tracks they can use by going to nhra.com/member-track-locator. Following the location, drivers should make sure their vehicle has a tune-up, and not just regular maintenance. When it comes to the inspection, every car is expected to have seat belts that work as designed, all lug nuts are in place and tight, and that all hoses, clamps, and the battery are secure. Also, be sure to contact the location and call ahead to learn about when they're open and if you'll need a helmet. Also, make sure they accept credit cards; it can be a hot day down here in Florida, and unless bringing cash, drivers will get plenty thirsty as they wait to race.
Getting to the Track
From parking to the starting line, there's a couple of milestones to pass. First, getting to the track at a prime time is important. Most will get busy the later into the day they go, so get there early for a chance to get all the necessary steps out of the way, like finding a parking spot and filling out what some organizations may call a "tech card" that requires vehicle and personal information before entering the car for inspection.
Most locations should have a dedicated area for inspections, but again, calling ahead is a good idea. A tech official will look over the vehicle to check for leaks, a secure battery, and a working seat belt – and a helmet depending on the performance of the vehicle. Once approved, drivers will get a number and will be directed to the staging lanes of the raceway. Get familiar with the place. If there are already a lot of racers waiting, grabbing some water or a snack at the stands and watching a few races isn't a bad idea.
However, the staging lanes are also known as a great place to meet fellow racers. Tracks often separate vehicles in the staging lanes based on things like class, type of tires, etc. Find out where to enter in the staging lanes, and then follow the flow of cars from the lanes to the track. It's almost time.
Let's Race
Once at the head of the staging lanes, a lane master will direct everyone to their lane, left or right. Follow their instructions, use vehicles in front of you as a guide, and don't miss out on the last part of prep. Many raceways will have an area filled with water where drivers can perform a burnout to prime and clean their tires. It's really only recommended for racing or performance-specific tires.
Take a few deep breaths. Once the car rolls up and the pre-staged light comes on, the timing system is activated. Stop the car and wait for staged lights, followed by the signal to go. The timing system and Christmas Tree starting system will activate, and it's all about the thrill of the race, either against oneself or another driver.
At the end of the race, slow down, and make sure it's safe to exit since another driver was in your adjacent lane and may still be going strong. Keep on the helmet if one was required and slowly exit at a safe speed. Retrieve a time slip, and if it's not what you were hoping for, you can always try again.
Remember to enter racing slips at the Dodge 1320 Club, but you can also share them with us on Aventura Chrysler Jeep Dodge Ram social media. Looking for a vehicle to race? Find your new Dodge Challenger or new Dodge Charger today.
Photo Source/Copyright: NHRA.com