Breakdown of Uconnect Performance Pages
Uconnect Performance Pages. Consumers may have heard of them if ever buying a Dodge Challenger SRT Hellcat, a Dodge Challenger SRT Demon, or Jeep® Grand Cherokee Trackhawk. People may talk about how one can monitor real-time data and record their performance. Others talk about measurements of horsepower and G-force. Let's do a little breakdown of the Uconnect Performance Pages and what one can do with them.
Getting to the Performance Pages
Some people may have Dodge Performance Pages (found on all 2018 Dodge Challenger trims except base SXT and SRT trims), or SRT Performance Pages (found on SRT vehicles), and may not even know it. To get to the main menu, select "Apps" from the bottom of the infotainment touchscreen, then "All Apps", followed by "Performance Pages". This will bring the Performance Pages app homepage to the screen. The vehicle driven will be displayed on the homepage as well, so if driving a Dodge vehicle, you should see something like this: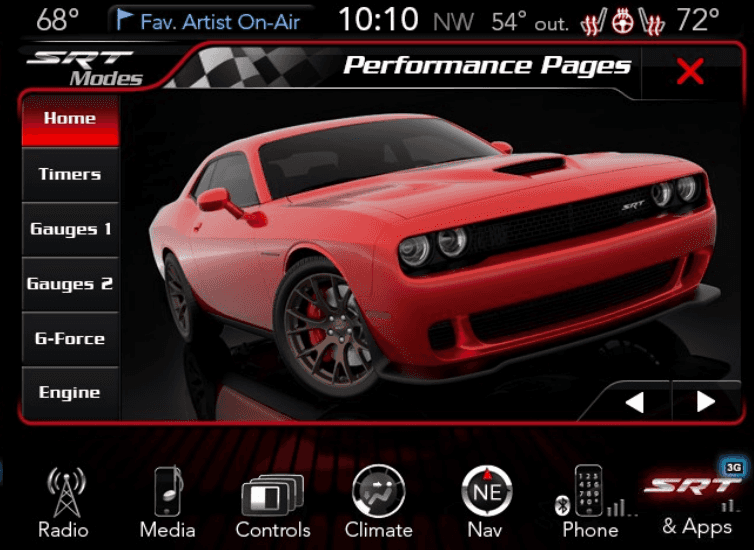 To the left is a column of various tabs that each offer a range of options.
Performance Pages Tabs
There are five tabs in total, excluding the homepage. We have "Timers", "Gauges 1", "Gauges 2", "G-Force", and "Engine".
Choosing the Timers tab does exactly what it says. An array of run-time stats and an overview of the vehicle will be presented on-screen. The driver can view and compare their performance by choosing "Best", "Last", and "Current" run times, and even save, upload, or share this data. When either of these are selected, all of the following will be presented from that run time: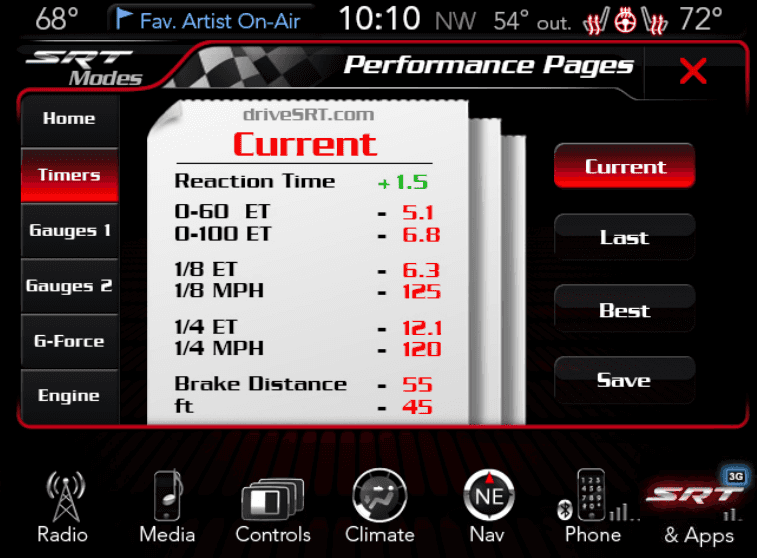 – Run Title (Best, Last, or Current)
– Reaction Time
– 0-60 mph acceleration
– 0-100 mph acceleration
– 1/8 mile time
– 1/8 mile mph
– 1/4 mile
– 1/4 mile mph
– Braking distance in feet or meters
– Braking speed mph
For checking vehicle diagnostics and specs, then the two "Gauges" tabs are the one to turn to. These will both display vehicle gauges, akin to those on the dashboard instrument cluster, and will display various information.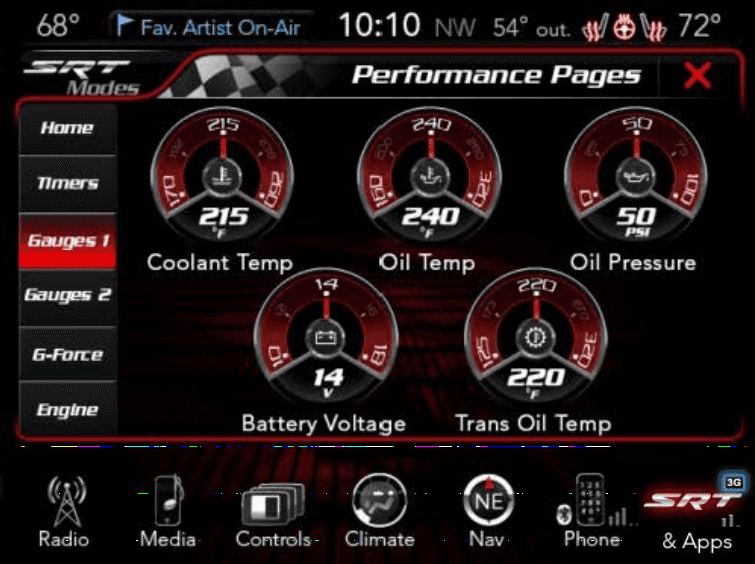 Gauges 1 displays:
– Oil Temperature
– Battery Voltage
– Oil Pressure
– Transmission Oil Temperature (for automatic only)
– Coolant Temperature
Gauges 2 displays: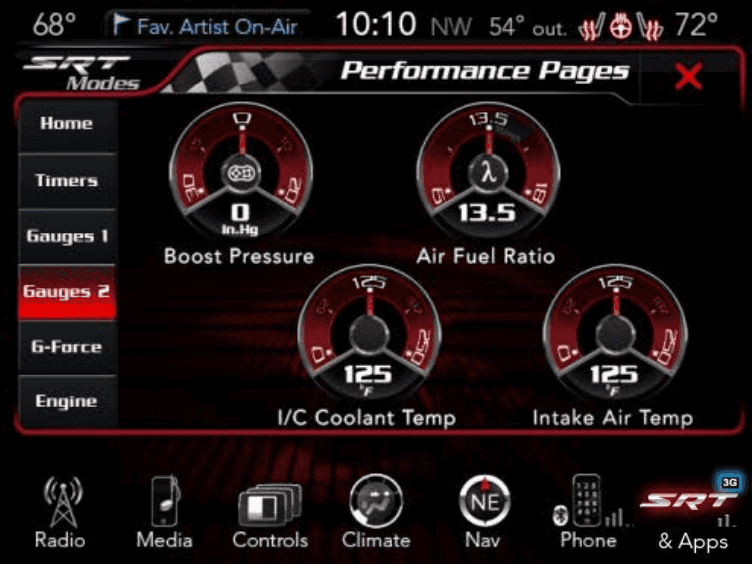 – Battery Voltage
– Transmission Oil Temperature (automatic only)
– Coolant Temperature
– Intake Air Temperature
– Boost Pressure
– Intercooler Temperature
– Air Fuel Ratio
Those last three are designed specifically for models powered by the 6.2-liter supercharged engine, Hellcat or Demon. Unless a grease monkey, none of the above may make much sense though, so we'd advise not to worry too much about either of those tabs unless receiving a warning sign.
The G-Force tab may be a favorite for those who want to brag about more than just run times. This tab will display vehicle dynamics, such as: 
– A Vehicle Drift Graphic that adjusts based on the vehicle's movement
– Current Speed
– Steering Angle that measures the degree of the steering wheel
– Lateral G-force, or a measurement of the left and right turning force of the vehicle
– Longitudinal G-force, or a measurement of the acceleration and braking force of the vehicle
– Peak G-force, or the highest G-force measurement encountered
– G-force Visual of the current amount of G-force produced, lateral or longitudinal
If looking to check the engine specs while driving around the track, then that real-time data will be found in the Engine tab, and looks like a more refined instrument cluster.
The Engine tab displays: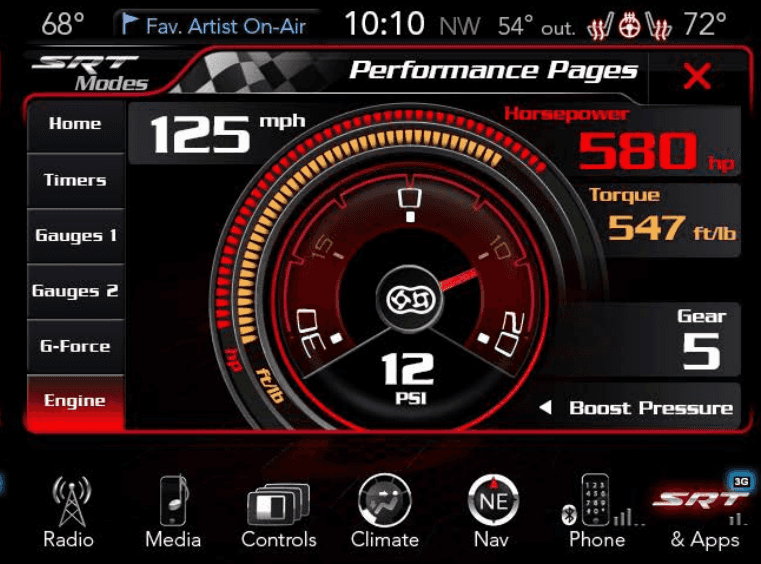 – Speedometer
– Horsepower
– Torque
– Oil Pressure
– Gear
– Boost Pressure
Pretty neat stuff right? Who knew one could record so much driving data with a preloaded app on SRT and eligible vehicles? Give it a try yourself, and if you're looking for your own bragging rights, send us an image of the data you record. Maybe we'll put it up on our Aventura CJDR Facebook Page for some of that social media goodness.
Photo Source/Copyright: Dodge.com