What to do When Your Jeep is Stuck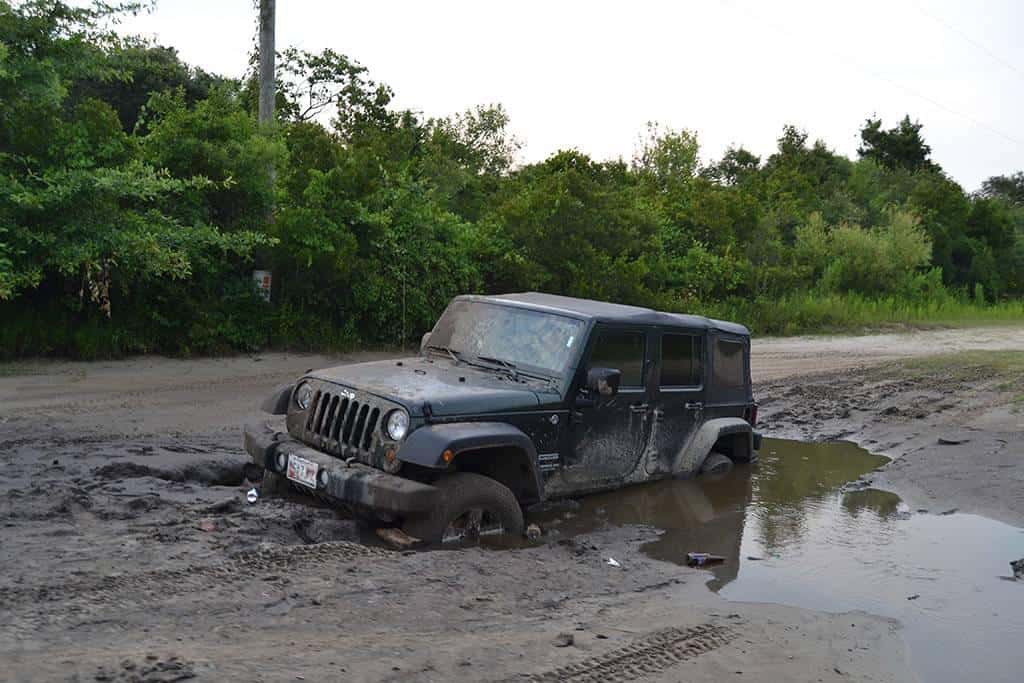 Hey all you Jeep and truck lovers out there, how many of you have gotten stuck in sand or mud before? Come on now, don't be shy – it happens, and it's a pain to deal with. Whenever we get stuck, we struggle to get our vehicles unstuck and pray someone with a winch is passing by. Otherwise, we have to ditch our wheels and call a tow truck. Not a very fun experience, especially if you just got a new Jeep and took it for a joy ride. Don't worry though, we can help you prepare for the next time your new Jeep Cherokee, Wrangler, or what-have-you bites off more than it can chew.
Having the Right Tools
First things first. Having the right tools always make the job a little easier. Plus, an accessory or two can't hurt.
Shovel – A little manual labor won't kill you, and having a shovel in your Jeep or truck isn't a bad tool to have on hand. When stuck in the sand, or mud, sometimes all it takes is a little digging to give your new Jeep the lift it needs to get moving. If with a friend, maybe ask them to use the shovel as a lever or wedge to get the tires out of a pickle. Just make sure the shovel has a metal handle – wooden or plastic ones will snap in no time.
High-Lift Jack – A seasoned off-road enthusiast may know what this is, but if you just got a new Jeep Cherokee or Renegade and want to test its metal, then listen up. A high-lift jack is another tool to have handy. Weighing as little as 30 pounds, but able to lift as much as 40,000 pounds, a high-lift jack can help get your Jeep or truck out of many sticky situations.
Tow Strap – Unless you already have a winch connected to your Jeep – if it's a new Jeep you might be in luck – then at least having a tow strap will help if you got a little stuck. Just like jumper cables, a good samaritan is more likely to help you out of a jam if you can supply the right equipment.
MaxTrax – Have you heard of these? Man, MaxTrax is a lifesaver for those of you who happen to get your Jeep or truck stuck. They call it "traction in a box", and it basically is. Molded from UV-stabilized, flexible, engineering-grade reinforced nylon, MaxTrax are lightweight but durable flat pieces of equipment for recovering a stuck vehicle. A single set (a total of two) of MaxTrax devices can be inverted and used to dig out surrounding dirt, sand, debris, etc; once cleared, wedge them in front of both front tires if driving forward, or behind the rear wheels if driving in reverse. If the situation is real bad, linking a few together may do the trick.
Watch the Right Hook!
That's a line you'll hear in a boxing match, but what it's really about is strategy. Knowing the right maneuvers to get out of sand, mud, or even away from a cluster of rocks can save the day or break even the tough Jeep Cherokee.
Mud – Ugh, if it wasn't bad enough we got stuck in this sludge mess. Now your new Jeep isn't just dirty, but it's also not going anywhere. When driving through mud, propulsion is key, so avoid stopping if you can. If already stuck, try twisting the steering wheel back and forth to loosen up the tires, but don't go all ham unless you want to also break off the U-joints. If that doesn't work, we hope you took our advice about that lift jack.
Sand – Hey, at least it isn't quick sand, amiright? It doesn't matter what Jeep you have, whether it's a Jeep Cherokee, a Wrangler, or a Renegade, keep in mind the drivetrain. If it's a 4×4, then it should have some sort of 4×4 system and possibly a Selec-Terrain system. Twist the system dial to the appropriate setting and get out of there! You can also try driving back and forth, or back-tracking the tire tracks your vehicle already made. Otherwise, take out the shovel and get to digging around the tires.
Rocks – If you get stuck on rocks there really aren't too many solutions to get unstuck. Unless you took the time to put a winch on your new Jeep or have a tow strap, then you're going to be stuck until you call a tow truck. A high-lift jack can also work, depending on the size of the rocks.
Keep these tricks in mind the next time you go off road, and be sure to have the right tools handy. If all this off-road mayhem talk got you thinking about getting a new Jeep, then check out our inventory. For those of you reading this on your cell phone because you're already stuck, we wish you good luck!
Photo Source/Copyright: boonstoon.files.wordpress.com