Adding Suspension and Other Mods to Your Truck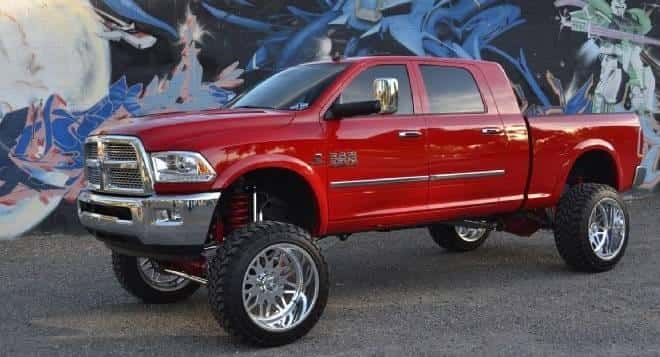 Need a lift? Modifying trucks is a well known practice, and the most popular kind of modification is giving that already large vehicle a bit of a lift. Not every truck can survive the many mods that go into sprucing up a truck, but the Ram 1500 and Ram 2500 are usually the way to go if you want to give your truck some style as well as a more aggressive look. In this DIY, we cover some of the things one can do to give their truck a little more lift.
Shocks
When giving your Ram 1500 or Ram 2500 some lift, the first thought is to go straight to the goal and get a lift kit. Well hold on there cowboy (or girl), you don't need to dive in just yet. Consider upgrading the truck's shocks first. Depending on how much lift you actually want, the fastest way to beef up the truck suspension is to upgrade its shocks with an after-factory replacement. We won't tell you the best ones to get, that's up to you, but do stay away from tricky salesmen and unpopular brands.
Another good tip to keep in mind is why you are upgrading the lift. Is that Ram 1500 just for style and driving, or do you take your truck off-road? Look into getting some heavy duty shocks or ride adjusting shocks that will not only improve the driving experience, but will also keep the rear end of the truck off of the asphalt and the bottom of the truck from smacking rocks or stumps. Look into some better coil springs, or reinforcement for the ones already installed, that can increase ride height without going for a high lift; air springs in addition to reinforced coil springs are also a good place to start.
Lift
Still unsatisfied? Alright then, it's time to talk about lift. Aside from adding torsion bars, most trucks have these, you can always try out a lift kit for added suspension or go to the pros. How high do you want this? A couple of inches usually makes a lot more difference than one would think, and the higher you go the more modifications you need. That means spending more money.
However, if you want to mimic Jaf Karn from Yuba City, California we can't stop you. That's his modified truck in the photo above, with 10 inches of lift and several mods to keep his Ram 2500 looking great. The lift is a radius-arm design, in case you're curious, and the suspension and wheel axles got a paint job to match the color of the body. Notice the red springs? Whether starting with a lift or not, shocks and springs are mandatory – the matching paint isn't, though.
Other Accessories
Aside from the shocks, springs, and lift, think about some other add-ons that may make turning a Ram 1500 or Ram 2500 into a monster truck worthwhile. Again, if you use your truck for carrying payloads or towing/trailering, think about installing a new hitch that can handle the new mods and whatever you're planning to haul. Jaf installed a B&W gooseneck hitch into his truck bed, and added an indexing ring between the transmission and transfer case so it can drive and tow without fail.
A truck with lift needs bigger wheels. Hey, sometimes that's all you need – better shocks and bigger wheels, and this project gets a lot cheaper. Of course, if the tires don't fit within the wheel wells or can cause scrapes on bumpy terrain, then a lift is necessary. Be sure to keep that in mind. Speaking of keeping damage to a minimum, think about installing a rock bar light so you can avoid destruction of the undercarriage.
Planning to carpool with some friends in your beefed up Ram 1500 or monster Ram 2500? Not everyone can leap into a lifted truck in a single bound. Installing some side steps, retractable or not, are always a nice addition to a Ram truck for getting in easier.
There you have it. Adding lift to a truck is a bit of a project to undertake, but in the end it can turn out pretty well. Keep the must-haves and must-dos in mind, and you'll be on your way in no time.
Ready to start? Check out our parts department and get in touch with someone to help you start modding.
Photo Source/Copyright: trucktrend.com; Jason Sands