Mopar Modifies the 2020 Jeep Gladiator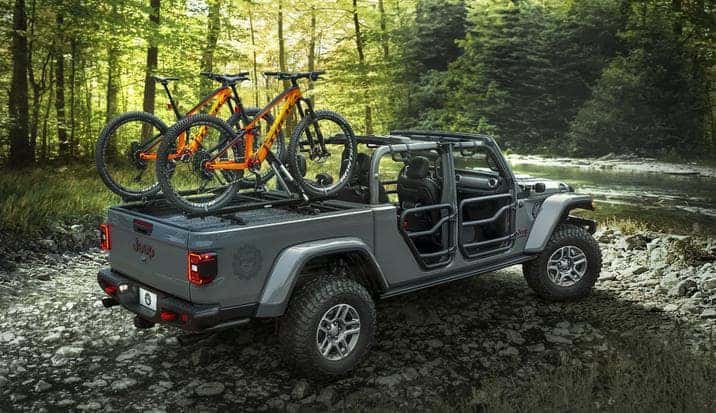 The 2018 Los Angeles Auto Show last all the way through the second week of December this year, and that means there's still more news pouring out. Some of the latest comes from Fiat Chrysler Automobiles (FCA) subsidiary, Mopar. Known as a custom auto parts and accessories brand, Mopar usually does something pretty epic for FCA brands. During the 2018 Specialty Equipment Market Association (SEMA) Auto Show, Mopar unveiled the Hellephant engine crate, able to generate 1000 horsepower and 950 lb-ft of torque. During the 2018 Chicago Auto Show, Ram and Mopar had a webcast to announce new catalogs of performance parts for Ram and Jeep® by Mopar. Now, for the 2018 LA Auto Show, with the reveal of the 2020 Jeep Gladiator pickup truck, Mopar has debuted a catalog of parts and accessories specifically made for the new midsize pickup.
Unlike the Hellephant engine crate, Mopar isn't looking change the powertrain of the Gladiator by much, powered by a 285hp V6 engine. They have, however, added a cold air intake and a Mopar catback exhaust system to add horsepower and torque, because what Mopar modification would be complete without those? With the off-road capabilities of the 2020 Gladiator and how well the midsize pickup truck embraces the ability to customize a Jeep vehicle, Mopar decided to mimic their modified 2019 Ram 1500 displayed at the 2018 Chicago Auto Show. Like the Ram 1500 that was turned into a truck for a true outdoorsman, the 2020 Jeep Gladiator shows just how well a truck can be built for adventure.
"The Mopar brand is bringing to market a full selection of parts and accessories for owners to personalize the all-new 2020 Jeep Gladiator to fit their individual lifestyles…We're giving owners what they need to enhance the most capable midsize truck ever, whether that's versatile lifestyle accessories or Jeep Performance Parts for hard-core off-roaders." – Steve Beahm, Head of Parts & Service (Mopar) and Passenger Car Brands, FCA – North America.
Many products and accessories have been released by Mopar in the new catalog for the 2020 Jeep Gladiator, adding up to 200+ parts in total. Twenty of these parts have already been mentioned, consisting of a Jeep Performance Parts (JPP) 2-inch lift, JPP tube doors, Mopar spray-in bedliner, tonneau covers, a truck bed storage system, bedliners, cold air intake, Katzkin leather, LED off-road lights, sun bonnet, all-weather mats, 17-inch five-spoke wheels, a roof rack/carrier, door sill guards, grab handlers, all-weather mats, bumpers, and rock rails. Several of these modifications were made to a unit of the 2020 Jeep Gladiator given to Mopar to demonstrate how well the new Gladiator pickup can be customized.
The Mopar 2020 Jeep Gladiator rolled up, decked out without a top, the windshield folded down, and tube doors adding some style to the sides. Also added was the JPP 2-inch lift kit, rock rails, 7-inch off-road LED lights, a mesh sun bonnet, unique five-spoke wheels, a hood decal, a blacked out Mopar grille, windshield tie-down straps, bed-mounted cross rails that work with the bike carrier from Mopar, and a truck bed storage system with lockable, dual sliding drawers. Already looking like quite the truck for adventure, Mopar also upgraded the cabin interior with Katzkin leather seating, Mopar grab handles, molle bags, and all-weather floor mats.
We won't be seeing the 2020 Jeep Gladiator pickup truck until some time late 2019 if all goes well. Follow us on Aventura Chrysler Jeep Dodge Ram social media for all the latest news on the new Jeep midsize pickup truck. Consumers can also contact our service team if looking to upgrade their current vehicle with components and accessories by Mopar.
Photo Source/Copyright: FCA Media