Jeep Wrangler 4xe Wins 2022 WWCOTY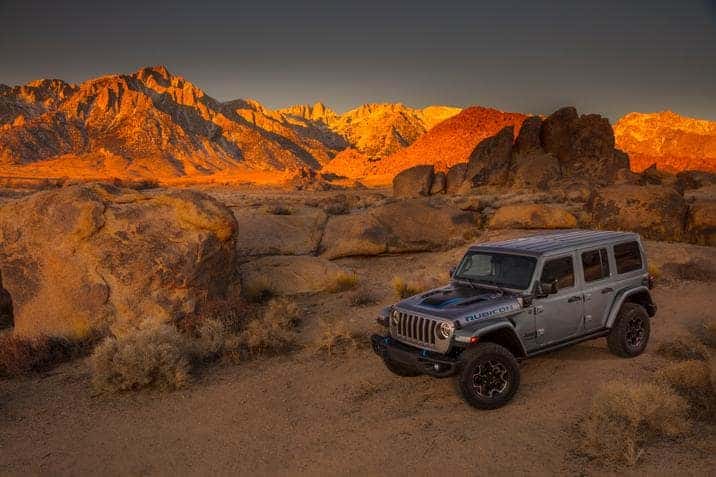 Every year, there are several prestigious awards that automakers aim for. Most often held by big names in the industry, winning an award or title equals the biggest bragging rights imaginable. The North American Car, Utility and Truck of the Year (NACTOY) Awards is one large competition that takes place near the end of every year, as well as the World Car Awards (WCA). Another competition that recently concluded was the 2022 Women's World Car of the Year (WWCOTY) Awards. Wouldn't you know it, the innovative Jeep® Wrangler 4xe plug-in hybrid was earned the title of the Best 4×4 for the 4×4/off-road segment.
Currently in its 12th year, the WWCOTY awards judge vehicles based on safety, driving, comfort, technology, design, efficiency, its impact on the environment, and the value for money. Vehicles are selected from each segment, and a panel is put together to give a viewpoint from all kinds of people. The 2022 Women's WWCOTY jury consisted of 56 motoring journalists from 40 countries across five continents. Together, they agreed on the Jeep® Wrangler 4xe as the Best 4×4, a huge win not just for the automaker, but also plug-in hybrid electric vehicles (PHEV). The amount of torque generated by electric motors is finally starting to turn heads.
"We are delighted that the WWCOTY jurors recognized the great strides that the Jeep brand is making toward electrification of its vehicles around the world, in pursuit of its vision of Zero Emission Freedom…This Women's World Car award is further confirmation that electrification enhances the core capabilities of our Jeep vehicles. The Jeep Wrangler 4xe is a clear example that you can have the best of both worlds: legendary Jeep capability and open-air fun combined with an electrified, eco-friendly package that allows you to enjoy nature in almost absolute silence." – Christian Meunier, Jeep brand CEO
Powering the Jeep Wrangler 4xe is a combination of a high-tech, 2.0-liter four-cylinder turbocharged engine, plus two electric motors and a high-voltage battery pack. PHEVs often come with larger battery packs than the standard hybrid, offering recharging capabilities and a small all-electric driving range. Consumers can get up to 21 miles of zero-emission, electric-only propulsion for less than three dollars at most public charging stations. For those of you that want to get a home installation of the new Mopar Level 2 charging units can easily recharge from the comfort of your home. These aren't like the standard 120 volt AC outlets most home appliances uses. Sending 240 volts, and Wi-Fi capable, consumers can charge their plug-in hybrid and electric vehicles (EVs) with the use of a mobile smartphone app.
Able to generate up to 375 horsepower and 470 pound-feet of instant torque, the Jeep Wrangler 4xe maximizes fuel efficiency and has an EPA rating of 49 miles per gallon-equivalent (MPGe). Part of the Jeep five-year roadmap, the largest change was making the shift to electrified vehicles, making a plug-n hybrid variant of every model in the lineup. With the first all-electric Jeep on the horizon, set for release in 2023, the automaker has made good on its word thus far.
Want to go green and find your own new Jeep Wrangler 4xe? Look for the Jeep plug-in hybrid at Aventura Chrysler Jeep Dodge Ram.
Photo Source/Copyright: Jeep