Jeep Officially Adds Paint Color Earl to Gladiator Palette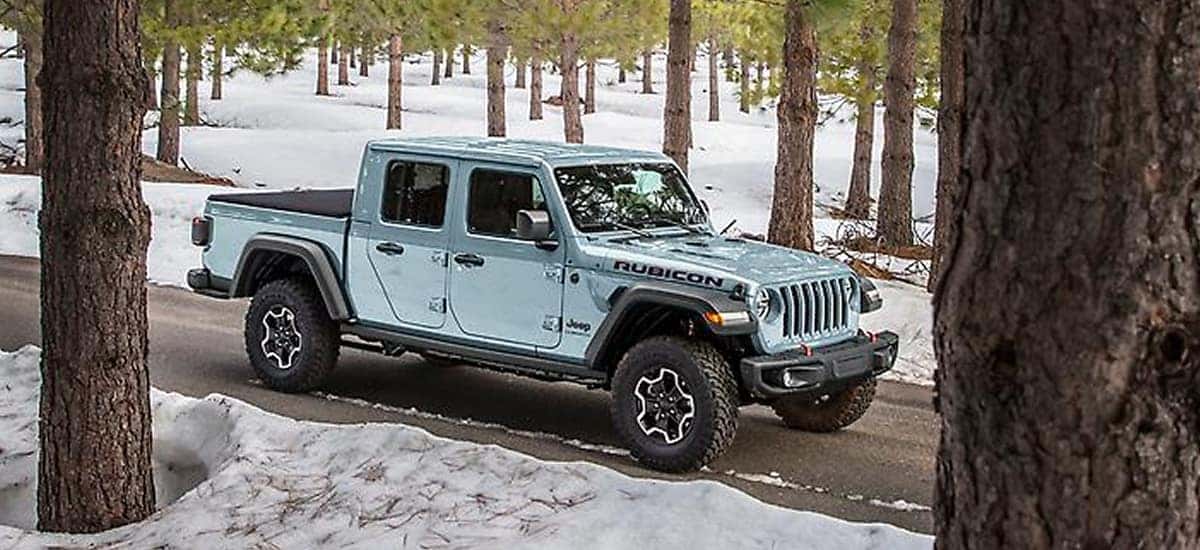 The Jeep Gladiator wowed the auto industry and the market ever since it was first released. A midsize pickup truck based on the iconic Jeep Wrangler? The Wrangler was already a fan favorite, and after its new generation was released, consumers gushed even more over the customizable off-road SUV. Adding a truck bed to it was just more to love. Even with all this, the Gladiator still doesn't have everything the Wrangler has, such as a 4xe variant – but that's most likely on the way. For now, we're starting small, and that means simple stuff like new paint colors and features.
In 2021, Jeep released the new paint color Gecko Green. Super bright, this was a color that would definitely make any Jeep SUV stand out. First added to the Wrangler and then the Gladiator, the color was a limited time addition to the Jeep brand's palette of vivid, special-run colors. Like Dodge//SRT High-Impact Paint colors, they're not always made available to the public. For Jeep, this includes Chief Blue and Nacho, only available back in early 2021. Gecko Green also only lasted until October 2021.
A feature that's here to stay is the addition of Gorilla Glass to Jeep windshields. Adding an additional $95 onto the starting MSRP of the Jeep Wrangler, this new high-tech glass is available on the Wrangler Sport S, Sahara, and Rubicon. Later, the feature was added as an option for the Jeep Gladiator Sport S, Overland, Mojave, and Rubicon trims. Designed with an ultra-thin inner ply with a 52% thicker outer ply to keep windshields lightweight but more durable, they're also more resistant to damage from stones and off-road debris that can cause chips, cracks, and entire fractures along the glass. Not the best situation when going off-road or rock crawling.
Before the end of 2022, Jeep wants to add another color to diversify the Gladiator palette. Does anyone remember the Earl exterior paint color made available for the 2023 Jeep® Wrangler Rubicon FarOut Limited-edition model, the final EcoDiesel model Jeep will ever produce again? Going electric with 4xe models and eventually an all-electric Jeep SUV, Stellantis will have to say goodbye to EcoDiesel powertrains eventually, starting with Jeep and Ram Truck. To send it off, the 2023 Jeep Wrangler FarOut edition came standard with a "Diesel 3.0L" graphic, and exclusive "3.0 D" badging, fender flares, a satin black grille, and 17-inch aluminum wheels for the exterior. Inside, the FarOut edition got all-weather floor mats and black leather seats with red accents, plus the Cold Weather Group, Trailer-Tow and Heavy-Duty Electrical Group, Safety Group, and LED Lighting Group for an assortment of add-ons included. Featuring third-generation Dana 44 front and rear heavy-duty axles, a 3.73 axle ratio, and the Rock-Trac two-speed transfer case with a 4.0:1 low-range gear ratio, this was the ultimate send off for the FarOut edition. It also came with an odd paint color called "Earl".
"The Jeep community voiced a ton of positive feedback for Earl when it debuted on the Gladiator Farout concept…We work to deliver what our customers tell us they want, and Earl is the latest example of another standout shade that speaks to our loyal and avid Jeep community." – Jim Morrison, senior vice president and head of Jeep brand North America
Now made an official addition to the 2023 Wrangler lineup, Earl joins High Velocity, Firecracker Red, Hydro Blue, Sarge Green, Silver Zynith, Sting-Gray, Granite Crystal, black, and Bright White. All of these are available exterior paint colors for the 2023 Jeep Gladiator. It's also available on all Gladiator trims, including the Sport, Overland, Rubicon, and Mojave for an additional $695 on the starting MSRP of $38,775 (plus destination fee).
Looking to get your hands on a new Jeep SUV with the Earl paint color? Find a new Jeep Gladiator at Aventura Chrysler Jeep Dodge Ram today.
Photo Source/Copyright: Jeep