Jeep Models with the Best Ground Clearance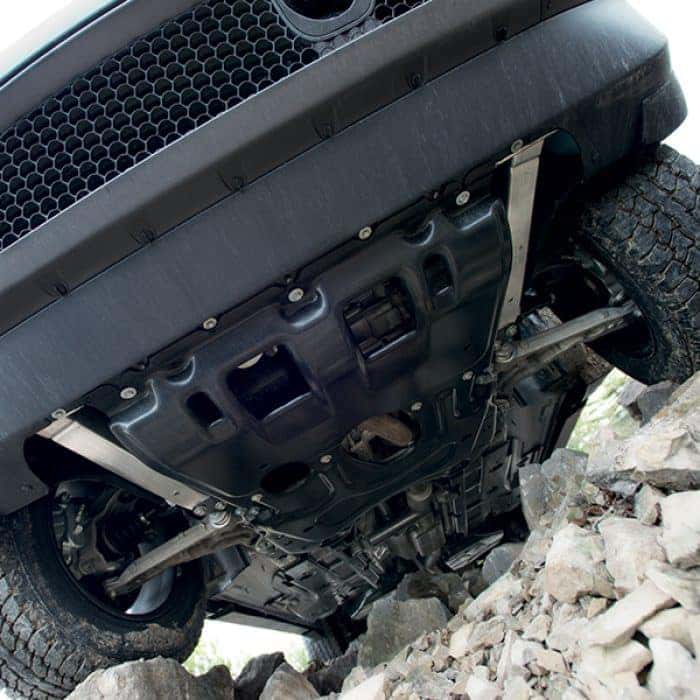 Ground clearance is pretty important when it comes to going off road. If something hits the undercarriage of a vehicle at the wrong angle, one can really mess it up. Without enough standard ground clearance, even bumping into a parking stop can make the driver a little nervous about the mechanical parts attached to the undercarriage.
As a brand of vehicles with a reputation for going off-road, ground clearance is important to many Jeep® shoppers, but many shoppers don't know which Jeep model has the highest ground clearance or which trim of a particular model, so here's a closer look.
Jeep Cherokee
The Jeep Cherokee Trailhawk has the highest ground clearance out of the Cherokee lineup. The Cherokee Trailhawk has a 1-inch suspension lift with skid plates for a little more room to crawl over obstacles and keep important components protected.  However, one can always enjoy the standard 8.7 inches, a great start for any off-road vehicle.
Jeep Compass
Redesigned for the 2017 model year,, the Jeep Compass has some great features, including its standard 8.2-inch ground clearance. Shoppers wanting a slightly higher ground clearance will want to check out the Jeep Compass Trailhawk trim because it offers 8.5 inches of ground clearance. Not a large difference, but keep in mind ground clearance isn't the only good thing about Trailhawk trims. The Compass Trailhawk also comes with underbody skid plates, an improved front and rear fascia, best-in-class approach and departure angles, and aesthetic choices to give it a meaner look.
Jeep Wrangler and Wrangler Unlimited
The two models without a Trailhawk trim, instead the Jeep Wrangler and Wrangler Unlimited have a trim by the name "Rubicon". They have varying ground clearance angles, ranging from 29.1 to 32.3 degrees for the departure angle, 21.5 to 25.8 degrees for the breakover angle, and 38.7 to 42.2 degrees for the approach angle. You can learn more about ground clearance angles in this article. The Rubicon trim on both offers the largest angles and a standard ground clearance of 10 inches.
Jeep Grand Cherokee
The largest vehicle in the bunch needs to have the most ground clearance. With the trailhawk trim, the Jeep Grand Cherokee has a standard ground clearance of 10.8 inches off the ground with the appropriate off-road settings. It also features a 25.7-degree approach angle, 22.8-degree breakover angle, and a 27.1-degree departure angle. The Trailhawk trim for the Jeep Grand Cherokee also comes with the Quadra-Drive II and Quadra-Trac II 4WD systems. The former has an electronic rear limited-slip differential for keeping torque even, and the latter has a two-speed transfer case for transferring torque to the front wheels when tire slippage is detected. You can learn more about Jeep 4×4 systems in this Jeep Performance Parts Explained article.
Now you know which Jeep vehicle to look for if planning on trekking through some mud or water crossing in a Jeep. Just be sure to look into the mods mentioned in those two articles. Interested in finding a new Jeep to deck out with off-road mods? Take a look at our inventory for yours.
Photo Source/Copyright: Jeep