Jeep and LEGO Release a Wrangler Rubicon Technic Model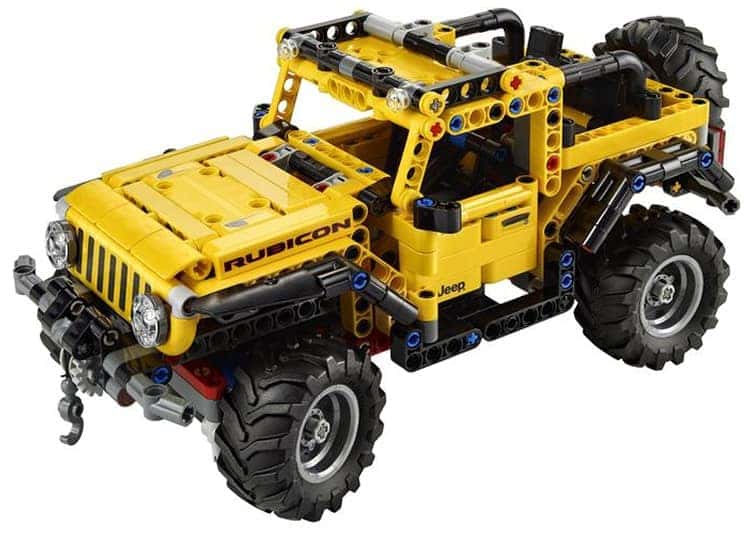 Getting some last-minute shopping done? Have a nephew or family friend that loves Legos and toy cars? This is the perfect way to capture both in one simple gift. In early December 2020, 4×4 automaker Jeep and the LEGO Group revealed its newest joint product – the LEGO® Technic™ one-of-a-kind Jeep Wrangler Rubicon model. It's not a life-size Jeep LEGO model, just a really cool LEGO product designed to emulate the Jeep Wrangler in looks and capabilities.
An intricate piece of work, this one may not be for kids with little patience, unless you plan to build it with them. Part of the experience when it comes to LEGO is the build – what can you create? To rebuild the high-performance 4×4 systems, rugged tires, fold-down rear seats, and even the iconic seven-slot grille in LEGO Technic form would take a lot of bricks. This LEGO Technic model totals at 665 pieces in total. Because this isn't just a bunch of LEGO bricks for a stationary object, you can also test out the 4×4 capability of the finished model. The steering system and axle-articulation suspension is all operated at the push of a button.
"The Jeep Wrangler is an icon in the off-road world…The Rubicon has a lot of the iconic details loved by 4×4 fans the world over, so it was important to me to pack as many of the authentic, powerful features of the real vehicle into the LEGO Technic replica. I hope LEGO fans and vehicle lovers enjoy all aspects, including the suspension, winch and open-air design that we developed alongside the talented Jeep design team." – Lars Thygesen, Designer, LEGO Technic
Going with a classic look, the LEGO Technic Jeep Wrangler comes with a yellow-and-black color scheme. Built for all fans alike, whether a kid who loves LEGO or someone who likes to build models of cars, this could be a fun gift for anyone – recommended age 9 and above. There is just one small catch about this interesting LEGO product – it won't be available this year. The model will be made available on LEGO.com, in LEGO stores, and other retailers globally by January 1, 2021, however. Priced at $49.99, it's a bit pricey for a gift if buying for a youngin', so be sure to get it for someone who will appreciate it for years to come and not as a one-off gift that just sort of disappears one day.
We assume there is some kind of battery that drives the LEGO model around, which means this is electric. Perhaps Jeep is also celebrating the success of the plug-in hybrid Jeep Wrangler 4xe, joined by the Jeep Renegade 4xe and Compass 4xe. Powered by two electric motors, a high-voltage battery pack, and a high-tech 2.0-liter turbocharged I-4 engine, the Wrangler 4xe can travel up to 25 miles on electricity alone – that's a win for the environment. Available in three different models for a range of off-road adventure capability, the Wrangler 4xe is available in three models – 4xe, Sahara 4xe, and Rubicon 4xe. The first two come with full-time 4×4 systems front and rear next-generation Dana 44 axles, and come with the Selec-Trac two-speed transfer case with a 2.72:1 low-range gear ratio. For those that really plan to test the limits of a plug-in hybrid Jeep, a Trac-Lok limited-slip rear differential for extra grip and capability in low-traction situations is also available.
What will Jeep get up to in 2021? We're looking forward to it. Check out the Jeep Wrangler Rubicon at Aventura Chrysler Jeep Dodge Ram and see what all the fuss is all about.
Photo Source/Copyright: FCA Media