It's Time to Tailgate and Party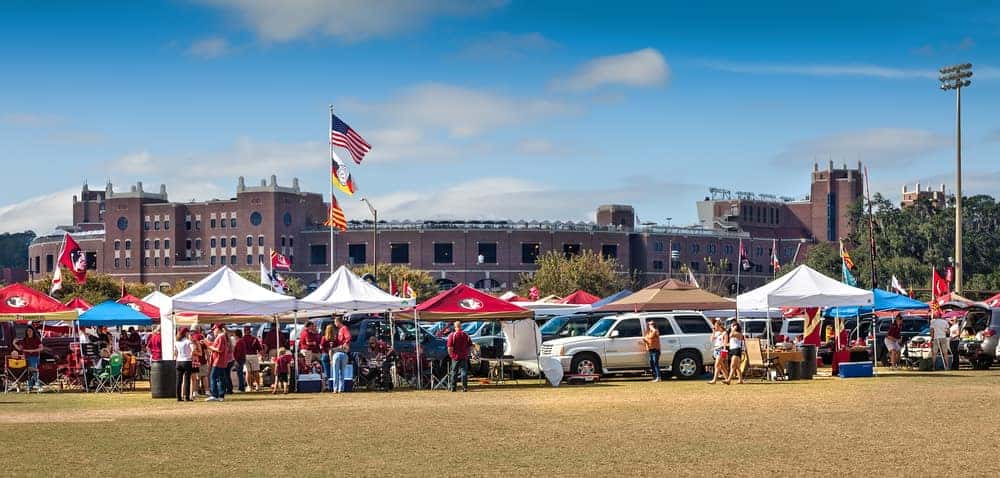 Woohoo, it's tailgating season, ya'll! Also known as football season, but why pay tickets to get into the stadium and watch the game from the nosebleeds when a TV radio or stereo can give you the score? Instead, host a little party in the parking lot, or join one, and have yourself some tailgating fun. Never been to a tailgating party before? We've got you covered with plenty of tips.
Follow the Rules
When it comes to tailgate parties, there will always need to be some rules in place so everyone has a good time. The first rules to check out though would be those set for the venue. Not every location is fond of a bunch of people getting rowdy in one place. Some of the rules one should ask questions about are: when the parking lot is open, when the party needs to end so everyone can leave, regulations for tents and cooking grilles, proper disposal of trash and coal/propane/etc, and where exactly in the area can a tailgate party be set up.
Find out about these ahead of time, and you should be fine.
Easy, Clean, and Organized
When it comes to grilling, nothing beats a sticky cheeseburger or juicy hot dog. Depending on where you're at in the country, that grille may also consist of chicken legs, bratwursts, and ribs – mmm, ribs…nevermind that. Although tasty, lots of small sides can also help keep bellies full and they're less messy. All one needs is some plastic or paper plates, napkins, disposable cutlery, and no longer are we limited to finger foods. How about some fruit, or pasta, or potato salad? All good side dishes that don't require hands to get messy.
In the spirit of keeping things clean, make sure the tailgate party area is cleaned before leaving. We don't mean pressure spray the asphalt and sweep up the place, but dispose of all garbage in or around the party area. Most parking lots should have huge dumpsters, so this shouldn't be a problem. However, having a couple of hefty bags on hand couldn't hurt.
Be Prepared
Preparation is key to a good party, especially one outdoors. Check out the weather channel the days leading up to and the day of the tailgate. No one might show up if it's going to rain, unless someone brings a huge tent for the grill and shelter – wouldn't that be something? Quick way to make friends, too.
Speaking of making friends, there's more entertainment than listening to the play-by-play or throwing around the ol' pig skin. Bring some board games for the kids, or the those of us that are kids-at-heart. Set up a bean bag toss area, or the classic horseshoe throw. Maybe even some drinking games for those of age and not driving home.
Choose Your Vehicle
Yeah, they call it a tailgate party, but it's not about following someone close behind on the freeway nor is it about trucks, though they do offer some great options. The 2019 Ram 1500 has a larger RamBox Cargo Management System for storing supplies. Use it as the prep station where everyone can grab a a fork/knife/spoon, napkin, or even a cold beverage. Plus, if not obvious, the actual tailgate can act as a seat for some.
For real tailgate seats though, check out the 2018 Dodge Grand Caravan. Designed with built-in Stow 'n Go tailgate seats, the third row cannot only be stored into the floor like the second row, but can also be flipped over to act as seats facing the rear of the vehicle. Open the trunk, and that's three seats with a front row to the party and a little shelter if it rains.
Then there's the 2019 Chrysler Pacifica, packed with the same entertainment options as before, like the available Uconnect Theatre package. Introverts and party goers alike will appreciate two 10-inch seatback touchscreens for watching a film or playing a game to pass the time. In the Pacifica, the basic sound system may come with six speakers, but consumers can also find options for a 13 Alpine speaker system, a 20 Harman Kardon speaker system, or a 20-speaker Harman Kardon sound group for surround sound. You can hear the crowd cheer on that sound system.
Now you know how to party this football season. Take some pictures of the good times and share with us on Aventura CJDR social media!
Photo Source/Copyright: Shutterstock.com/Ruth Peterkin