Google's Waymo Heading to Atlanta Metro for Testing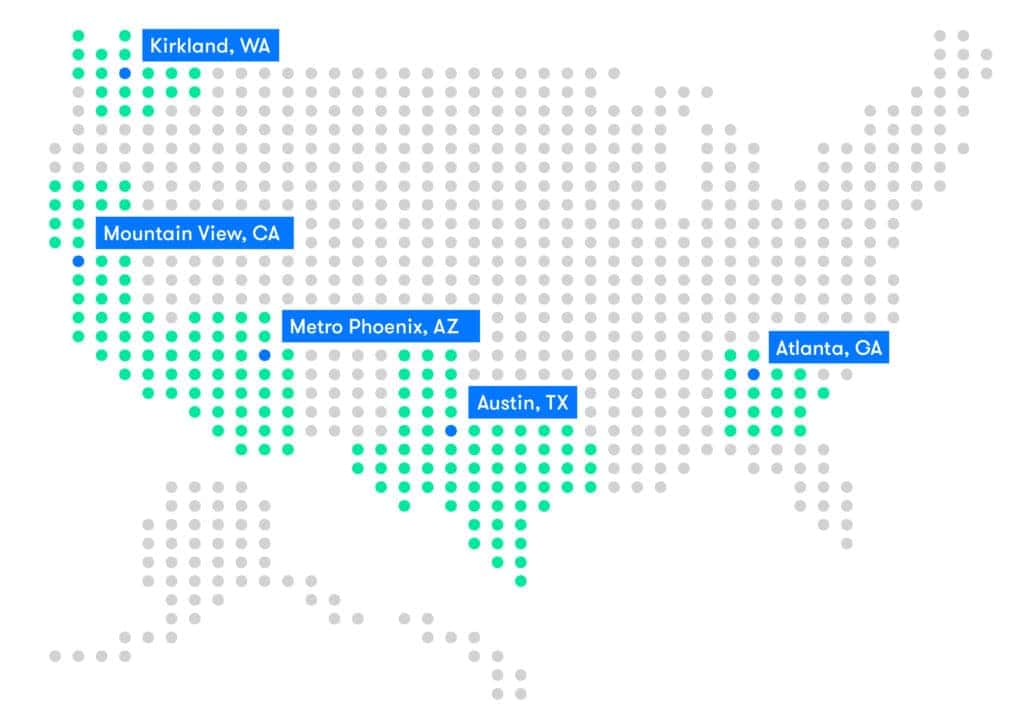 There has been a lot of talk of the Google Waymo autonomous self-driving car in recent years. Starting with their own prototype, turning into the now Alphabet, Inc. that supports and develops companies applying technology to the world's biggest challenges, the project has certainly grown. Chrysler even got in on the cash cow, signing a partnership between Chrysler and Google to test their self-driving vehicles, and now the Waymo is starting to hit major cities around the nation.
Following the partnership between Alphabet-owned Waymo and Chrysler, Chrysler provided Waymo with nearly 500 Chrysler Pacifica Hybrid minivans to increase their self-driving fleet.
Over the last few years, the fleet of minivans has been put through rigorous testing in all sorts of scenarios to improve the technology and autonomous driving as a whole. In a single year, from 2015 to 2016, Waymo significantly improved. In 2015, Waymo reported 0.8 safety-related disengagements per thousand miles and 341 regular disengagements over a course of several hundred thousand miles. In 2016, Waymo vehicles drove over 600,000 miles with only 124 human-driver interactions, and safety-related disengagements dropped to 0.2 per thousand miles. That's more than a 50 percent decrease, including no reports of crashes or accidents.
With such great improvements, Waymo took the self-driving Chrysler Pacifica Hybrid to the Detroit-Windsor Tunnel. The Detroit-Windsor tunnel is an underwater tunnel that connects Detroit, Michigan with Windsor, Ontario, Canada, and it was the perfect testing ground for the Waymo project. Although there has been plenty of testing, self-driving vehicles still needed to be able to function with getting through toll plazas, going through an underwater tunnel (or any tunnel for that matter), and crossing a border between countries. Thus, the Detroit-Windsor Tunnel was the perfect choice, and the results were pretty great, because soon after, Waymo took to the streets.
Volunteers known as "early riders" were to play a part of the Waymo program in Phoenix, Arizona wherein they would ride along in modified Chrysler Pacifica Hybrid minivans integrated with Waymo autonomous technology. The testing took place in a small area, then spread to sections of five separate areas in Phoenix. After much success, the fleet expanded the testing area to about 100 square miles. During this testing, there was of course a safety net just in case. A safety driver will have a button to press to bring the vehicle to a safe stop if an occasion were to arise, but other than that, the self-driving autonomous minivan did the work.
Now, Waymo is heading to Atlanta, Georgia to test the autonomous vehicle in dense traffic and hot, humid weather. When it comes to expanding their geographic testing footprint. The goal of testing is to test vehicles in different locations that will lead to the "better for building an autonomous driving 'brain' that can handle anything it encounters." The Phoenix, Arizona area did its job well, but Atlanta has some specific challenges, including bad traffic (ranked among the worst locations in the U.S.) and one of the more dense greater metro areas in the U.S. Metro Atlanta actually marks Waymo's 25th test city in total.
Safety drivers will still be behind the wheel during this testing phase, but if in the Atlanta area, don't be surprised if you see someone asleep at the wheel of a car driving itself around the city. After all, that's why most of us want a self-driving car right? Getting a little more shut-eye during the morning commute.
A Waymo spokesperson told TechCrunch, "Now that we have the world's first fleet of fully self-driving cars on public roads, we're focused on taking our technology to a wide variety of cities and environments. We're looking forward to our testing in Metro Atlanta, and the opportunity to bring this lifesaving technology to more people in more places."
We cannot wait for this thing to get certified! Pull some strings, Google. You guys practically rule the world already. What's twisting the arm of a senator or two? Tell us what you think of self-driving cars on Aventura CJDR social, and let's talk robots.
Photo Source/Copyright: Waymo.com