Google Android Auto Is Better than a Factory-installed System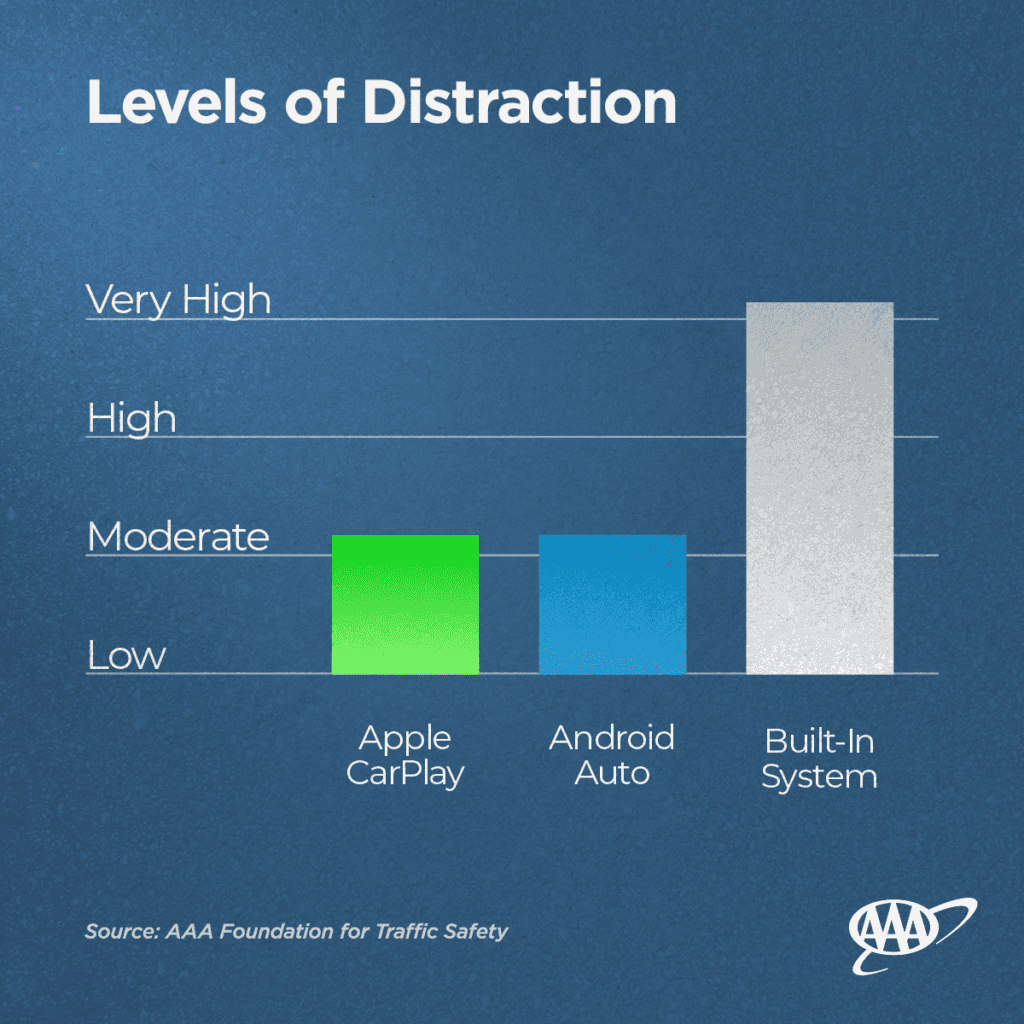 Breaking news: Apple CarPlay and Android Auto were found to be less distracting than the infotainment systems that come from the factory. Didn't we just write an article on Google's new Android Auto system and how it can possibly be too distracting for the driver? How uncanny! Regardless, we do think Google is already thinking ahead with autonomous vehicles when it comes to the next generation of the Android Auto smartphone app, but for now, drivers are in control and it's interesting to know the current Android Auto helps keep drivers focused. The credibility of such a claim comes from a recent study conducted by the AAA Foundation for Traffic Safety
AAA Foundation for Traffic Safety Study
During their study, the AAA Foundation for Traffic Safety Study examined 15 vehicles in total; some vehicles were from the 2017 model year and others from model year 2018. Ten of the vehicles were studied for their distraction based off of their built-in infotainment systems. The resulting five vehicles selected were the 2017 Honda Ridgeline RTL-E, 2017 Ford Mustang GT, 2018 Chevrolet Silverado LT, 2018 Kia Optima, and 2018 Ram 1500 Laramie – these vehicles of course came with the requirement that the trim tested also supported Apple CarPlay and Google Android Auto.
The study placed a focus on how much visual and mental demand was required to complete a set of tasks. Visual and mental demand can be defined as how much attention is needed in those aspects (vision and thought) from the driver to operate the infotainment system or app and complete a task. Too high of a demand will of course lead to a distracted driver and a higher chance of an auto incident.
Drivers were asked to conduct the following tasks during the study: selecting or programming audio entertainment, calling and dialing, text messaging, and programming navigation. Whether operated by voice, touchscreen, or another interactive method (a touchpad for example), the level of demand required to complete the task was still the main focus. So here's where things get interesting.
The Results
Following the study, the AAA Foundation for Traffic Safety Study evaluated distraction levels caused by built-in infotainment systems and found that not a single one produced a low level of demand, and six of them generated high or very high demand of attention from the driver. In contrast, Apple CarPlay and Google Android Auto were less demanding with the aforementioned tasks and actually operated (on average) five seconds faster than the built-in infotainment systems when making a call and fifteen seconds faster for programming navigation. That's crazy when you think of it.
Look at it like this. The phone needs to run the app, which then plugs into a cord, which then sends data to the vehicle computer, which then displays information on the touchscreen, and then the driver needs to operate the app to complete tasks. All of that happens faster with Google Android Auto or Apple CarPlay plugged in than it takes for the built-in infotainment system to do the same task, already up and running once the vehicle turns on.
"Google and Apple are proving that it is possible to reduce the level of demand in-vehicle infotainment technology places on drivers…While improvements are necessary before any of the systems can be considered safe to use while driving, this research shows that smartphone-based software has the potential to offer a simpler, more familiar design that is less confusing to drivers, and therefore less demanding." – David Yang, executive director of the AAA Foundation for Traffic Safety.
Of course, if not convinced, there are always options for aftermarket systems. Feel free to do the research. When ready to try it out for yourself, come to Aventura CJDR to test-drive a vehicle, and make sure you have Google Android Auto or Apple CarPlay downloaded and ready to go on your phone.
Photo Source/Copyright: AutoNews.com