Pros and Cons of Factory and Aftermarket Systems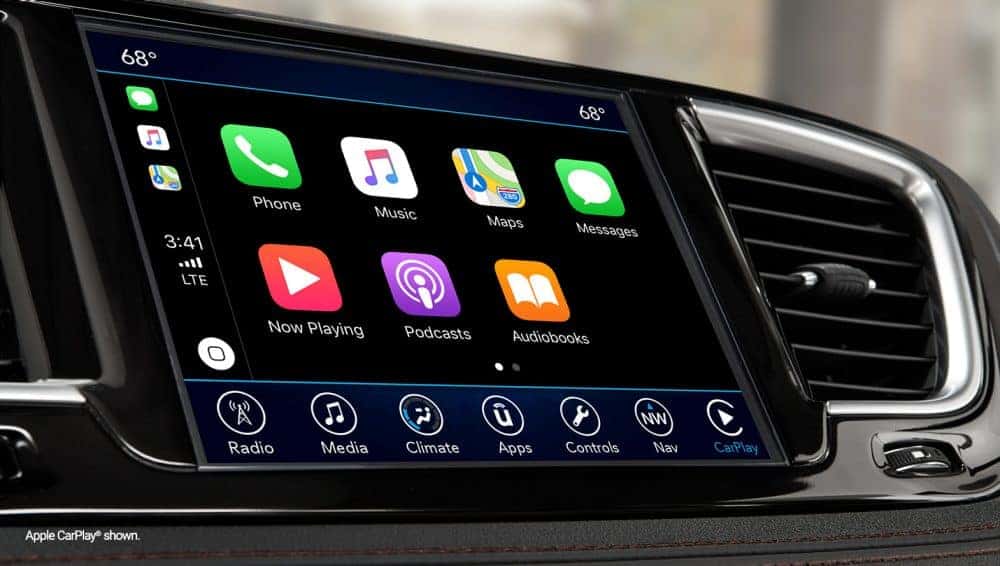 Aren't infotainment systems great? They sync up to smartphones and make it possible for users to play all of the music through the stereo system, provide easy access to apps via the touchscreen, and make it possible for drivers to use their voice to make calls and send texts for us. Modern systems like Uconnect, in partnership with the Fiat Chrysler Automobile Group, have a new generation out, Uconnect 4, and some versions also come with navigation features. But with every smartphone having some form of navigation, one wonders why a consumer would pay a little extra for a service they already have. There are pros and cons to everything.
Straight From the Factory
Pros
If opting in for a trim with Uconnect with Navigation, then a consumer doesn't need to worry about finding space for an aftermarket system or mounting their phone. Uconnect will already be the operating system behind the touchscreen, no installation needed. A factory installed navigation system is also protected, usually covered by a warranty that comes with the vehicle, and secure – it's a whole lot harder to steal an infotainment system from your vehicle than a phone mount, so prying eyes may not feel tempted. Moreover, vehicles with infotainment systems have a much higher resale value. Touchscreens in vehicles are everything these days.
Cons
However, as we stated, the addition of an infotainment system with navigation will also be a little pricey, either part of an add-on package or only available on a higher trim. Vehicles no longer come a la carte, and if a consumer wants X, then they may have to pay for X, Y, and Z, too. Probably the most aggravating, is that factory installed systems are programmed to block certain functions while the car is in motion. It's safe, but not very practical when switching between functions while on-the-road.
Integrated Aftermarket
Pros
If liking the clean look of a factory installed infotainment system with navigation, a consumer can always go to an electronics or automotive store after purchasing a vehicle without an already integrated infotainment system and upgrade it themselves. This allows for price comparisons and shopping around, a catalog of features to choose from, and the ability to customize one's setup. Looking for a stereo system with navigation or for DVD playback and a backup camera? There's many various options.
Cons
Pricing is still at play here. Unless going for a bare bones system, a consumer will have to expect to pay maybe as much as they would for a trim with infotainment and navigation. The saving grace is the customization and extensive catalog of options available. However, an aftermarket stereo system isn't the same as factory installed systems. For one thing, they tend to stand out a bit in a vehicle, it's obvious it doesn't belong; second, if easy-to-detect, then would-be thieves may be able to tell the system is aftermarket, and thus, can be removed with ease.
Smartphone Navigation
Pros
We don't need to pay extra for an infotainment system with navigation if we have a smartphone. GPS and some form of maps (go, Google!) is already installed and working. Updates are easy and automatic, and we can use our phone whenever we want, in motion or not. Plus, navigation apps like Google Maps feed us about upcoming traffic data to look for alternative routes as well as points out places of interest along the way to our destination. It's just really convenient and doesn't cost much.
Cons
Doesn't cost much if already owning a smartphone. Some are as expensive as the infotainment itself, and if already owning a smartphone with navigation, then operating it will cost battery life. Cell phone batteries never last long enough, and constantly using an app that requires GPS and constantly updates uses a lot of battery. Not only that, but cell phones don't always have a reliable connection – can't navigate via GPS in a dead zone. Oh, and they're distracting and a leading number in the cause of automotive related deaths, but that's just a statistic (and that's sarcasm).
There's pros and cons to either option. When making a choice, think about your budget, the features available, and what's more practical. If getting a vehicle with a factory installed infotainment system with navigation sounds good, check out any of our Chrysler, Dodge, Jeep, or Ram vehicles in our inventory.
Photo Source/Copyright: Chrysler.com