Google Debuts Their Android Auto Infotainment System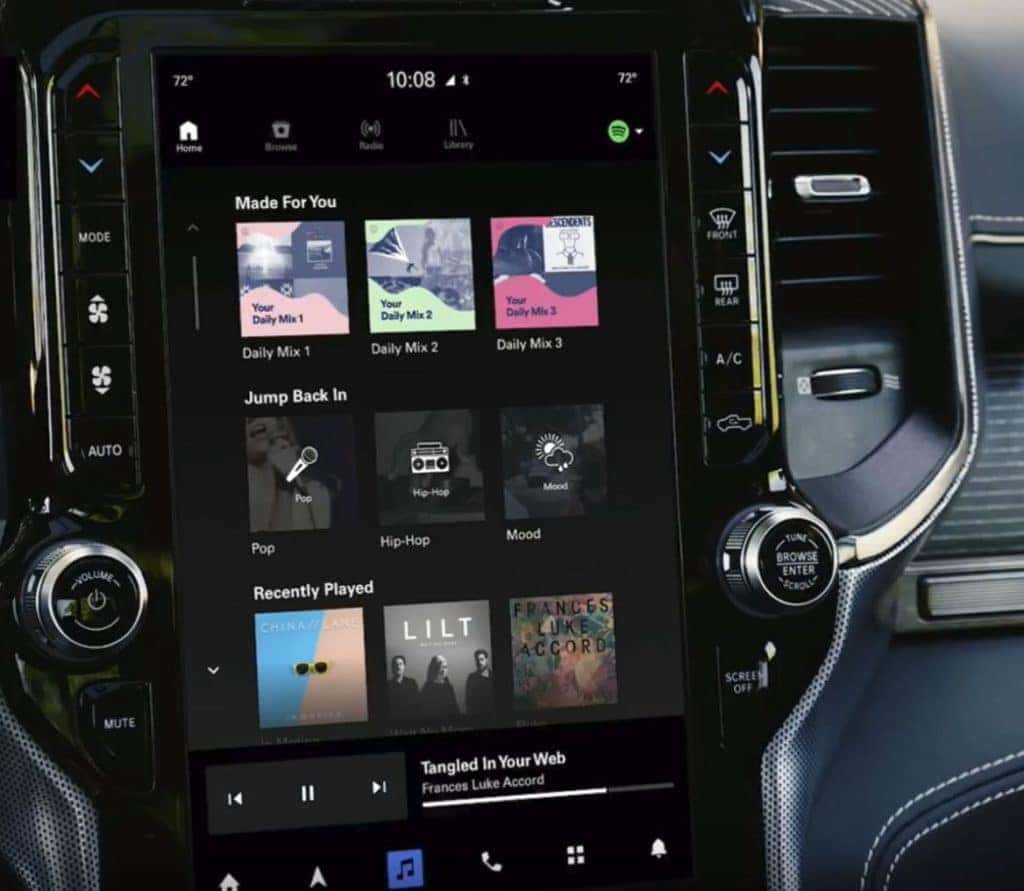 Since 2015, Fiat Chrysler Automobiles has been installing the Uconnect infotainment system into its various brand name vehicles. Most notably, Chrysler, Dodge, Jeep, and Ram vehicles have been the most popular due to their internet connectivity through Uconnect via an available Wi-Fi hotspot and the recent contract between Chrysler and AT&T for 4G internet connectivity data plans. Through Uconnect, consumers can use various apps for music and navigation or plug-in their own smartphone to open a whole new way to connect to their phone – an iPhone for Apple CarPlay and an Android-powered phone for Android Auto. By installing a smartphone's respective app and plugging into the vehicle, the driver can then navigate apps on their phone via the Uconnect touchscreen. Recently, Google announced new upgrades and add-ons will be coming to their Android Auto smartphone app and it may be powerful enough to replace an entire infotainment system.
A Whole New Display
As soon as the driver plugs in their smartphone, the new Android Auto will boot up to a media app display that will show the driver their available music library. Upon operating, the driver can easily see albums, audiobook covers, and more from their music library at a glance. For those always on the road, metadata can tell the driver if any music or audiobooks they were downloading have completed, giving the driver a little peace of mind about audio playback interruption due to poor wireless connectivity. Not only this, but as seen in the photo above, the Android Auto Google Assistant will become a larger part of Android Auto, able to bring up related content on the infotainment touchscreen, such as other songs, albums, and related artists the driver may select next. Like Amazon Echo, drivers can also give the Google Assistant commands to search for albums, songs, and artists.
Text messaging is also affected by this new display and Google Assistant. Like the Uconnect 4C infotainment system that basically mirrors the display of the smartphone onto its touchscreen, the new Android Auto will be able to display who is texting, and a preview of the text on the touchscreen*, just like a regular smartphone. If in motion, the driver can ask the Google Assistant to read the message aloud. Pretty neat.
Split-Screens Make Everything Easier
Do you guys remember "PIP" or "Picture-in-Picture"? Man, was that great – watch cartoons one one side of the TV while the parents watch the news on the other. Not only can the new Android Auto display all of a smartphone's apps on-screen, but now, with the 2019 Ram 1500 12-inch touchscreen and its split-screen functionality, the new Google Android Auto app will make navigation a lot easier. Between either end of the touchscreen, the driver can toggle between navigation, media playback, and hands-free telephone calls on either side.
Going forward, we may see even more features pop up in the new Android Auto as it continues to take over the current Uconnect infotainment system for Fiat Chrysler Automobiles. With the competition between Google and Apple, we're sure the other technological giant will be working on their own infotainment system once they get word of this. Now there's one question – Will this interconnectivity between driver, phone, and car make focusing on the road ahead easier or more of a distraction?
Let us know your thoughts on Aventura CJDR social media.
*If parked
Photo Source/Copyright: TechChunch.com