Gifts to Give from Mopar and Dodge This Year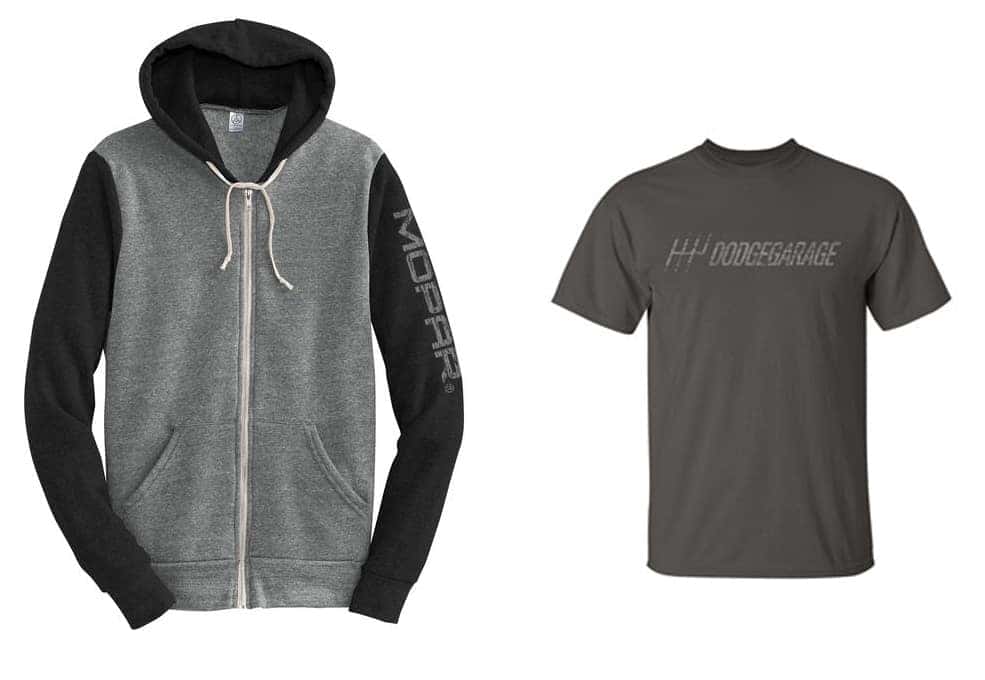 It's the season of giving and showing our appreciation to those we love and care for. Although non-material gestures are the sweetest, some of us do like to immortalize our feelings in a more tangible way. Fiat Chrysler Automobiles and Dodge has consumers covered this year. Straight from Mopar, the same company that modified the 2020 Jeep Gladiator pickup truck, has a selection of gifts to choose from. Plus, Dodge Garage isn't just a media hub – it's also a place to get some nice swag for a muscle car enthusiast.
Something to Wear
Yes, Mopar and Dodge offer their own apparel for those that like to honor the name while out and about. A Mopar hoodie ($49.95) that sports the Mopar logo is available. Want to complete the look? A Dodge Garage men's t-shirt is available for $19.95.
What about our car? There's types of apparel for that too, in the form of decals, magnets, and accessories to make life a little easier. Mopar offers lifestyle carriers ($175-575) for securing large items like a bicycle or pair of skis, truck bed storage systems ($1400-1450) for keeping truck beds and other storage systems organized and secure, and tonneau covers ($450-1400).
Swaggity Swag
Like accessories that serve a function? Mopar has a HEMI Neon Clock on the list for $79.95, sporting the Mopar "M" and HEMI logos, and a combo gift of wireless earbuds and a 2000mAh power bank with the "Mopar Garage" logo for $64.95. Dodge on the other hand offers a collection of items – Dodge SRT Hellcat recycled tire Coasters ($14.95 for a set of four), a Dodge 1320 Angry Bee Slim Line LED sign (limited quantity, $174.95), a Dodge Alexa Bluetooth speaker ($94.95), neon signs ($214.95 for "Challenger", "Scat Pack", or "SRT" – 399.95 for SRT Demon or SRT Hellcat logo), 11 oz and 16 oz mugs ($11.95 and $16.95, respectively), even cabinets and shelves ($1,795 and $244.95, respectively). What a way to merchandise.
Magic Hands
Do you know a grease monkey who's always working on their car, looking to tune it up or even bring it to the next level? Nothing like a pair of Dodge Mechanics gloves ($19.95) to say, "I love you, so keep all your fingers." The Dodge Garage also offers a Magnetic Work light with Torch and Stand ($18.95) for those long nights of sweat and tears, and even a 30-inch counter stool ($79.95) for admiring a job well done or boiling over in frustration. Of course, if we go with the bar stool, there's always Dodge reusable 16 oz red cups ($2.95), shot glasses ($5.95), and a set of table and stools ($429.95) if the garage serves as a bar as well as an auto shop.
If that mechanic likes to upgrade classics, Mopar recently came out with the Hellcrate" 6.2L Supercharged Crate HEMI Engine. However, this is more like a group investment than a gift, costing $20,020 for the engine kit and crate that adds 707 horsepower intended for pre-1976 vehicles, and can come with a simple "plug and play" installation for easy assembly ($2,265). A real grease monkey would want to install it themselves though, right?
These are just a few of ideas from us to get you started. Looking for more? Shop and order online at Mopar.com and WearMopar.com for Mopar, or go to life.dodge.com for gifts from Dodge. Send us a picture of your happy gift recipient on Aventura Chrysler Jeep Dodge Ram social media. Our service and parts department can also help with Mopar parts as well as the installation of some of the more tricky parts and accessories.
Photo Source/Copyright: FCA Media and Dodge Life