Get a Chrysler Pacifica to Celebrate National Pet Day 2021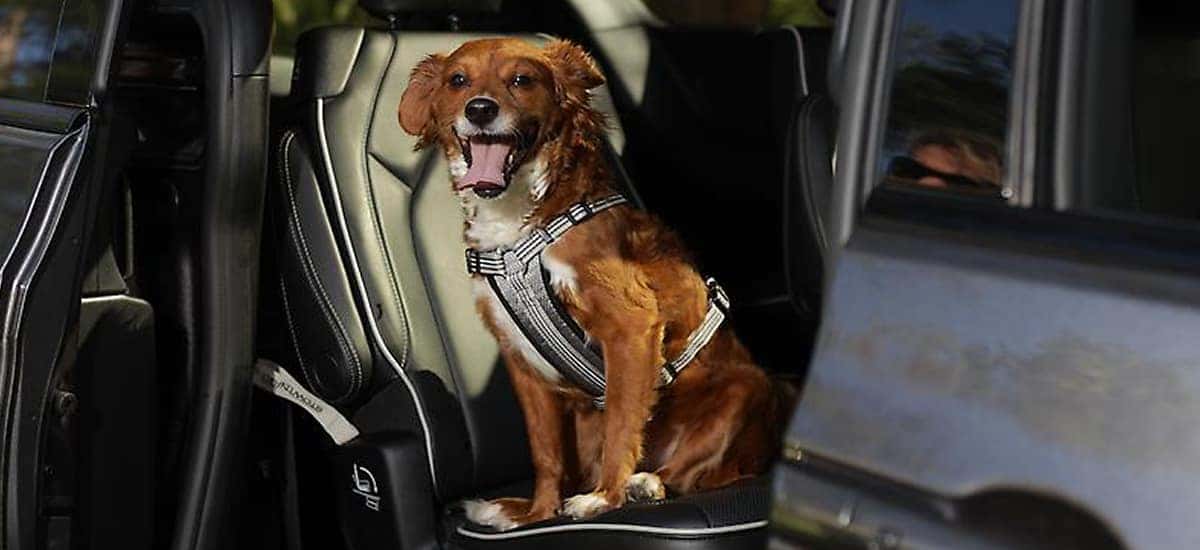 When it comes to our pets – cats and dogs, specifically – we love them to bits, and it can be hard to part with them, even for a little bit. Did you know dogs supposedly have a short-term attention span of 15 minutes? No wonder a trip to the grocery store means leaving them forever in their minds. Well, with National Pet Day coming up (April 11, 2021), with certain vehicles and after-market accessories, you can take your pet with you when on-the-go. Here are some ideas for pet-proofing your car as well as the vehicles to look for.
Autotrader and Pet Lovers
For the past few years, Autotrader has been putting together its "Best Vehicles for Dogs" list for those of us who want to take our canine pals wherever we go. If the name doesn't sound familiar, Autotrader is the most recognized third-party car listings brand and collects and shares data freely with in-market car shoppers. Its 10 Best Cars for Dog Lovers list named the Chrysler Pacifica for its family friendliness, offering consumers many seating configurations. We couldn't agree more.
Chrysler Pacifica and Pet-Lovers Features
Gaining a four paws rating, the Chrysler Pacifica has plenty of features for comfort and safety for human and animal passengers alike. With plenty of room, there's no need to put the dog in a kennel, and these four features in the minivan are the top dog traits that made the Pacifica a winner. Starting with the Stow 'n Go seating and Stow 'n Go in-floor storage bins, not only is it easy to provide plenty of space for pets to roam around, but even easier to store food and toys (and other items) out of sight to avoid messes. Keep the leash hidden too, we all know how crazy dogs are for walkies.
The Stow 'n Vac is an available feature in the Chrysler Pacifica and can make for cleaning up dog fur and free-range kibble from the cabin floor. Speaking of looking around the cabin, another new feature for the Chrysler minivan is the FamCAM interior camera, first making its appearance in the 2021 model, the FamCAM interior camera makes it easy to check in on rear occupants, and includes a zoom-in feature. The last pet-perfect feature are the hands-free sliding doors/liftgate. Whether carrying your pet through the supermarket in a handbag, or walking the dog through the park on a leash, getting them in and out of the minivan without risking harm or caught limbs with hands-free access to the Pacifica with a simple kick under the body of the vehicle (door or liftgate).
Pet-Proofing
These features in the 2021 Chrysler Pacifica are great, but what else can we do to prepare a vehicle for pets? If you absolutely need to put the dog or cat in a kennel or crate, best to invest in a crash-proof crate. The reason is self-explanatory, and too troubling to think about. Another good investment would be some seat covers if allowing pets to jump between seats to avoid getting them scuffed, especially if they're leather! Dogs love licking windows and getting slobber everywhere – this is an easy clean up with some wipes, but if you want to avoid this, putting some press 'n seal plastic over the windows will at least keep them from getting smudged while keeping visibility.
We all love dogs, who can't? If you want to bring your dog (or cat) with you next time you travel, look into buying a 2021 Chrysler Pacifica minivan at Aventura Chrysler Jeep Dodge Ram.
Photo Source/Copyright: Stellantis Media