FCA Vehicles Dominate the GAAMA Family Car Challenge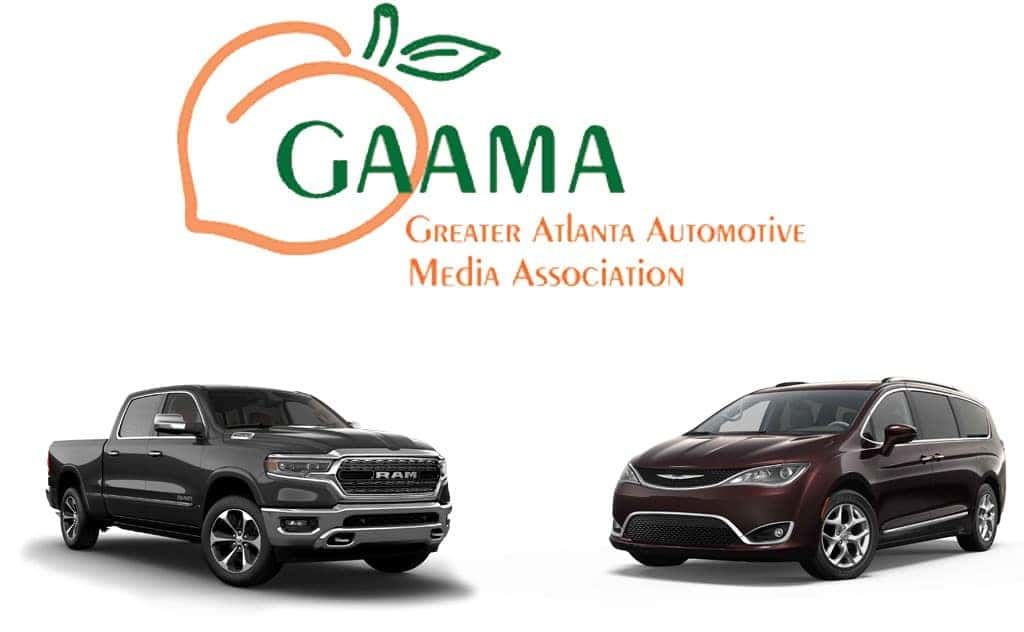 With summer 2018 on the horizon, many organizations are concluding studies and award shows before the 2019 model year rolls around and all-new vehicles come off the production lines. Names like WardsAuto and U.S. News & World Report have been common in the last few weeks, and now we can add the Greater Atlanta Automotive Media Association (GAAMA) to the score. Having recently held their annual "Family Car Challenge", three Fiat Chrysler Automobile Group vehicles had won some awards, and some of them may be surprising. Winners were the new 2019 Ram 1500 light duty pickup truck, Chrysler Pacifica minivan, and the Chrysler Pacifica Hybrid. Can you guess what award each vehicle won?
Greater Atlanta Automotive Media Association and the Family Car Challenge
Every year, the Greater Atlanta Automotive Media Association (GAAMA) gets together and evaluates various manufacturers' vehicles, spanning several family-oriented categories. Journalists scored vehicles after driving suburban routes around The Hotel at Avalon in Alpharetta, Georgia to get a good sense of each vehicles abilities and features. Vehicles from Fiat Chrysler Automobile stole the show, winning more awards than any other manufacturer at the annual competition.
"The GAAMA Family Car Challenge is unique in that we host the only vehicle competition specific to the needs and desires of today's families … For the third year in a row, our members were impressed with Ram 1500's combination of technology, functionality, drivability and family-friendly features. It's only fitting that the all-new 2019 Ram 1500 won our top overall award given how the 2019 Ram 1500 is loaded with well-thought-out features that are important to families: segment-leading fuel efficiency, impressive ride quality, clever storage solutions and a comprehensive infotainment system. The repeat wins for the Chrysler Pacifica are also impressive. Today's busy families need a vehicle that can help make their lives easier, and the Pacifica and Pacifica Hybrid exceed that promise."  – Daryl Killian, GAAMA president and host of The AutoNsider on News & Talk 1380 WAOK, an Entercom Radio Station based in Atlanta.
Family Car Challenge Winners
As noted above, the all-new 2019 Ram 1500 was honored with overall "Best Family Car" and "Best Family Pickup Truck" awards. The 2019 Ram 1500 light duty pickup truck even popping up in a "Family Car" award event is already plenty surprising. Maybe a father-and-son type of deal, but we can't imagine a couple with newborns looking at a truck and saying, "Oh yeah, this is perfect!" Regardless, the 2019 Ram 1500 received the highest award from GAAMA, and apparently has already won the "Best Family Pickup Truck" award for the past two years, making 2018 as the third consecutive year.
We all know the Chrysler Pacifica minivan is bound to show up in a family car award show. Having won three awards during the Texas Auto Roundup, the Chrysler Pacifica was also named "Family Car of the Year" by Cars.com during the North American International Auto Show. So of course the Chrysler Pacifica won the "Best Three-Row Family Car" award. That makes the second consecutive year for the Pacifica, and we can't say we're surprised. Every event with a minivan category in 2016 and 2017 named the Chrysler Pacifica, the apex minivan to end them all.
Yes, the Chrysler Pacifica Hybrid also made an appearance and went home with an award during the GAAMA "Family Car Challenge". Did you guess "Best Green Family Car"? If so, you would be right. Being the first electrified vehicle in the minivan segment that achieves an 84 miles per gallon equivalent (MPGe) in electric-only mode, 33 miles of all-electric range, and a total of over 560 miles, give or take electrical charge generated and collected via regenerative braking technology. Plus, aside from the deletion of stow 'n' go seating in the second row, the 2018 Chrysler Pacifica Hybrid still offers all of the great technology features of the original Chrysler Pacifica, including next-generation Uconnect 4 (and 4C) and Uconnect Theater with wireless streaming.
Now here's the best part. All of these vehicles, the 2019 Ram 1500, Chrysler Pacifica, and Chrysler Pacifica Hybrid can be found at Aventura CJDR. Check out our inventory today.
Photo Source/Copyright: Chrysler Ad Planner and GAAMA