FCA Makes It Easy to Go Green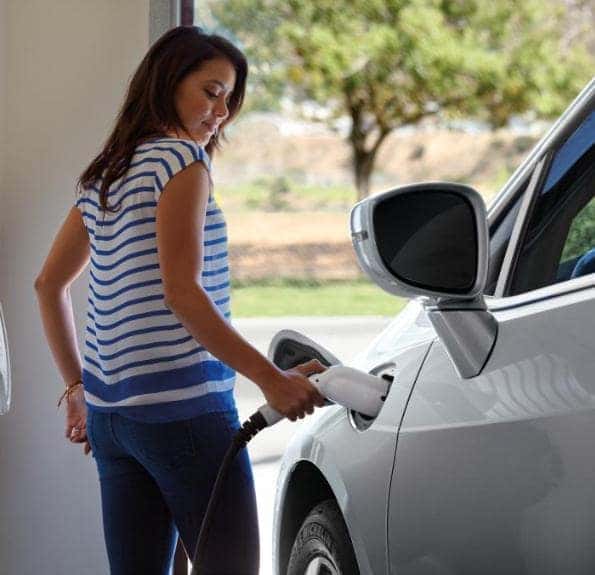 Going green has slowly become the new thing in the consumer marketplace. Global warming, carbon emissions, and fossil fuels have to go, and every year more people are trying to do their part. Until a global organization finally comes together to work on a Dyson Sphere and capture the power of the Sun, we have few options to choose from, but automakers are steadily working towards making alternative fuel vehicles more commonplace. This just doesn't encompass introducing plug-in hybrid and electric vehicles into an automotive lineup, though that is a good place to start. The best way to get more consumers driving greener vehicles is to make them more practical, and that means making it as easy to recharge an electric motor battery as it is to refuel at the gas pump. Fiat Chrysler Automobiles is meeting consumers halfway with a direct link for purchasing a Mopar 240-volt at-home electric vehicle (EV) charger and quality installation services on the Chrysler brand website.
Why any automaker looking to break into the alternative fuel market wouldn't make it easy to purchase an at-home charger is just silly. With Fiat Chrysler finally getting in on the game, giving consumers an easy option for purchasing at at-home charger gives them more incentive to look at a vehicle with an electric motor. Here's the thing – lots of consumers want to go green, not just to help the environment but also for the increase in fuel efficiency that leads to more mileage and a longer driving distance which leads to more savings. Some plug-in hybrids and electric vehicles can save consumers even more money. The fear, however, is not finding an electric vehicle charging station and being stranded or never using the electric motor because fueling up at the gas station is just easier. Well, what if you had a charging station in your own home?
Yeah, that changes things doesn't it? Whenever people are home, be it 8-10 hours when getting rest for the day or just a lazy afternoon, it's a perfect time to recharge a vehicle. That's right, no fancy power source – a 240-volt at-home electric vehicle (EV) charger is an all-in-one system that converts the same electricity running through the home and uses it recharge the vehicle's electric motor battery. It's as easy as plugging in a smartphone, and most plug-in hybrid electric vehicles (PHEVs) and electric vehicles (EVs) now come with smartphone apps that tell the owner the charging rate, current percentage, and when the battery is fully charged to avoid using more electricity than needed.
Purchasing the charger is also easy through a continuing partnership between FCA and Amazon. A direct link on the Chrysler brand website brings consumers to a page where they may purchase Mopar's 240-volt wall charger on Amazon.com, along with quality installation services for any branded EV charger. The process is easy enough, and aside from purchasing a charger, consumers just need to answer a few questions about their home to see an installation quote before scheduling an appointment online with a quality and licensed electrician to complete the installation of their EV charger.
"Our industry is approaching an inflection point in demand for affordable long-range electric vehicles. This action is just one of FCA's efforts to improve awareness and convenience in the EV purchase experience…We see opportunities to make owning an EV easier and creating a simple solution for at-home charging is among them." – Micky Bly, Head of Global Propulsion System Engineering, FCA
With FCA merging with the PSA Group and the new large automobile group focused on introducing more alternative fuel vehicles to their collective lineups, we'll be seeing a lot more PHEVs and EVs in the coming years. Jeep already debuted three plug-in hybrid Jeep vehicles at the 2020 Consumer Electronics Show, and a second generation Fiat 500 BEV, Fiat Ducato BEV, and Maserati's first hybrid are on the way. Follow along with Aventura Chrysler Jeep Dodge Ram social media to find out when more hybrid vehicles from FCA become available.
Photo Source/Copyright: FCA Media