Dodge Muscle Cars for Under $50k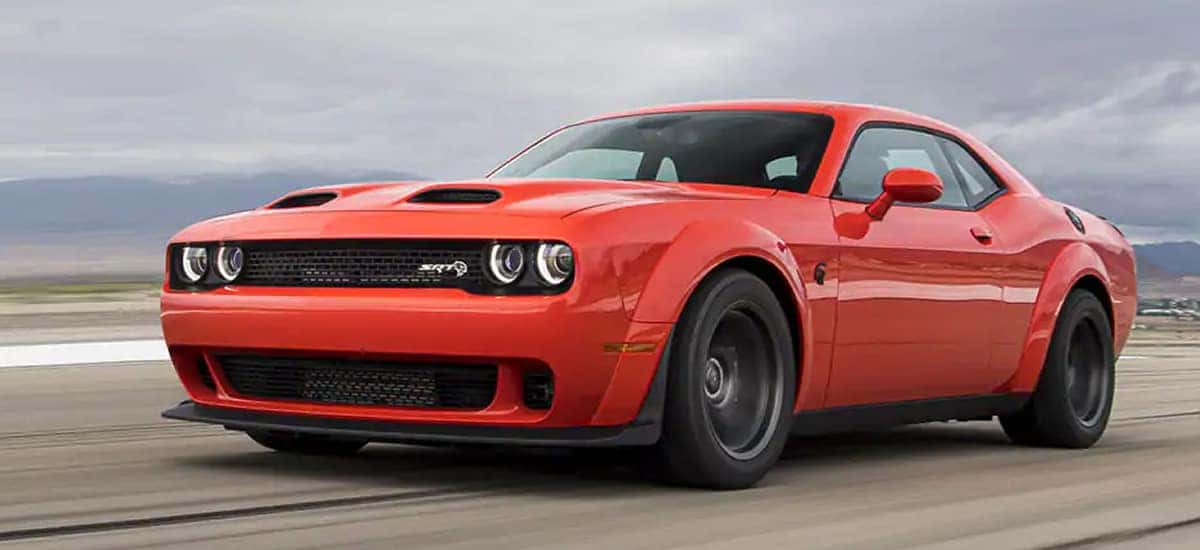 In today's world of automotive sports cars, there is a lot of competition for the fastest vehicle out there. It's no real surprise, with how quickly gearheads and motorheads are to flock to a muscle car touting horsepower over 500. Now, we're not sure if a whole lot of consumers are going to be taking home the 2020 Dodge Challenger SRT Super Stock, with an MSRP of $79,595 (plus destination fee). There are many consumers though that are looking for power on a budget. Now there is a Dodge Challenger for that – and for those of us who prefer four doors, the Dodge Charger also offers power under $45k.
Dodge Charger Scat Pack
Now if looking for a muscle car with some power, the Dodge Charger Scat Pack is a good place to start. If looking for something cheaper than $40k, a used vehicle may be the way to go, but if you want all the modern tech and features Dodge offers today, a 2021 Dodge Charger Scat Pack has a starting MSRP of $41,920 (plus destination fee), and only comes with rear-wheel drive. That's okay though, with a 6.4-liter V8 SRT HEMI engine under the hood, drivers are behind the wheel of a 485-horsepower sports car.
Sports car, muscle car, family passenger car. The Dodge Charger has had many names, the latter of which can be attested to its four-door body, but at one point, the Charger also only came with two doors. If the Dodge Challenger were to retire early, the Charger is older and could become the next flagship of the automaker when introducing plug-in hybrid options. A Dodge Cuda is also making rounds through the rumor mill.
Able to accelerate from 0-60 in 4.3 seconds, the Dodge Charger Scat Pack comes with options, with an assortment of packages available for added convenience and technology. It may push the price into the $50k range, but consumers could modify the Charger Scat Pack to give it more bark than bite. As long as that engine purrs, who's gonna argue? No one, that's who.
Dodge Challenger R/T Scat Pack Widebody
The Dodge Challenger R/T Scat Pack has had an amazing run as of late. In 2018, Dodge added what they called the "Dodge 1320 Club" to their Dodge Garage digital home base, dedicated to a special package released for the R/T Scat Pack. Known as the "1320 Package" and the "Angry Bee Package", this was the package to get if looking for SRT Demonic performance for under $50k. If this wasn't enough to get the motor humming, in 2019 Dodge upped the ante and added the Widebody package to the Dodge Challenger R/T Scat Pack. This added some SRT Demon style with 20-inch "Devil's Rim" aluminum wheels wrapped in (optional) Pirelli P Zero summer tires for extra grip, adds extended fender flares to the body, a blacked-out rear lip spoiler, and a scalloped hood.
Available in 2021 with a starting MSRP of $47,314 (plus destination fee), the 2021 Dodge Challenger R/T Scat Pack Widebody is a gem to behold. Powered by the 392 cubic-inch V8 SRT HEMI engine, able to generate 485 horsepower and 475 lb-ft of torque. It may not hum like the SRT Demon, but with the Widebody, the Dodge Challenger R/T Scat Pack Widebody can fool the untrained eye. The Challenger R/T Scat Pack race times were last recorded back in 2015, with a 0-60 mph acceleration time of 4.3 seconds and a quarter-mile time of 12.7 seconds.
Looking for your new Dodge Charger or Dodge Challenger? Find them at Aventura Chrysler Jeep Dodge Ram
Photo Source/Copyright: Dodge