Details on the Dodge Durango SRT Hellcat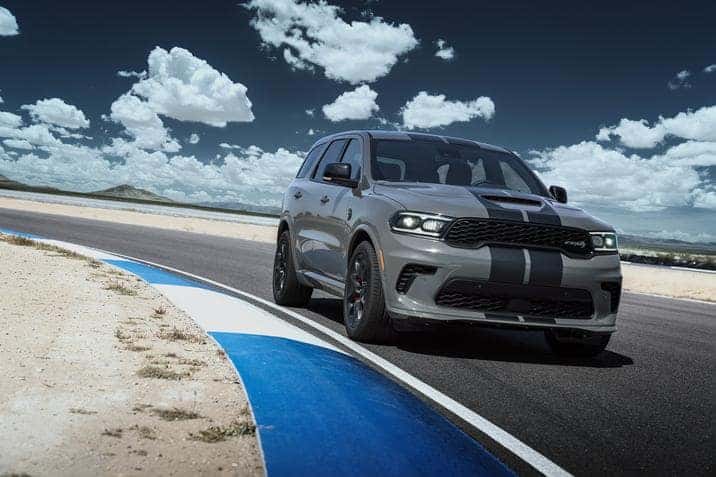 We've been talking about the new Hellcat and super-powered vehicles coming from Dodge lately, namely the all-new 2020 Dodge Challenger SRT Super Stock and the 2021 Dodge Charger SRT Hellcat Redeye. The SRT Super Stock is just Dodge taking another crack at the 2018 Dodge Challenger SRT Demon, revealing an engine powerful enough to generate 807 horsepower and 707 lb.-ft. of torque. The Dodge Charger SRT Hellcat Redeye is sharing the love of the Dodge Challenger series for what could be the last model year of the Dodge Charger as we know it, so why not remind everyone it's more than a four-door sedan – it's a muscle car! You know what other vehicle in the Dodge lineup is a true muscle car? It's the Dodge Durango, and for the first-time ever, the Dodge Durango is getting an SRT Hellcat engine under the hood.
Yeah, crazy, right? Powered by the supercharged 6.2-liter HEMI® Hellcat V8 engine, the 2021 Dodge Durango SRT Hellcat will undoubtedly be the strongest SUV in all of Fiat Chrysler Automobiles (FCA), maybe even the world! Able to deliver 710 horsepower and 645 lb.-ft. of torque, all of that power is transferred through a TorqueFlite 8HP95 eight-speed automatic transmission to give the driver total control. We're looking at a true racecar of an SUV here, able to accelerate from 0-60 mph in 3.5 seconds, has a National Hot Rod Association (NHRA) certified quarter-mile record time of 11.5 seconds, a top speed of 180 mph, and is 1.5 seconds faster than its counterpart, the Durango SRT 392 on a 2.1-mile road course. Just wow.
Ready for a little more hype? The 2021 Dodge Durango SRT Hellcat is a limited-edition item. Collectors get ready. This powerful SUV will be produced for the 2021 model year and then it's gone for good. You have one chance to get behind the wheel of the most aggressive looking Dodge Durango ever, with a Dodge Challenger-inspired, driver-centric cockpit and the five-times-faster Uconnect 5 on the available, largest-in-class 10.1-inch touchscreen at your fingertips. This is the Dodge Durango to get.
"The Brotherhood of Muscle includes families of all sizes and the Durango delivers Dodge performance as the Charger of the three-row SUV segment…And new for 2021, we have raised the bar even higher. The 710-horsepower Hellcat is the most powerful SUV ever. It's the last piece of the puzzle and, alongside the Charger and Challenger, completes the Dodge brand's performance lineup." – Tim Kuniskis, Global Head of Alfa Romeo and Head of Passenger Cars – Dodge, SRT, Chrysler and FIAT, FCA – North America
Don't forget about all the performance upgrades that would have to go into the Durango to handle this kind of power. It all starts with a new front fascia design, a new chin splitter, updated engine oil cooler duct, air guide and snorkel for cold air induction, followed by a new, unique rear spoiler that helps to improve the aerodynamic balance with the new front-end design. Available with various driving modes, an upgraded suspension adds better comfort in Auto and provides better handling in Track mode. There are four in total: Street (Auto), Sport, Track, and Custom which allows the driver to select individual preferences. The 2021 Dodge Durango SRT Hellcat even comes with Launch Control and Launch Assist for the most power at the starting line. Like all Hellcat models, the Durango needs some real stopping power, and it comes equipped with a massive standard Brembo high-performance six-piston, two-piece (front) and four-piston (rear) calipers, and vented rotors at all four corners measuring 15.75 inches (front) and 13.8 inches (rear).
Dealer orders for the Durango SRT Hellcat will open this fall, 2020, and are scheduled to start arriving in Dodge//SRT dealerships sometime in the first quarter of 2021. Stay up-to-date with us on Aventura Chrysler Jeep Dodge Ram social media to find out when ordering is available for the 2021 Durango SRT Hellcat.
Photo Source/Copyright: FCA Media