Dodge Reveals the 2020 Dodge Challenger SRT Super Stock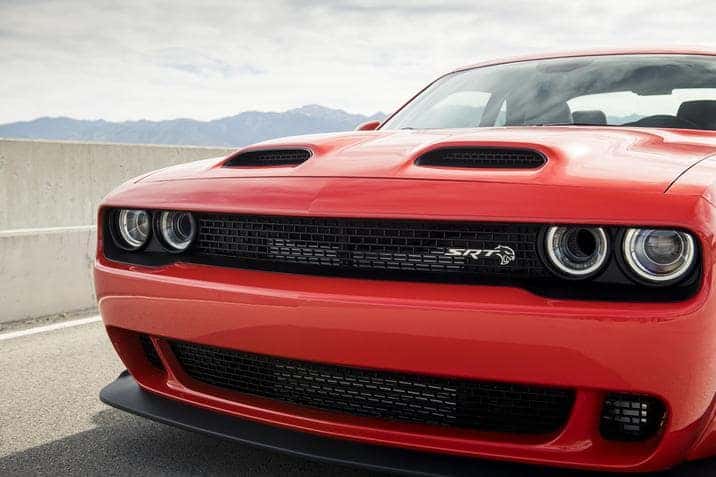 It may not be 8950 horsepower, and let's be honest, that just sounded crazy, but Dodge revealed a new model being added to the lineup, the 2020 Dodge Challenger SRT Super Stock. Made by an automaker known for high-performance, this vehicle was made to relive the days of drag-racing, the Dodge Challenger SRT Super Stock is the world's quickest and most powerful muscle car. This vehicle was revealed alongside the 2021 Dodge Charger SRT Hellcat Redeye and the Dodge Durango SRT Hellcat. The 2020 Challenger SRT Super Stock might be the last hurrah for the muscle car automaker!
"I swore that we'd never build another Demon and we won't…But I also said that every Challenger Hellcat and Redeye comes with an unspoken commitment to uphold the brand and the new Challenger SRT Super Stock is engineered to do just that." – Tim Kuniskis, Global Head of Alfa Romeo and Head of Passenger Cars – Dodge, SRT, Chrysler and FIAT, FCA – North America
Dodge has been inching ever closer to the limited-production 2018 Dodge Challenger SRT Demon that was incredibly impractical due to its high horsepower output of 840. The Dodge SRT Hellcat Redeye models pushed the envelope a bit and now the 2020 Challenger SRT Super Stock pushes it a little more with a tweaked supercharged 6.2-liter HEMI® high-output V8 engine that will be able to generate 807 horsepower and 707 lb.-ft. of torque. Like the Redeye, the Super Stock comes with additions for attitude and Demon-like performance.
A widebody package comes standard, along with a new suspension, standard Brembo brakes, and a new wheel and drag radial combination. For grip, the Super Stock comes with 18-inch-by-11-inch wheels in Low Gloss Granite finish, wrapped in sticky 315/40R18 Nitto NT05R drag radials. The Brembo brakes are lightweight all-aluminum four-piston brake calipers and 14.2-inch vented rotors, and other parts of the vehicle have been tuned to increase the performance and response time of the vehicle when starting and stopping. When it comes to the 2020 Dodge Challenger SRT Super Stock, the final results are a muscle car that can accelerate from 0-60 mph in 3.25 seconds, finish a quarter-mile in 10.5 seconds at 131 mph but has a top speed of 168 mph.
 If that isn't enough to make the Super Stock special, then read about it's "stealth mode". On the outside, the Super Stock models are made to look like an ordinary Challenger – no special badging or decals come with edition. Instead, it's more of the "if you know, you know", but the special wheels will give it away to a true Dodge muscle car fan. There are also four driving modes for the Super Stock.
Built to hit the race track, there are drag-focused driving modes built in that allow the driver to configure the transmission, paddle shifters, traction, suspension and steering or pick from predefined configurations. These modes include Auto (Street) mode, Sport mode, Track mode, and Custom mode, which lets the driver select between Auto, Sport and Track mode and configure more in-depth. For the average driver, using Auto (Street) mode will set the Bilstein ADS for a comfortable ride with compliant handling, ECO mode becomes available for better fuel efficiency, and available engine output is controlled by which key is being used (red or black). Track mode changes several settings, such as diverting cabin cooling to the SRT Power Chiller, a torque converter lockup point is raised in Drag mode, steering is changed to Drag mode, and the paddle shifters are turned on so the driver can still control the gear shifts without taking their hands off the wheel.
The 2020 Dodge Challenger SRT Super Stock also comes with many of the same functions as the Dodge Challenger SRT Hellcat Redeye and other Widebody models for pure racing performance. These include launch assist to help avoid wheel hop and loss of traction, launch control to hold the engine at optimal RPM to "launch" the car when releasing the brake, line lock that can lock up the front brakes but burnout the rear tires to "clean them", torque reserve to keep a balance of rpm and torque, race cooldown that helps cool the engine down rapidly so that drivers can race again and again in quick succession, the legendary SRT Performance Pages, and as noted, the SRT Power Chiller. It seriously feels like the Dodge SRT Demon all over again.
Consumers also get choices for personalization of the exterior and interior colors. Paint jobs available include F8 Green, Frostbite, Go Mango, Granite, Hellraisin, IndiGo Blue, Octane Red, Pitch Black, Sinamon Stick, Smoke Show, TorRed, Triple Nickel, and White Knuckle. Interior colors available are Black, Demonic Red, and Sepia.
Dealers will be able to start taking orders in the summer of 2020, with production starting at Brampton (Ont.) Assembly Plant this fall. The 2020 Challenger SRT Super Stock should be on lots by the end of 2020. Oh, and don't worry – the Super Stock is being added to the lineup for the 2021 model year, there's no limited production run. Be sure to check back with us at Aventura Chrysler Jeep Dodge Ram for your 2020 Challenger SRT Super Stock.
Photo Source/Copyright: FCA Media