Chrysler Joins Share Our Strength Campaign to End Child Hunger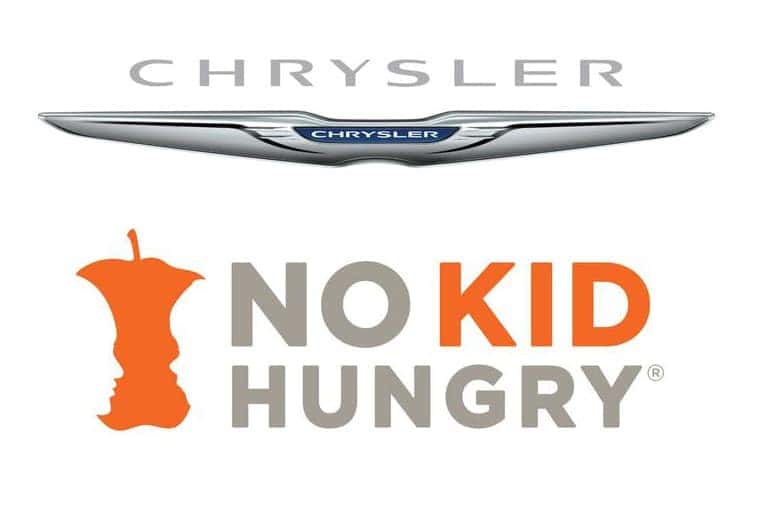 Automaker Chrysler is always playing a role in the community. In 2017, they were spreading awareness of their family-friendly seven-passenger minivan, the Chrysler Pacifica, by producing a small commercial series with Chrysler and Sesame Street. Also, although run by Alphabet Inc., Chrysler gets their name out their via the self-driving Waymo. The entire Waymo fleet is made up of modified Chrysler Pacifica Hybrid units, and recently, the Waymo program has expanded through Phoenix, Arizona and is partnering up with businesses like Walmart to offer self-driving car services. That just spreads the Chrysler name even further. Now, Chrysler is partnering up with a new organization to fight world hunger, specifically for children.
Chrysler and Share Our Strength
Share Our Strength is an organization working to end hunger and poverty on a large scale. In August 2018, they started their "No Kid Hungry" campaign, aimed at improving the lives of families across the country by ensuring children have the food they need to enrich their lives. Every year, 1-in-6 kids will face hunger. This causes them to be more likely to struggle in school, miss class, and just not feel well overall, leading to worsening side-effects and health.  Since 2010, one-third fewer children are now facing hunger. Chrysler will be supporting the No Kid Hungry campaign by providing up to 1.5 million meals.
"Through our partnership with No Kid Hungry, the Chrysler brand is able to help bring awareness to childhood hunger and support the organization's work across America…Childhood hunger is a solvable problem. No child in America should go without a meal and, as a trusted family brand, our work with this campaign will help ensure more kids across the country have the food they need to learn and grow." – Steve Beahm, Head of Passenger Car Brands – Dodge, SRT, Chrysler and FIAT, FCA – North America.
Through No Kid Hungry, effective programs are also developed to provide kids with the food they need. These come in the form of events to raise money – sometimes fundraisers, sometimes festivals.
No Kid Hungry Events
Taste of the Nation – Every year, 3,000 chefs and 25,000 attendees make up the Taste of the Nation event, where premier chefs, mixologists, and sommeliers put together amazing meals in more than 25 cities. The most recent event took place in Chicago with famed Chicago chefs Lee Wolen, Chris Pandel, Chris Curren, Toni Roberts, Elissa Narow, and visiting chefs Kwame Onwuachi, Dale Talde and Cesar Zapata.
Chefs Cycle – A fundraiser held for the campaign to end childhood hunger in America, award-winning chefs and members of the culinary community compete in a three-day, 300-mile ride for No Kid Hungry. This month, September 2018, several chefs and celebrities, including Bryan Voltaggio, Chad White and Seamus Mullen, will ride their bicycles through the 300-mile cycle to bring awareness and raise funds to end childhood hunger.
Bake Sale for No Kid Hungry – Like getting an immediate reward for doing something for the greater good? Bake sales are always a blast. Get something yummy and support a good cause through the Bake Sale for No Kid Hungry.
"There is no possible excuse for children to be hungry in this great country of ours. Yet it happens – every day…We are grateful for partners like Chrysler who are committed to helping us end childhood hunger once and for all." – Tom Nelson, President and Chief Executive Officer of Share Our Strength, the organization behind the No Kid Hungry campaign.
It's so nice to see an automaker taking an interest in the community and doing what they can to support those in need. It's not just about sales with Chrysler. Follow No Kid Hungry on social media for information on the next event and locations. Help Chrysler give back by checking out the Chrysler 300, Chrysler Pacifica minivan, or Chrysler Pacifica Hybrid, at Aventura CJDR. 
Visit Share Our Strength and No Kid Hungry to find out how you can help now.
Photo Source/Copyright: FCA Media