Watch the Construction of the SRT Demon Engine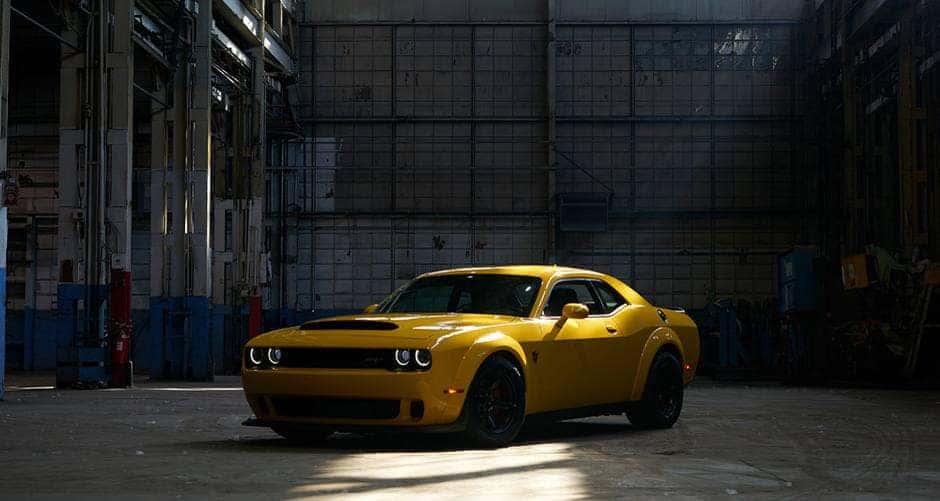 Late January 2019, over a year after the release of the short-lived 2018 Dodge Challenger SRT Demon, and Hagerty brings us a beautiful video starring the supercharged 6.2-liter HEMI Demon V8 engine under the hood. It's a time-lapse of the entire construction, focusing on every little detail, even how the supercharger is mounted onto the engine. To add a little flair, Hagerty had some fun during video editing, adding little effects, music, stop motion, and at one point some CGI, to give the overall footage a demonic feel of possession and poltergeist.
It's said that 97 new parts have been integrated into developing the Dodge Challenger SRT Demon engine, including a new crankshaft, new connecting rods, new pistons, a new steel camshaft, fuel pumps, a larger supercharger, and a new valvetrain. Find all of them in the above video? That's a fun five minutes for those muscle car fans out there.
The 2018 Dodge Challenger SRT Demon has one hell of an engine generating all 840 horsepower and 770 lb-ft of torque. Able to accelerate 0-60 mph in just 2.3 seconds and cover a quarter mile in 9.65 seconds at a max speed of 140.09 mph, that's true drag racing performance. For those that do take this beauty to the raceway, be sure to pop a wheelie, a signature move of the Dodge Challenger SRT Demon. At its debut, the Dodge SRT Demon popped a wheelie, with the front tires completely off the ground, and travelled 2.92 feet – a Guinness World Record.
Demon no more, production of the 2018 Dodge Challenger SRT Demon ended, with the last unit sold at an auction in the summer of 2018. Probably for the best that this was a one model-year vehicle. For one, Dodge is bringing an end to their muscle car lineup, turning the Dodge Challenger and Charger into hybrid electric vehicles. Secondly, the SRT Demon just wasn't practical.
Enter the 2019 Dodge Challenger. Learning from their mistakes, automaker Dodge realized the SRT Demon was just too much for the modern consumer. Instead, they developed a more tame version called the SRT Hellcat Redeye. Truly, the 2019 Dodge Challenger SRT Hellcat Redeye is the Demon we deserve. Hell, it's practically the new Dodge Challenger SRT Demon in disguise.
We say, "practically", because the 18-inch Demon wheels wrapped in 315/40 drag radials, weight-shifting suspension mode, and smaller, lighter 14.2-inch front brakes for the track are still all unique to the SRT Demon alone. However, the 2019 Dodge Challenger SRT Hellcat Redeye comes with 41-spline half shafts and high-strength steel prop shafts that increase the torque capacity of the Challenger by 20-percent and 15-percent, respectively; a high stall torque converter that provides 18-percent more torque multiplication and 11-percent quicker stall speed; and the final drive ratio is set at 2.62:1, in contrast to the SRT Demon final drive ratio of 3.09:1 that remains an available option. Also, for 2019, the R/T Scat Pack, SRT Hellcat, and SRT Hellcat Redeye come with launch control, launch assist, line lock, and SRT drive modes.
Consumers can push the envelope a little further with the Widebody package Dodge has made available for the aforementioned Challenger models. The Widebody package adds flared fenders, 20-by-11-inch Devil's Rim forged aluminum wheels, all-season performance tires, an upgraded suspension, a blacked-out rear lip spoiler, and a scalloped hood. Come get your 2019 Dodge Challenger SRT Hellcat Redeye with a Widebody at Aventura Chrysler Jeep Dodge Ram today.
Photo Source/Copyright: Dodge.com