Turning a Dodge Challenger into an Off-Road Warrior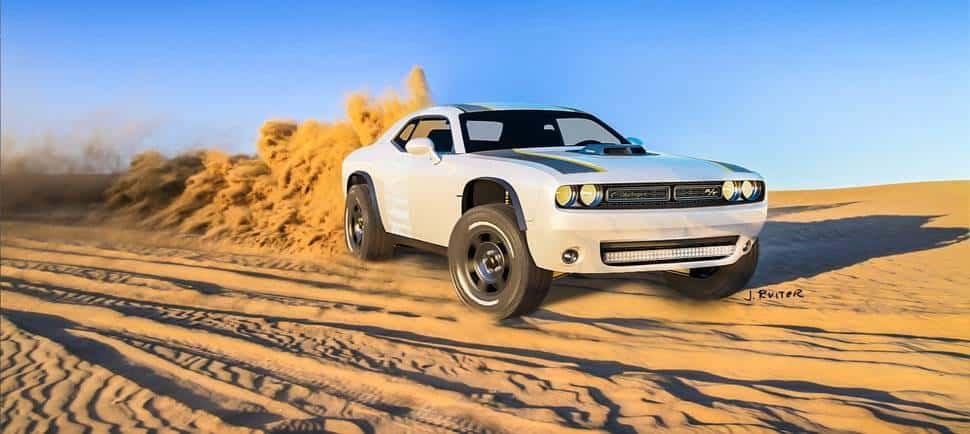 The Dodge Challenger has gone through a lot of changes recently. Not too long ago the most powerful Challenger was the Dodge Challenger SRT 392, then Dodge released the SRT Hellcat in 2015, and  this weekend they are releasing the resurrected Dodge Demon as the Dodge Challenger SRT Demon.
Also, a few months ago Dodge released the Challenger GT, which is the first two-door muscle car to have all-wheel drive (AWD), and a few months before that Dodge revived the 1970 Dodge Challenger T/A when they added three new Challenger T/A trims to the 2017 lineup. Oh, and let's not forget the very recent addition of the Dynamics Package, which allows buyers to add some SRT Hellcat performance components to Challenger Scat Pack trims. So with all of those changes, we started wondering what else the Challenger could become.
Let's look at some of the interesting factory components that have been installed into a Dodge vehicle before. Fine-tuned suspension, load-leveling NIVOMAT shocks, front-and-rear-stabilizer bars, and 18-inch performance tires on steel wheels … we can find those on a Dodge Charger Pursuit, not available to the public, but wait a second. A front-axle disconnect system, improved suspension and shocks? This all sounds a lot more like an off-road vehicle.
A quick Google search showed us that's actually possible! Designer Joey Ruiter turned a Dodge Challenger into an off-road muscle car, called the Challenger A/T*. His design is pretty good, but we feel like there's a couple things that could use improvement.
Turning a Dodge into an Off-Road Warrior
All-wheel drive is a must for the drivetrain, at least when leaving the road for a little adventure. That means an active transfer case and front-axle disconnect, like those found on many Jeeps will come in handy. So will the improved shocks and front-and-rear stabilizer bars. Ruiter added longer suspension arms and some thick wheels for better travel – we're thinking 17-inch wheels with BSW On/Off-Road tires will work best to keep the versatility of the Challenger a solid tradition.
Ruiter also mounted a light bar onto the lower grille, moved the exhaust, and added a spare tire into the trunk. He also added some body armor for getting through the rough, but we think adding some skid plates and a car bulbar a.k.a. small battering ram onto the front will help mow down free-standing debris and offer protection in front of the vehicle, not just the body itself. For lighting, we think LED headlamps and LED fog lamps would be a nice addition to the lower grille light bar. Throw on some tow hooks in case you need someone to tow you out of a jam, and this muscle car has become an off-road warrior.
Now imagine we take a Dodge Challenger Scat Pack model, make these modifications, and then integrate the new 2017 Scat Pack Dynamics Package. Now we have an off-road Hellcat! Jeep would be so jealous.
A little Google and some imagination spurred on this off-road mod, and we want to hear some of your favorites. We know about the '78 Corvette that was turned into a Batmobile, so we're sure there's some other cool stuff out there. What Dodge mods have you seen that you'd like to share?
*thrillist.com/cars/2015-dodge-challenger-a-t-off-road-concept-by-joey-ruiter
Photo Source/Copyright: Thrillist.com; Joey Ruiter