The Grand Wagoneer Wins the CarBuzz 2021 Family Luxury Award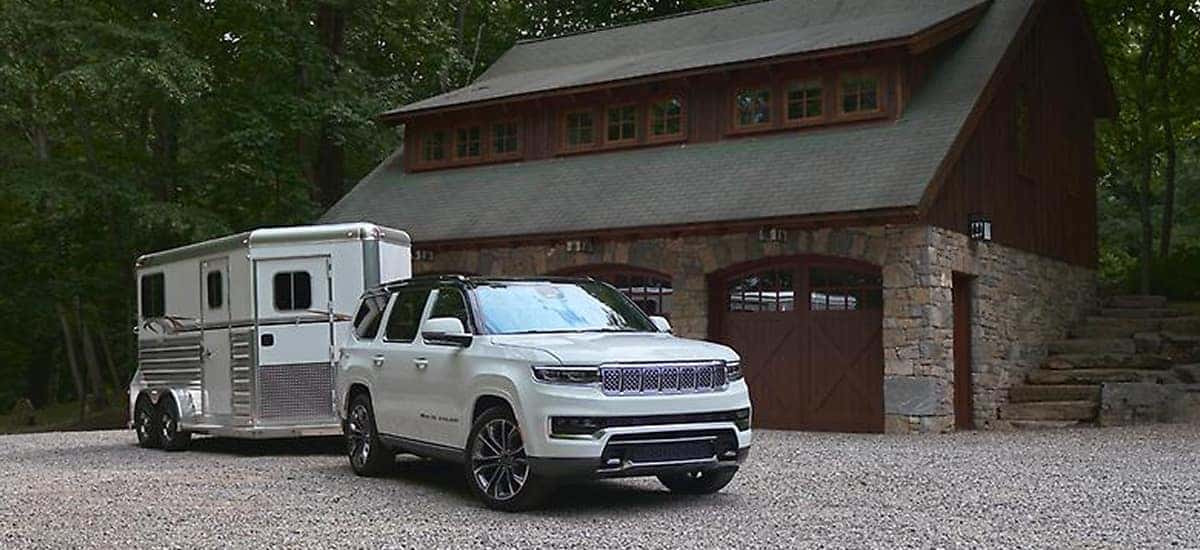 We did it! It's the last month of 2021! You know what that means, don't you? It's time for awards-galore, when all the automotive journalists and publications out there pull on their boot straps and keep hustling as reviews come to a close, judges put in their votes, and all sorts of "best of lists" and awards start popping up for brands and their respective models. We say this because recently, the all-new Jeep Grand Wagoneer, still alluding dealerships, just won the CarBuzz 2021 Family Luxury Award. We knew the Grand Wagoneer was a callback to the family station wagon way back, but it has more to offer families of today than legroom.
"The amount of luxury in the Grand Wagoneer is nothing short of staggering…With 75 inches of reconfigurable screen, the latest Uconnect software (five times faster than the previous version), and built-in Amazon Fire TV, there's no length of road trip that would be too long. Keeping things settled and cushy over the long haul is a fully independent suspension setup with rear load-leveling for when carrying lots of payload. The Grand Wagoneer comes standard with an electronically controlled air suspension that continually adjusts stiffness for the best on- or off-road ride." – CarBuzz Managing Editor Jake Lingeman
This award from CarBuzz is just one of the many accolades the Grand Wagoneer has earned since its reveal. A little rebirth of the American icon of what constitutes a family vehicle, Jeep ups the game by adding three available 4×4 systems to take this SUV off the road and on an adventure. With its powerful performance and responsive driving dynamics, consumers can haul up to 10,000 pounds to their favorite camping spot or lake. That gives the all-new 2022 Grand Wagoneer and 2022 Wagoneer models another bragging right of the best towing capability in their class. Add in the ability to comfortably seat up to eight passengers with premium high-class materials and advanced automobile technology, and these SUVs radiate luxury.
That's really the goal for Jeep with these two new models. Aiming to hit the luxury class, Jeep is going for a new look. Still a mass-market brand, and starting to really pull back the curtain on electrified models, competing as a luxury model has never been a real strong suit for Jeep. With nearly every model a bare-bones concept unless going for the high-end tiers, the Jeep Grand Wagoneer and Wagoneer may be the first SUVs to come with a lot of perks standard. Such features include Nappa leather seats, a throwback to the two-spoke steering wheel, a 10.3-inch digital gauge cluster (on the Wagoneer, 12.3-inch screen on the Grand Wagoneer), a backlit aluminum shift knob, a power sunroof with multiple panels, a 10.1-inch infotainment screen with Stellantis's Uconnect 5 infotainment system (12.0-inch touchscreen in the Grand Wagoneer, and those are just some of the highlights. When it comes to 4×4 action, the Wagoneer offers the Quadra-Trac I, Quadra-Trac II, and Quadra-Drive II; the Grand Wagoneer comes with Quadra-Trac II as the standard off-road system.
Looking forward to the 2022 Jeep Grand Wagoneer and Jeep Wagoneer? So are we. Check back with us at Aventura Chrysler Jeep Dodge Ram or follow us on Aventura Chrysler Jeep Dodge Ram social media to find out when the Grand Wagoneer and Wagoneer are here.
Photo Source/Copyright:  Stellantis Media