The FCA Delivers its 10,000th Officer Protection Package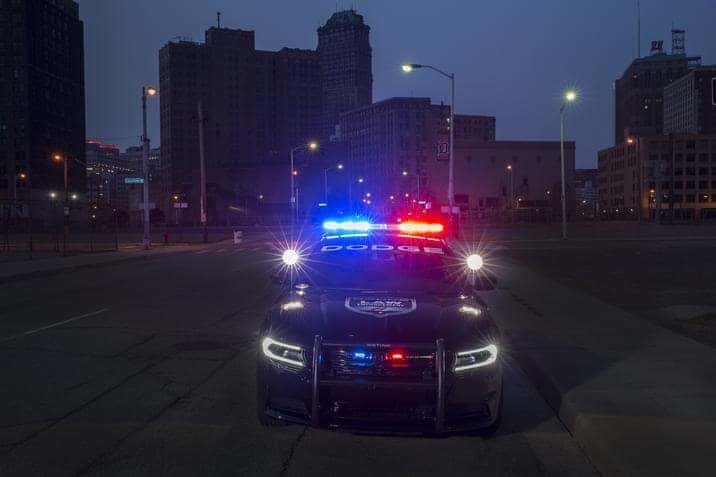 Well, well, well. The boys in blue actually have some bite. Thanks to automaker Dodge, the Fiat Chrysler Automobiles automotive group in the United States will be delivering its 10,000th Officer Protection Package for Law Enforcement. Because the vehicles made for law enforcement officers (LEOs) aren't available for retail, the common consumer may not know what's so special about this package. Well, let us be the ones to inform you on the new toys police get to play with.
The Dodge Charger Pursuit was the first vehicle to give LEOs a boost in chasing the bad guys, but then the Dodge Durango Pursuit debuted in 2018, and that permanently changed the game. Why chase criminals when you have a battering ram? Nothing says "Pull over" like running someone off the road. Each have their own perks, too.
Under the hood of the Dodge Charger Pursuit is a 3.6-liter Pentastar V6 engine that can generate 292 horsepower. If looking for a boost, squad leaders could choose the larger 5.7-liter V8 engine, able to produce a best-in-class 370 horsepower. The Dodge Charger Pursuit is also equipped with performance-tuned suspension, load-leveling NIVOMAT shocks, a 14.5-inch front and 13.8-inch rear pursuit-rated brake package, 18-inch performance tires, and two-mode electronic stability control (ESC). In addition, specifically for the police force, the Dodge Charger Pursuit is equipped with NIJ Level III+ ballistic door panels on the driver and passenger doors to take the brunt of a lot of fire power.
The Dodge Durango Pursuit comes with similar modifications, with an eight-speed automatic transmission, full-time active all-wheel-drive (AWD) system, a two-speed transfer case for true low-range off-road capability, the segment's longest wheelbase (119.8 inches) to provide added stability and improved handling, 8.1 inches of ground clearance, and larger, heavy-duty anti-lock brakes to bring the vehicle to a stop in 134 feet (when going 60 mph). Talk about power. Oh, the Durango Pursuit comes standard with the 5.7L HEMI® V8 engine, able to deliver 360 horsepower and 390 lb-ft of torque. Then there's the Officer Protection Package.
The Officer Protection Package includes upgraded visual and motion detecting systems with cameras to prevent a potential ambush on the vehicle, modified the ParkSense and front park assist systems to alert the officer(s) if someone is approaching the vehicle, and reverse sensors that can detect something or someone in its field of view and warn the officer, followed by the system locking all the doors, rolling up the front windows, and flashing the taillights. Sounds great right? Too bad this isn't available for retail, barring a police auction. There is an achievement in all of this though.
"The Officer Protection Package is the latest layer of safety to be built into our Charger Pursuit…We knew it was the right thing to do for all the men and women who protect us on a daily basis, and we are gratified to know that over 10,000 of these heroes now have a better chance of avoiding rear ambush occurrences. I'm also pleased to announce that we will continue to offer this package free of charge on our 2019 model-year Dodge Charger Pursuits."
– Steve Beahm, Head of Passenger Car Brands, Dodge//SRT, Chrysler and FIAT – FCA North America.
2018 marks the 10,000th sale of Officer Protection packages. That means (potentially) over 10,000 lives have been saved because of this hardware. Way to go Dodge!
Consumers may not be able to get either Pursuit vehicle, but we do sell the Dodge Charger and Dodge Durango at Aventura CJDR.
Photo Source/Copyright: FCA Media