Debut of the 2019 Dodge Durango Pursuit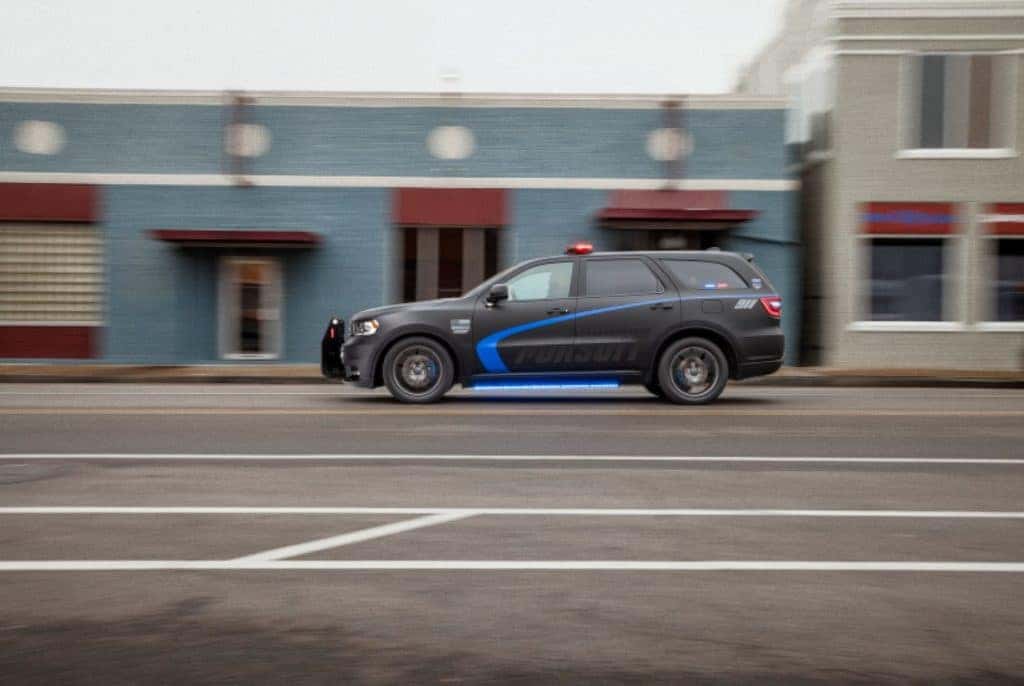 Wasn't it just a few months ago that the 2018 Dodge Durango Pursuit made its way to the police force? It was, but with details about the 2019 Dodge Challenger and Charger making their rounds, it only makes sense that other vehicles will also be coming out for their 2019 model year. Already debuted at the 2018 National Sheriffs Association Show, the 2019 Dodge Durango Pursuit has some changes to bring it up to par with the already successful Dodge Charger Pursuit. Evildoers beware!
The National Sheriffs Association Show is an annual conference for Sheriffs, deputies, and other law enforcement professionals to gather and discuss current law enforcement issues, take part in training exhibits and workshops, network, and like average people, mingle. Like any other convention or conference, many types of merchandise are on display, but these revolve around products and equipment relevant to police work, jails, prisoner transport, and courtroom security – boring! This year, Dodge livened it up with the 2019 Dodge Durango Pursuit.
"Dodge already leads the police pursuit sedan business with the proven Charger Pursuit, and we believe the 2019 Dodge Durango Pursuit SUV will expand our appeal to an even broader audience and take our game to the next level in terms of performance … The Durango gives law enforcement agencies even more of what they want: a more spacious interior room, a higher ride height, Hemi V-8 performance and efficiency." – FCA Head of Passenger Car Brands Steve Beahm.
The 2018 and 2019 Dodge Durango Pursuit models are powered by the 5.7L HEMI® V8 engine capable of 360 horsepower and 390 lb-ft of torque, paired to an eight-speed automatic transmission. This gives the Durango Pursuit a highway fuel economy of 22 mpg. If things get a little bumpy, both model years also ride on an all-wheel drivetrain as the standard, and come equipped with a two-speed transfer case for true low-range off-road capability. If looking for more fuel efficiency to cover large jurisdictions, the 2019 Dodge Durango Pursuit also offers a 3.6L Pentastar V6 engine option, able to deliver 293 horsepower and 260 lb-ft of torque, and quoting a highway fuel economy of 25 mpg.
Of course, a new model isn't new without some updates to the body and chassis. The exterior of the 2019 Dodge Durango Pursuit has been upgraded with a front fascia with inlets that feed into brake-cooling ducts so that the hefty crossover's calipers, pads, and rotors can continue to perform under pressure, as well as a performance-tuned, load-leveling suspension system to maximize handling performance – and that's just the start of modifications. In addition to these, a heavy-duty oil cooler and water pump help keep the engine cool, even during the demanding drive of the daily cop. Police-specific equipment added includes a spot-lamp wiring prep package, red-and-white auxiliary dome lamp, a 220-amp alternator up to the task of powering police computers, radar detectors, and other law enforcement equipment.
Wondering about the capabilities of the Durango Pursuit? Assuming they're made with NIJ Level III+ certified ballistic door panels made from high-grade kevlar that can withstand high-powered gunfire for the driver and passenger doors (same as the Dodge Charger Pursuit), the Dodge Durango Pursuit also includes the segment's longest wheelbase (119.8 inches) to provide added stability and improved handling, 8.1 inches of ground clearance, and larger, heavy-duty anti-lock brakes. The 2019 Dodge Durango Pursuit comes with a pursuit-rated brake package that features 13.8-inch rotors up front and 13-inch units in the rear for impressive stopping power.
If only such vehicles were available for the public. Barring a police auction, consumers will have to settle for the stock Dodge Durango. Or, they can look into DIY modifications, like the guy who turned a Dodge Challenger into an Off-Road Warrior.
Photo Source/Copyright: FCAUSFleet.com