SUV or Crossover? When Does One Become the Other?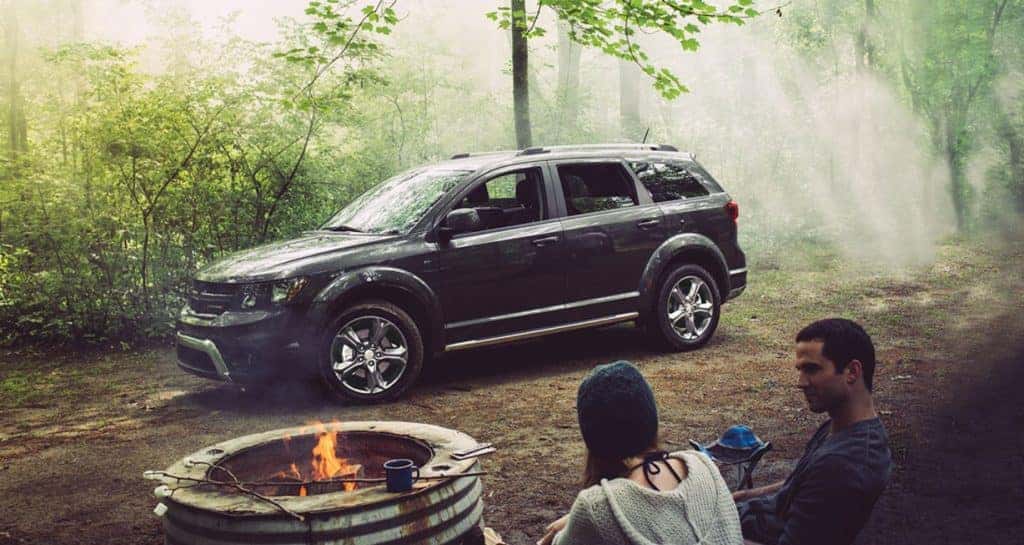 The term "crossover" in the automotive world is a funny thing. As defined on Wikipedia, a crossover, or crossover utility vehicle (CUV), is a vehicle built that combines the features of a SUV with those of a passenger vehicle, such as a wagon or hatchback. However, isn't that what a SUV already is? Not only that, but some automakers make "compact" SUVs and label them as such, although vehicles like the Jeep Compass are considered a compact crossover. Check out some of these other FCA vehicles that are hiding under the SUV umbrella.
Dodge Journey
One look at the Dodge Journey, and someone could easily mistake it for a SUV. It's large (16 ft long), powered by a strong engine (283 hp 3.6-liter V6 available), and has a towing capacity of 2,500 pounds, enough for a small boat. However, it also has room for up to seven passengers when it is equipped with a third row, which is an available option on all Journey trims except for the Journey SE. There is also an assortment of features for passengers, such as triple zone automatic temperature control to keep everyone cool or warm, sunscreen glass to keep the van from heating up, and various sorts of entertainment to keep people amused on long trips. Consider the many storage compartments for cargo and equipment, and yes the Dodge Journey can do much of what a small SUV can – but it's also a great vehicle for passengers.
Jeep Compass
The Jeep Compass definitely looks like a crossover, but it too is considered to be a compact SUV. Powered by a 180-hp 2.4-liter engine, it generates 175 lb-ft of torque and can tow 2,000 pounds. It has some of the same features as the Dodge Journey, and if we consider its 4×4 systems, like Active Drive and Active Drive Low, drivers and passengers can enjoy best-in-class off-road performance. SUVs may be known to go off-road, but how many people will risk taking a SUV rock crawling? Its available 20:1 crawl ratio gives the Compass plenty of power to climb and maneuver through steep hills, an act that would make most of us in a SUV a little worried.
Jeep Renegade
Honestly, we don't even know why the Jeep Renegade is considered a SUV. It is without a doubt the off-road compact crossover to get. Made for water crossing, mudding, rock crawling, and with the same 4×4 systems as the Jeep Compass, the Renegade is plenty capable – more so if driving the Trailhawk trim. We will note that there is a lack of entertainment for passengers, with a 4-6 speaker system as the standard and Uconnect 5.0; that wouldn't make one call it a SUV though. The Jeep Renegade is simply made for adventure, it's as simple as that.
Jeep Cherokee
Followed by the Jeep Grand Cherokee, definitely a SUV, the Jeep Cherokee is another crossover hiding in the shadow of a SUV. It's Trail Rated Tough and has a Trailhawk trim, so the Cherokee, like these other Jeep models, are capable of more than towing, even with its 271 hp3.2-liter V6 engine that generates 239 lb-ft of torque. Three 4×4 systems are available, too – Jeep Active Drive, Jeep Active Drive II, and Jeep Active Drive Lock to lock the vehicle into a 4×4 drivetrain. With best-in-class towing, 4500 pounds, the Cherokee is definitely a monster for a crossover, and we can see why it would be called a SUV. However, with its award winning style, Uconnect technology, and mobile connectivity, the Cherokee blends the lines when considering its aptitude for storing and managing cargo along with the power it packs.
What do you think? SUV or crossover? You can check out these vehicles in our inventory, but we'd like to hear your thoughts on social media as well.
Photo Source/Copyright: Dodge.com