Stellantis Wins Three Awards at 2021 NEMPA Winter Competition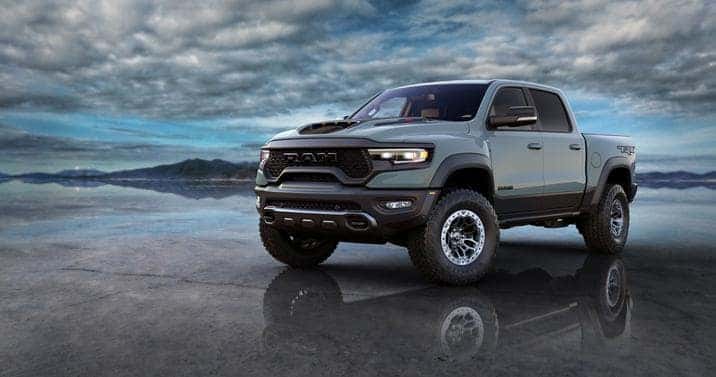 Around this time of year, automakers start to shift the focus from 2021 models to 2022 models in terms of production and marketing. Although we still have five months to go, 2021 model year vehicles will be soon pushed aside, which means lower prices, which means it's a good time for consumers searching for a car to get informed. That's where automotive publications come in, always filled with reviews, some of which come from organizations that also put together lists or honor a vehicle with a reward. The latest accolade comes from New England Motor Press Association (NEMPA), naming the 2021 Ram 1500 TRX the Official Winter Pickup Truck of New England.
"The Ram 1500 TRX earned the top spot as the overall winner…The mighty TRX is designed to handle the harshest conditions, including snow, and satisfies the New England motorist in every detail from its supercharged engine to its 35-inch tires. The Jeep Gladiator doesn't just handle New England winters, it dominates them, which is why it's a favorite and repeat winner in taking NEMPA honors. Chrysler Pacifica now offers true all-wheel-drive that can handle not just New England winters, but with its full suite of safety features, further adding to driver and passenger safety. Add in one of the best infotainment systems and Pacifica is the NEMPA best-in-class People Mover." – John Paul, President, New England Motor Press Association
NEMPA has been around since 1987 and has a very specific demographic when reviewing vehicles in the auto industry, with a focus on markets in Connecticut, Maine, Massachusetts, New Hampshire, Rhode Island, and Vermont. With an outreach of 14.5 million people, NEMPA appears on network and cable TV, on the Internet and radio, and in regional and national newspapers and magazines. Basically, the word is out when NEMPA makes a review, and the recent winter vehicle competition gave Stellantis a chance to shine, snagging three awards.
That's right – the Ram 1500 TRX is not alone. These Apex predators may be leading the pack, but this pickup truck is followed by the 2021 Chrysler Pacifica minivan and the 2021 Jeep Gladiator mid-size pickup truck. Winning an award during its first year of eligibility is always a nice notch on the ol' belt for Ram Trucks, setting a new benchmark for power and performance for half-ton pickup trucks, powered by the 6.2-liter supercharged HEMI® V8 engine. 2021 marks the third consecutive year that NEMPA has chosen vehicles from Stellantis (previously Fiat Chrysler Automobiles; FCA vehicles).
Three years-in-a-row just shows these automakers make some of the best vehicles time and again. The Chrysler Pacifica minivan is already a winner, we know that with the hundreds of awards naming the Pacifica "the best family minivan", but not this baby offers all-wheel-drive (AWD), making it capable of also dealing with the somewhat harsh terrain drivers may experience in the northern states NEMPA speaks to. This earned the Chrysler Pacifica the NEMPA People Mover best-in-class honors.
Another vehicle that has won the hearts of consumers everywhere is the Jeep Gladiator. The long-awaited pickup truck made its debut as a mid-size pickup truck to stimulate the currently shallow class segment, and automakers are starting to respond to the competition. But can you really beat the Jeep Gladiator, most off-road capable Jeep truck ever, blending the 4×4 features of a Trail Rated Jeep with the cargo capacity of a Ram Truck. Built to handle the demands of an active lifestyle, whether in the heat of the Sahara or the cold of the arctic, Jeep withstands it all.
Find your award-winning vehicle for the cold winters, or just the summer South Florida heat, when you look for a new Stellantis vehicle at Aventura Chrysler Jeep Dodge Ram.
Photo Source/Copyright: Ram