Stellantis Hosts 2022 Drive for Design Contest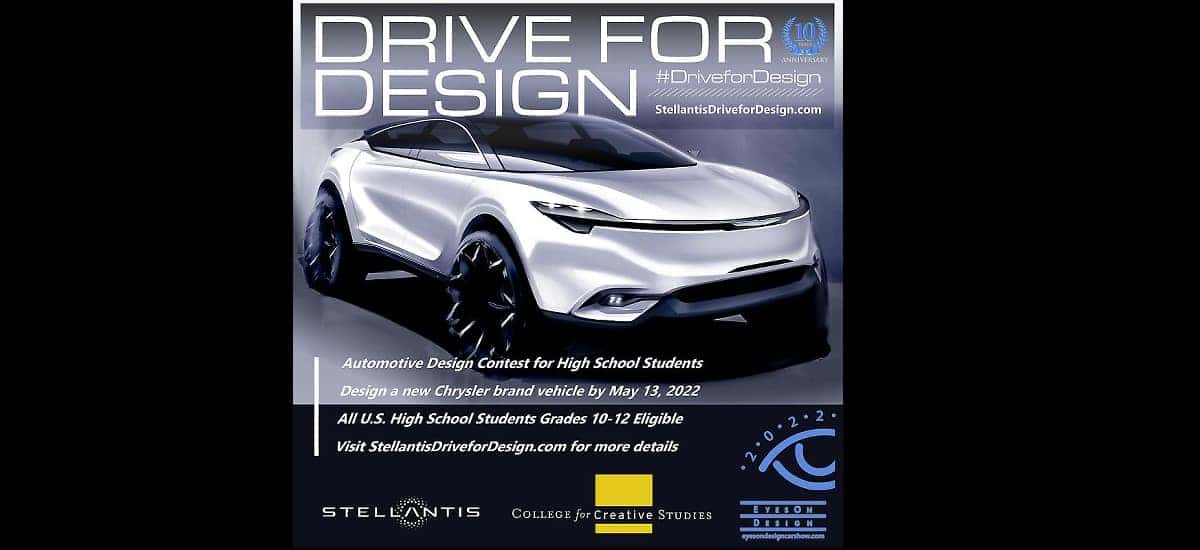 If there's one thing Stellantis automakers know, it's how to design cool looking cars. The Dodge Charger and Dodge Challenger are two great examples of a car that looks cool and is fun to drive. Back when Chrysler was fiddling around with the self-driving Chrysler Portal concept, it was definitely an all-new look for a minivan where the cabin can turn into a private lounge on wheels. However, the guys behind the chair can't always come up with an idea – creative blocks exist. So once in a while, there will be a contest, like the "Design Your Own Jeep Easter Egg" contest, or the "National 2019 Drive for Design Contest." Although it may not be a huge event, originally held by Fiat Chrysler Automobiles before the merger, this contest has been going on every year since 2019. Stellantis is now in charge, and is hosting the contest in 2022, offering high school students a chance to make it big before graduation.
Yes, that does sting a little. High school kids have their whole lives ahead of them, but it's a chance to start early. Regardless, to be eligible for the "Stellantis Drive for Design" contest, entrants must be legal U.S. residents currently attending a U.S. high school, and in grades 10, 11, or 12.
"Winning is not the main goal of this contest, it's about discovering career opportunities, helping young artists hone their craft and educating parents of young artists about a rewarding profession where they can use their artistic talent…Regardless of where these students ultimately land after graduation, it's been rewarding to our team to be able to make a positive impact on someone's life and career." – Head of Ram Truck and Mopar Design, Mark Trostle
Okay, now it makes sense. Trostle also won this contest as a high school student. Reviving the contest a few years ago, Trostle has worked with many students and their parents when it comes to keeping the youth in school. Well, actually, his focus is on attending an art school that can ultimately educate them on potential career paths in automotive design. Usually, contestants of the "Stellantis Drive for Design" contest have landed internships and actual paying working inside the Stellantis design studios. Most college graduates are putting their B.S. to good use making foam art in frappuccinos.
To enter the contest, it's easy. Submit a .pdf or .jpg file that is an illustration completed in any medium, as long as it's not larger than 11" by 17". One final design per applicant, and students can choose to design the exterior of a vehicle or the interior. As long as it's all original artwork that doesn't infringe on copyright laws, and it's work all done by the student – not their parents or artistically gifted cousin – then it's good to go. Just make sure to submit it by May 13, 2022 before 11:59 p.m. Eastern Standard Time. Winners will be announced a week later on May 24, 2022. Judges evaluate each finalist entry on (1) "Craftsmanship" – 25%, (2) "Design Quality" – 25%, (3) "Illustration" – 25% and (4) "Originality" – 25%. The sketch with the highest scores from judges is the winner, assuming FCA US doesn't find any problems with eligibility and compliance with the above guidelines.
Good luck! If you think you should win, get yourself some exposure by sharing your sketch with us on Aventura Chrysler Jeep Dodge Ram social media.
Photo Source/Copyright: Stellantis Media