Design Your Own Jeep Easter Egg and Win a Jeep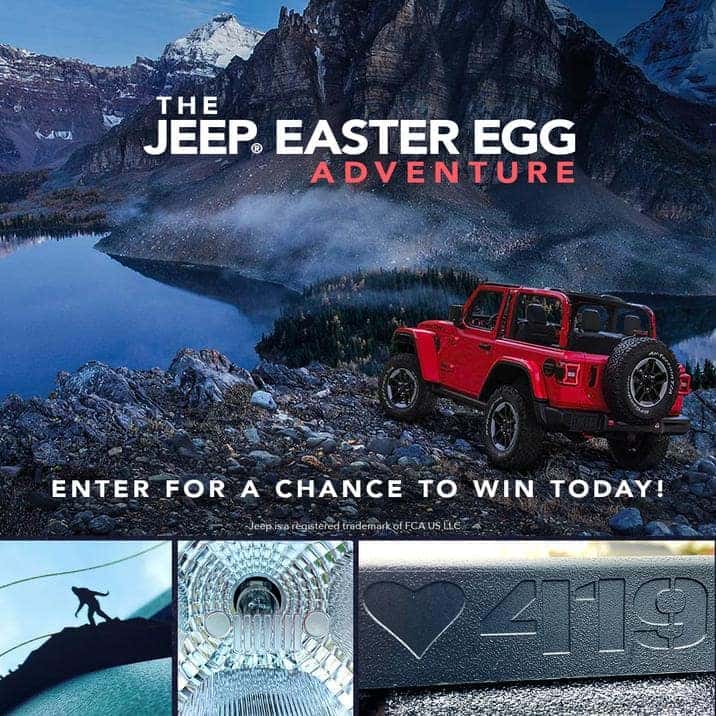 Anyone who has taken a ride around in a Jeep, and especially Jeepers, know all about the hidden easter eggs Jeep likes to place in its models. The Jeep Renegade is most notably known for this with a piece of design paying homage to Jeep roots on nearly every part of the vehicle. These can be anything from hidden Jeep® grilles to a 1941 Jeep Willys driving up a mountain – there is even a sasquatch on the windshield. Jeep is also known for the Easter Jeep Safari, where Mopar and Jeep put together concepts that might be turned into a Jeep special edition model. This year, however, there is no Easter Jeep Safari, for obvious reasons, and so Jeep is upping the fun of their hidden easter eggs with a "design-your-own" contest.
Yes, that's right, Jeep fans. The Jeep brand is giving its community the opportunity to invent what the next "Easter Egg" should be. If chosen, the new easter egg will be hidden on a future Jeep model in production. That's a legendary tale for automotive fans right there – your design is on a model-year of Jeep vehicles. Not only that, but the winner will also get a brand-new Jeep vehicle of their choice*
"Jeep 'Easter eggs' started with the 2011 Grand Cherokee…We added small Jeep grilles inside the headlamp bulb shields. It was an off-the-cuff addition of a graphic to an otherwise standard piece. After that, we started sprinkling small graphics on various vehicles…When we did the refresh on the Wrangler, we added a small side profile of a Jeep climbing up from the corner of the windshield, which became a point of delight for the customer," said Allen. "These small elements are a surprise and delight for our customers and help convey the human touch behind our products, which is appreciated." – said Mark Allen, Head of Jeep Design
Fans can submit their ideas at TheNextJeepEasterEgg.com. All entries will be judged by Jeep brand designers and executives. Jeep isn't giving people much time for the Easter egg design contest, however. Already on the move, the contest ends Thursday, July 2. Throughout the rest of the month, judges will comb through the entries for an easter egg that truly celebrates Jeep history, but also follows certain criteria:
      Creativity: The presentation of the easter egg also counts, and judges are looking for it to be presented in a creative, effective and compelling manner (25%)
      Jeep Brand Power: As we said, the design is in line with the Jeep brand spirit and is worthy of being included in the rare library of Jeep "Easter eggs", possibly forever forward (25%)
      Quality/Actionable: The idea for the "Easter egg" icon is clear and easily understood and has potential future use on a vehicle. The entry must show a clear thought process behind the design (25%)
      Originality/Authenticity: A unique "Easter egg" idea that is clearly the entrant's own idea and does not build upon other ideas or expressions. The entry must be a distinct conceptualization that doesn't require a certain background or knowledge of something to "get it" (25%)
The winner of the contest will be announced on July 31st, 2020. Share your ideas with us on Aventura Chrysler Jeep Dodge Ram social media\ and follow along to see who the winner of the Next Jeep Easter Egg contest.
* NO PURCHASE OR PAYMENT NECESSARY TO ENTER OR WIN. Must be 18 years of age or older and a legal resident of the 50 US States or DC to participate. Void where prohibited. Contest starts at 09:00:00 AM ET on 06/18/20; ends at 11:59:59 PM ET on 07/02/20. ARV of prize: $50,000. For full Official Rules, visit http://www.thenextjeepeasteregg.com/. Sponsor: FCA US LLC, 1000 Chrysler Drive, Auburn Hills, MI 48326.
Photo Copyright/Source: FCA Media