SRT Performance – Jeep Grand Cherokee Trackhawk
Ever since the Dodge Challenger SRT Hellcat was released in 2015, Jeep® has been hot on its trails to create its own version. Given that Jeep vehicles are mainly known for their off-road splendor, it's hard to imagine doing some rock crawling without also pulling a Dukes of Hazard ramp jump if a Jeep had an SRT Hellcat engine under the hood, but there's no telling Jeep "no." This year, Jeep released the Grand Cherokee Trackhawk, and it is packing power with fierce off-road capabilities.  
The Wait is Over for All that Power
Yes, a Jeep version of the mighty SRT Hellcat is finally here, but one could call it a wolf in sheep's clothing. Although powered by a similar engine as the Challenger and Charger SRT Hellcat models, a supercharged 6.2-liter HEMI SRT V8 engine that generates 707 horsepower and 645 lb-ft of torque, it's not called an SRT Hellcat. That's Dodge territory. No, this is a Jeep Grand Cherokee Trackhawk.
Although the SRT Hellcat engine is under the hood, one may say it also has some demonic inspiration as well. One of which being a Torque Reserve launch-control feature. First integrated into the Dodge SRT Demon, it keeps the supercharger valve closed and cuts the spark and fuel to several cylinders in the engine to limit the torque before the brake is released for launch. On the Jeep Grand Cherokee Trackhawk, it boost pressures up to 11.6 psi. The Trackhawk also comes with a cast iron engine block, a forged-steel crankshaft with a damper, pistons made from a high-strength forged-alloy, and cylinder heads optimized for superior thermal conductivity. Yep, definitely sounds like the Trackhawk took hints from the Dodge SRT Demon while in the making.
The Grand Cherokee Trackhawk rides on 20-inch titanium wheels, and the engine is paired to an upgraded eight-speed TorqueFlite automatic transmission. The Grand Cherokee Trackhawk comes standard with an all-wheel drivetrain that is  controlled by Jeep's Quadra-Trac on-demand four-wheel drive system with an active transfer case and rear differential with an electronically controlled limited-slip unit. Read up on Jeep Performance Parts for an idea of what all that means. And of course, like any good high performance vehicle, drivers can quickly bring the Grand Cherokee Trackhawk to a stop with the high performance Brembo brake system, made up of two-piece front rotors and six-piston calipers to bring a Trackhawk going 60 mph to a stop in 114 feet.
So what are the track times of this new Grand Cherokee Trackhawk? With the upgraded suspension components, the latest recordings have measured the g-force of the Trackhawk up to 0.88 G's. This beast accelerates from 0-60 mph in 3.5 seconds, and it is said to be able to cover a quarter mile in 11.6 seconds – yet to be tested. And yet, it's not all about the power – there's also the looks and feel of the Grand Cherokee Trackhawk to enjoy.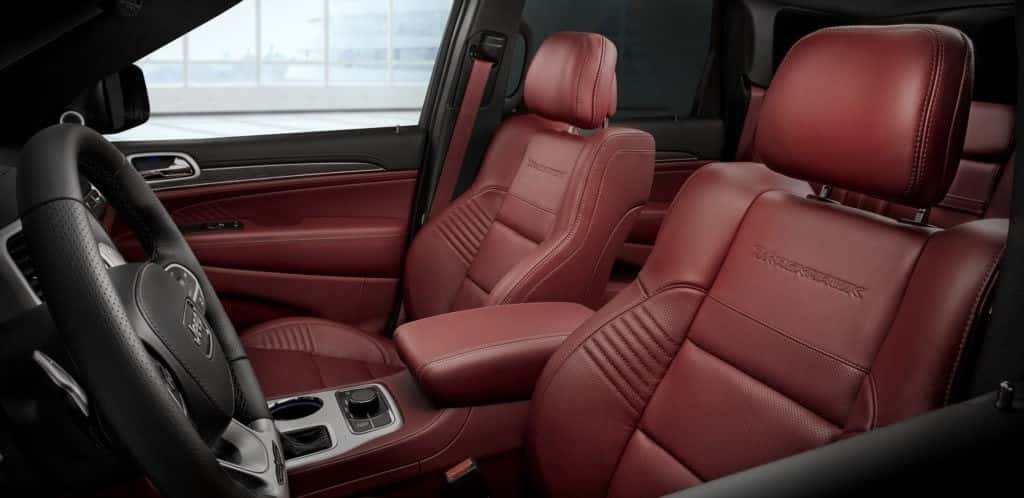 Inside and Out
The Grand Cherokee has always been a somewhat stunning piece of automotive art with its crisp lines and large attitude. The vehicle's aerodynamic rear spoiler keeps its drag in check, its front air vents feed the supercharger cool air, and the four-inch black chrome quad exhaust tips all help to give it a more aggressive look. Aside from that, it has the usual badges, such as "Supercharged" and "Trackhawk" that set this Grand Cherokee apart from the others.
When the driver enters the vehicle, they're greeted by a winged Trackhawk badge on the steering wheel, stitched-leather dashboard and door-panel coverings, Berber carpets, and a wide array of new instrumentation. The most outstanding instrument feature is the 8.4-inch touchscreen with Trackhawk Performance Pages to display readouts of horsepower, track records, G-force, and various modes via Selec-Track – Auto, Sport, Track, Tow, and Snow. Plus, drivers can save their recordings via a new snapshot function.
Wrapped in Nappa leather and suede upholstery embroidered with the "Trackhawk" logo, interior highlights include a premium soft-touch surface and light black chrome accents. The front and rear seats are heated, whilst the front seats also get ventilation. Being that the Performance Pages are powered by Uconnect, that can only mean that a Uconnect infotainment system is also integrated into the center console with Apple CarPlay and Android Auto standard. As usual, a rear entertainment system with a Blu-ray dual screen is an option to add-on for those planning to take the family for a joy ride.
Speaking of which, there's still plenty of safety features in the Jeep Grand Cherokee Trackhawk. Standard features include adaptive cruise control with stopping functions, advanced brake assist, blind-spot monitoring with rear cross-traffic alert, full-speed forward collision warning with crash mitigation, lane departure warning, and front and rear park assist. Plus, like the Dodge Challenger SRT Demon, the driver can code in a security setting to reduce engine power, disable launch control, and lock out first gear.
Sadly, no arrival time or price has been announced, but all signs point to later this year. Be on the lookout for its announcement on our social media until then.
Photo Source/Copyright: Jeep.com
Dealership Info

Mon – Fri9:00 AM – 9:00 PM

Sat9:00 AM – 8:00 PM

Sun10:00 AM – 7:00 PM


Mon – Fri7:00 AM – 7:00 PM

Sat7:30 AM – 5:00 PM

SunClosed