New Jeep Trackhawks and More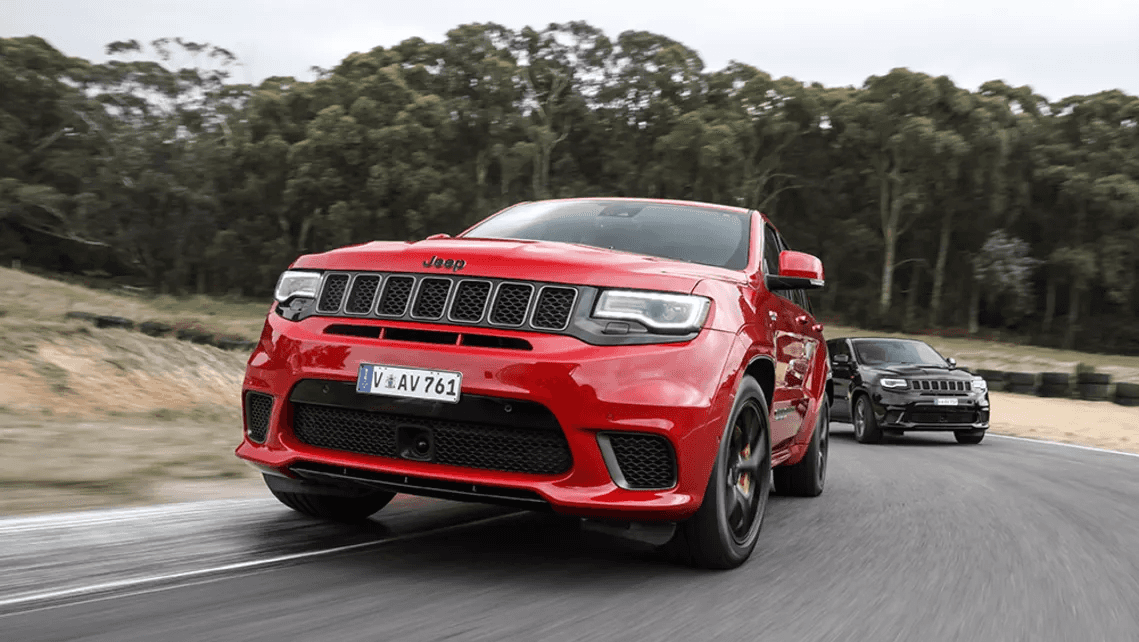 Let's dig into the new Five-Year Plan for Jeep®, shall we? We talked a little about what their plans are in terms of improving off-road and on-road capability, new and upcoming models to be released by 2022, and even some hybrid, plug-in hybrid, or electric vehicles, some of which will be variants of already favorites, like an all-electric Jeep Wrangler. However, something else is bubbling up under the Jeep umbrella, and we're starting to see a similarity to Dodge putting SRT engines in 60-percent of their vehicles. Jeep has the Trailhawk trim, and the Trackhawk – soon, it just won't be the Jeep Grand Cherokee with a V8 engine, and new models are already on the way.
Trailhawk and Trackhawk Series
We've talked plenty about Jeep Trailhawk trims in the past, including the off-road features found on Trailhawk trims that make them so great. Not all Jeep models come with a Trailhawk trim though, and the Trailhawk isn't even the largest achievement by Jeep, although many thought so.
"The Trailhawk models were quickly recognized as the most capable offerings in their respective segments … We then followed them up with the second in our Hawk range, this time focused on on-road capability, with the Trackhawk." – Mike Manley, CEO of Jeep.
Yes, the second vehicle to get the "hawk" suffix added to its name was the Trackhawk, or more precisely, the Jeep Grand Cherokee Trackhawk. Powered by a supercharged 6.2-liter HEMI SRT V8 engine that generates 707 horsepower and 645 lb-ft of torque, this SUV can accelerate from 0-60 mph in 3.5 seconds and cover a quarter mile in 11.6 seconds. It was the second Grand Cherokee trim to get an SRT engine, the first to get the legendary SRT Hellcat engine, although the Hellcate name belongs to Dodge, and thus, the Jeep went with "Trackhawk".
One would think the Grand Cherokee Trackhawk was a one-time thing, but like the Dodge SRT Hellcat, its popularity is spreading beyond its originally intended model lineup. We may see smaller Jeeps getting the supercharged engine. According to Manley, " … over the coming five years, you can expect to see other Jeep models earn the right to carry the Trackhawk designation."
We probably won't see a Jeep Cherokee with a supercharged 6.2-liter HEMI SRT V8 engine, but we may see its sibling, the 6.4-liter engine found in the Dodge Challenger SRT and Grand Cherokee SRT, or maybe even the 5.7-liter HEMI V8 engine. If any Jeep were to become a Trackhawk or supercharged vehicle next, it would be the Jeep Cherokee. There have already been teasers about the Cherokee being the first pick for the third hawk in the Jeep series.
Deserthawk
"Our intention was never to stop at two Hawks. We always had a third one in mind. This time it is focused on high-speed desert capability, in our all-new Deserthawk." Manley.
Underpinned by "eight desert-specific engineering standards" with an emphasis on, as the man said it himself, high-speed sand capability, for a vehicle to even be a candidate for a Deserthawk, it needs to meet all eight standards. If it does, then that vehicle will get its own brand new "Desert Rated" badge to accompany the new trim upgrades. The components and features a Deserthawk may get have yet to be discussed, but a long-travel heavy-duty suspension, knobby tires, and undercarriage reinforcements would be most likely on the list.
2019 Jeep Renegade
Although many details are still thin, the 2019 Jeep Renegade was finally revealed. Jeep is only showing the European-spec model so far, but global markets are expected to see similar cosmetic changes to the new Renegade. These changes include a new, larger grille in matte grey finish, a pair of new LED projector headlamps, a nicer looking sculpted front bumper that houses a larger central air dam, and new round LED fog lamps. That's just the front; in the rear, we can see indicators mounted on the fenders, white instead of orange, plastic cladding integrated with the bumper and extending up to squared wheel arches that house twin-five-spoke alloy wheels. It's already looking like a brand new vehicle.
Here's what we know from the new Jeep Five-Year Roadmap, and it's looking good. New Trackhawks, new models, new duds. Follow us on Aventura CJDR social media to learn more.
Photo Source/Copyright: CarsGuide