Jeep Wins Two Awards in First Few Days of November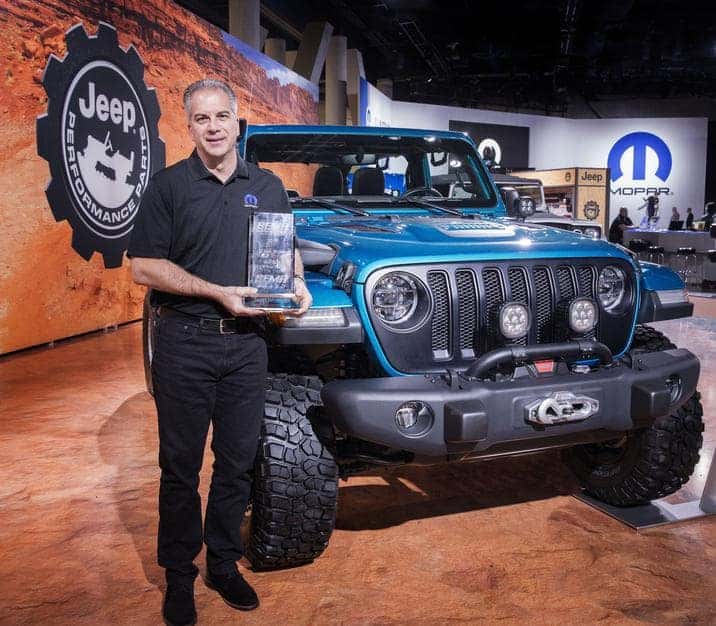 The 2019 Specialty Equipment Market Association (SEMA) is underway, from November 4 to November 8, 2019, and Fiat Chrysler Automobiles (FCA) is already going home with awards. Notable, the Jeep Wrangler continues to see success year-after-year and 2019 is no exception. Heck, November just started, and Jeep won two awards in a matter of days. One from the Miami Auto Show and the other from 2019 SEMA. Check it out!
Sobre Ruedas at Miami Auto Show
The all-new 2020 Jeep Gladiator is still making amazing rounds since its release and over the weekend in Miami during the Miami Auto Show, the capable midsize truck ever was named the "Best Off-Road Vehicle" for 2019. Now that's something you don't see every day. A truck winning an off-road medal? Well we can't say it's too foreign a concept, given that the Ram 1500, also a part of FCA, won an award for "Best Family Car" and "Best Family Pickup Truck" awards during the Greater Atlanta Automotive Media Association "Family Car Challenge".
"The Jeep Gladiator is a midsize truck that truly dominates in both on- and off-road driving while providing a high level of versatility that today's customers demand…No other truck of any size offers the unique experience of open-air driving while also having the capability to tackle any obstacle thrown its way, all in a very attractive package." – Jaime Florez, director and host of Sobre Ruedas
Receiving this award didn't come easy. The Sobre Ruedas executive committee responsible for generating nominations put it up against many other vehicles in 12 basic categories. Winning this award will definitely help Jeep earn more fans. Sobre Ruedas is the leading automotive radio show in Spanish in the United States. The Miami Auto Show was broadcasted live on ESPN Deportes Radio, Unan1mo Radio, a network of radio stations in the U.S. and Puerto Rico, and the TuneIn Radio platform.
"4×4/SUV of the Year" Award at SEMA
"It's no surprise that SEMA Show exhibitors voted the Jeep Wrangler the 4×4/SUV of the Year…With so many options available, the Jeep continues to be a favorite for personalization. Its versatility is limitless, appealing to daily drivers as well as off-roaders." – Chris Kersting, SEMA President and CEO
Yes, the Jeep Wrangler won this award, and it remains to be the only vehicle to earn the trophy since the 2010 launch of the SEMA Awards. That's a decade of winning the "4×4/SUV of the Year" award, marking 2019 as the 10th straight year the Jeep Wrangler won. Winning this award isn't the only big news for Jeep at 2019 SEMA.
Known for customizing FCA vehicles with all sorts of mods, Mopar brought a Jeep Wrangler Rubicon modified with Jeep Performance Parts from their catalog to the 2019 SEMA Auto Show. For the last few years, Mopar has been working on a catalog strictly for Jeep, and they showed off their first mod during the 2018 Chicago Auto Show. This year, spanning across their 5,000-square-foot display at the SEMA Show, Mopar will feature 14 different customized vehicles, including the SEMA award-winning Jeep Wrangler Rubicon, a Ram 1500, and an old Dodge vehicle. We covered the latter two last week when Mopar announced they were bringing Multiple Customized Vehicles to 2019 SEMA Show.
Follow along with us on Aventura Chrysler Jeep Dodge Ram social media to learn more about what's going on at the 2019 SEMA Auto Show.
Photo Source/Copyright: FCA Media