Jeep Releases New Freedom Edition Models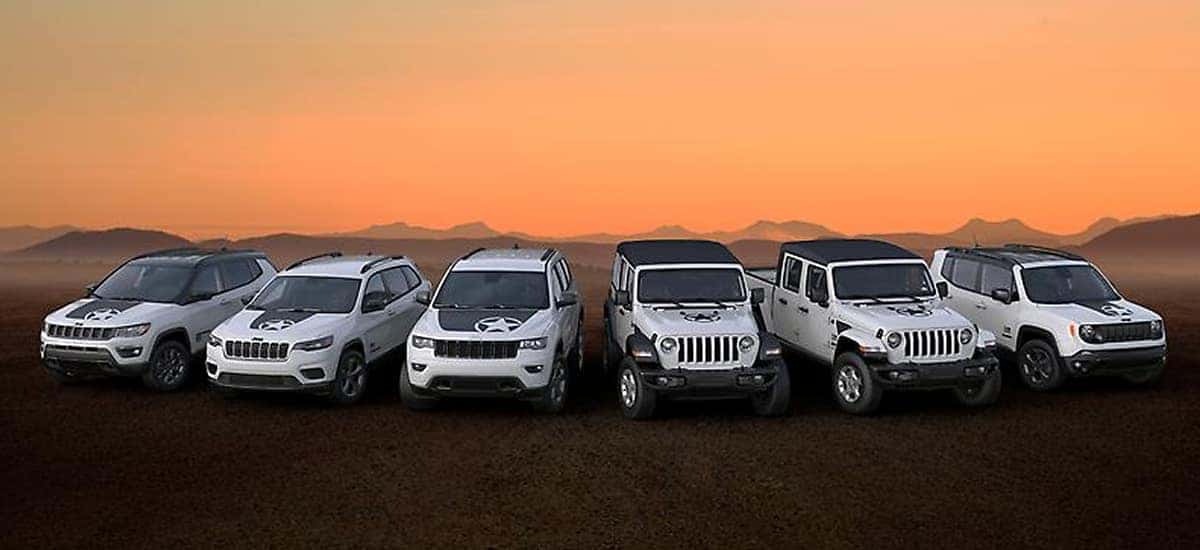 Between 2020 and the spring of 2021, Ram Trucks had a special lineup of pickup trucks, notably built off of the Ram 1500, to show appreciation for the U.S. Army and its various branches. These were known as the Built to Serve trucks, with special editions produced to match America's five land, sea and air-based armed forces. Run in five phases, the final phase of Ram Built to Serve trucks went live in March 2021. In the same vein, off-road automaker Jeep is doing something similar with Special-edition Freedom Models for 2021.
"At the Jeep brand, we are proud of our military heritage, with origins that date back to 1941, and the Freedom special editions are a tribute to all who have served and continue to serve…This Memorial Day, we honor those who have made the greatest sacrifice for their country and support those who continue to serve through these special editions." – Jim Morrison, Vice President, Jeep Brand – North America
Made available across the entire Jeep lineup, these special edition models will be the Jeep tribute to the U.S. Military. Each Freedom special-edition vehicle will come with unique features that set them apart. These include a large "Oscar Mike" military star decal on the hood, matte black/Satin Carbon wheels and accents and an American flag decal along the side of each model. Specific to the Jeep Wrangler and Gladiator, these models will also include an "Oscar Mike" decal on the rear tailgate.
It's not a huge upgrade, but with the budget-friendly prices, it's a nice way to get a decent off-road vehicle by Jeep and help support the U.S. Army. For every Freedom edition sold, the Jeep brand will make a $250 donation to the United Service Organizations (USO). Speaking of, members active and recently retired from service also qualify for the $500 Military Bonus Cash across the Jeep 4×4 lineup.
The starting MSRP for each Jeep Freedom Edition are as follows. Starting at $26,285 (plus destination fee) is the 2021 Jeep Renegade Freedom Edition, followed by the 2021 Jeep Compass Freedom Edition starting at $27,090 (plus destination fee). The 2021 Jeep Cherokee Freedom Edition has a starting MSRP of $27,955 (plus destination fee), and the 2021 Jeep Wrangler Freedom Edition has a starting MSRP of $36,210 (plus destination fee). For those that prefer four doors, the 2021 Jeep Wrangler Unlimited Freedom Edition starts at $39,465 (plus destination fee). The 2021 Jeep Grand Cherokee Freedom Edition has a starting MSRP of $37,085 (plus destination fee), and the 2021 Jeep Gladiator Freedom Edition starts at $42,015 (plus destination fee).
2021 marks 80 years of legendary Jeep heritage, known for authentic SUVs with unmatched capability and versatility. As Morrison said above, the Jeep brand started with the military, with its roots spreading to civilian life and eventually becoming one of the most successful brands in the Stellantis lineup. Built for adventure, Jeep knows consumers can sometimes use a little help from time to time and require a lot of maintenance. The Jeep Wave premium owner loyalty program offers consumers plenty of benefits and exclusive perks, such as three years of worry-free maintenance at Jeep dealerships and 24/7 support and roadside assistance.
Looking for a new off-road vehicle for adventure? Find a new Jeep model at Aventura Chrysler Jeep Dodge Ram.
Photo Source/Copyright: Jeep