Jeep Reduces Environmental Impact with New Wrangler Unlimited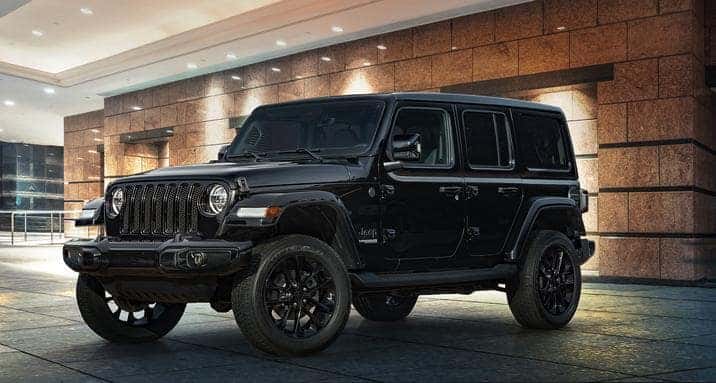 While automakers start to reopen manufacturing plans and try to get things back to normal, COVID-19 will still come in waves, possibly throughout the rest of 2020. What a year for the industry. Some are already shaking off the dust to review sales and what vehicles might be best focused on going forward. Some may think internal gas combustion engines will become a majority once again, but has anyone been to a gas station lately? Gasoline is so cheap at the moment, electric charging stations could give them a run for their money. With Fiat Chrysler Automobiles (FCA) off-road brand Jeep® paving the way for hybrid and electric vehicles with the Jeep Renegade 4xe and Jeep Compass 4xe, the Wrangler is next in line, and already has a history of reducing its environmental impact.
Originally made for use in the army, the Wrangler is the first unit to come from Jeep. A design for civilian life was eventually produced, and over the years, with carbon emission standards becoming ever stricter, automobile groups like FCA need to start converting lineups into hybrid, plug-in hybrid, and electric vehicles if they are to thrive. With the current global pandemic, many of those plans may be delayed, but the Jeep Wrangler is one vehicle that will be doing its part, reducing its environmental impact by more than ten-percent.
Having recently concluded its latest Global Warming Potential (GWP) analysis, the FCA tested the "redesigned for 2018" Jeep Wrangler Unlimited was compared with the previous-generation vehicle. Sounds like a fancy way of saying the new generation Jeep Wrangler JL four-door if the previous generation was being tested. Given that, the overall GWP of the current generation has an overall GWP that is 15-percent lower than the previous generation. Much of this can be attested to the a new powertrain option for the Jeep Wrangler Unlimited (4-door) model, a technology-rich 2.0-liter engine.
This improvement of GWP was calculated over several factors associated with a vehicle's design, production, and on-road performance. These factors consisted of the environmental impact of fuel production and delivery, resources and materials used, and the vehicle's own fuel consumption. With the now available 270-horsepower, 2.0-liter turbocharged I-4 engine, with engine stop-start (ESS) technology, the Jeep Wrangler Unlimited has reduced its greenhouse-gas (GHG) emissions by 14-metric tons. For a more common form of measurement, that's enough GHG for three passenger cars driven for one year, the C02e output from 7.7 tons of coal burned in a power plant, and the amount of C02e produced to power 2.4 American homes for just one year.
Curious about the engineering differences between the two models? The previous generation only had one available engine, the award-winning 3.6-liter Pentastar V6, and a since-discontinued five-speed automatic transmission. The new generation of the Jeep Wrangler also reduced its weight and material use of ferrous and non-ferrous metal, or metal more prone to corrosive behavior. Ferrous metal content was reduced to 54-percent from 68-percent, and non-ferrous metal content increased to 20-percent from 12-percent. In addition to the new 2.0-liter turbocharged I-4 engine, there is also another available option with the same engine (on the Sahara trim) that features FCA's eTorque mild-hybrid technology for added hybrid functionalities.
The 4xe vehicles by Jeep may be stuck overseas for some time, but for those that can't wait and want to reduce their carbon footprint and impact on the environment while enjoying the luxury of personal transportation, take a look at the new Jeep Wrangler Unlimited. Here at Aventura Chrysler Jeep Dodge Ram we're still practicing social distancing. Ask about our at-home test drives available.
Photo Source/Copyright: FCA Media