Jeep Offers Employee Pricing for First Time on Select Models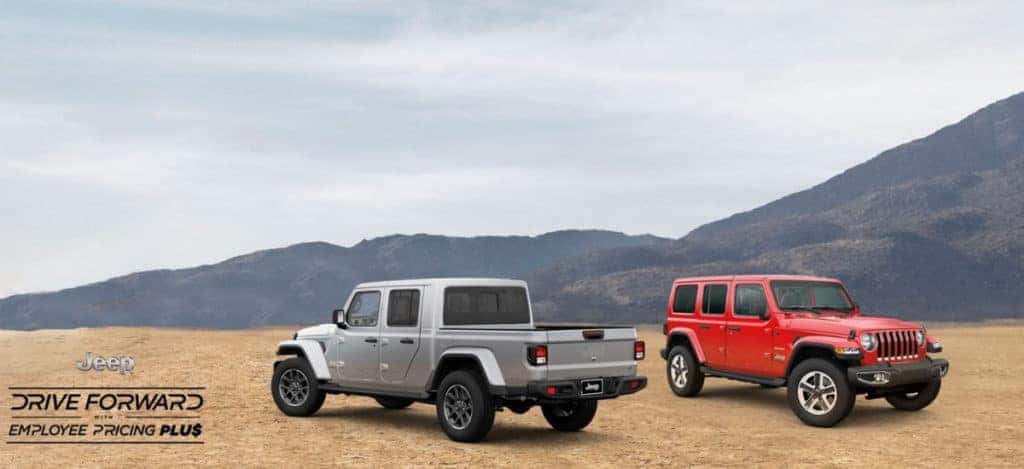 During this time of uncertainty and the COVID-19 pandemic making a mess of things, many industries are finding ways to stay active in a changing world. The automotive industry is making one of the largest shifts as of late, with many automakers and groups modifying manufacturing plants to produce face masks and medical equipment during the present shortage. Many automakers are also offering consumers who may be facing some financial difficulty but in the need of a new vehicle for transportation and other services. Well, for the first time ever, off-road automaker Jeep is offering employee pricing on select Jeep Wrangler and Jeep Gladiator models.
If there was ever a time to purchase a Jeep vehicle the time is now. Although the Jeep Wrangler and Jeep Gladiator are known for customization with doors and rooftops, let's keep the windows up and opt for a hardtop instead. With Jeepers already enthusiastic about these two models, the best off-roading vehicles money can buy just got cheaper by quite the chunk of money. During the month of April, employee pricing takes has a new starting MSRP for the 2020 Jeep Wrangler is $26,679 (plus destination fee), and for the 2020 Jeep Gladiator, the MSRP starts at $31,482 (plus destination fee). There's also a 0% APR for 36 months offer currently available on either car*.
Various dealerships are also offering deals on top of FCA Employee Pricing, which equates to a five-percent reduction to the dealer's invoice price, plus a $200 fee. The Jeep Wrangler and the Jeep Gladiator are the models offered, but not all trims are applicable for the employee price. High-end trims like the 2020 Jeep Wrangler Rubicon Recon and the 2020 Jeep Gladiator Mojave Edition are off the table, but many other trims for each model are dropping in price.
For consumers looking to enjoy the benefits of employee pricing on the 2020 Jeep Wrangler, the following trims can take advantage of this offer: Wrangler Sport, Wrangler Willy Sport, Wrangler Sport S, Wrangler Black and Tan, Wrangler Sport Altitude, Wrangler Willys, Wrangler Freedom, Wrangler Sahara, Wrangler Sahara Altitude, and Wrangler North Edition. Wow, unless scaling mountains, those are plenty of options. The 2020 Jeep Gladiator is also offering a number of trims, such as the Gladiator Sport, Gladiator Sport S, Gladiator Overland, and Gladiator North Edition.
The requirement for the employee price to purchase a new vehicle, but with a deal like this, Jeepers can use that extra cash to modify their Wrangler or Gladiator to handle some serious off-roading for the days ahead. As well all know, it's hard to modify a vehicle on a lease – impossible, actually. But if you own a Jeep vehicle, you can modify it as much as you wish. All of Florida is currently facing stay-at-home orders, and with hurricane season slowly on the rise, having a vehicle modified to handle some not so great road conditions may be a good idea.
At Aventura Chrysler Jeep Dodge Ram, we have a large selection of new 2020 Jeep Wrangler and new 2020 Jeep Gladiator models. Contact us and ask about at-home test drives and how we can help you purchase a new vehicle during this time.
* 0% APR for 36 months cannot be used in conjunction with Employee Pricing
Photo Source/Copyright: Jeep