Jeep Badge of Honor Program Gets an Upgrade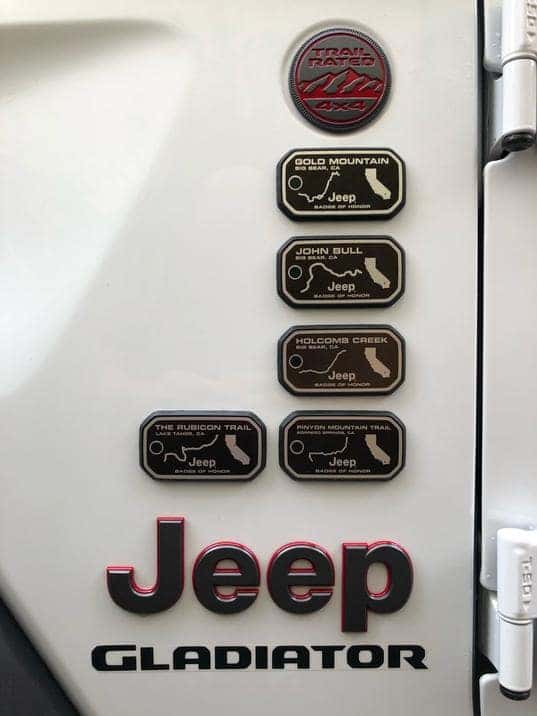 In late 2013, Jeep introduced a program that Jeepers would love to become a part of, but it wasn't for just any ordinary Jeeper. Known as the Jeep Badge of Honor Program, this system was designed for serious Jeepers that liked to push their vehicles to their limits and test what they're capable of. As technology grew, so did the Badge of Honor. The only official off-road program that is entirely owned, operated, and developed by the Jeep brand and FCA US LLC, the Jeep Badge of Honor program is free to download on iPhone and Android smartphones and to sign up. By participating in the program, Jeepers can find 49 designated Jeep Badge of Honor trails, and for 2020, Jeep expands the number to 56.
Yes, the expanded program now includes a variety of challenging trails ranging in difficulty, including Northwest OHV Park in Texas, Tread Lightly! Four Wheel Drive Way in Florida, and Bearwallow in West Virginia on the list, along with legendary trails such as the renowned Rubicon Trail in California, Hell's Revenge in Moab, Utah, and Imogene Pass in Colorado. With a total of 56 trails nationwide, the Badge of Honor Program is designed to provide Jeep enthusiasts with a chance to conquer new trails and the opportunity to earn exclusive trail badges manufactured by Jeep to display on their vehicles for bragging rights.
"We created the Badge of Honor program as a fun way to interact with our loyal off-road Jeep enthusiasts, allowing them to do what they love most and earn unique trail badges for their vehicles…The program has really taken off and we often see Jeep vehicles with many different badges that represent conquered trails around the country. With continued program interest, we've expanded the Badge of Honor mobile app with many new features our customers will enjoy." – Jim Morrison, Head of Jeep Brand – FCA North America
When a Jeeper selects a trail, the app records their journey and registers its completion on the user's Badge of Honor account. Once completed, they can find what badges they're eligible for and order them online. They may take 8-12 weeks to arrive, but they look amazing (see below). The new updated Badge of Honor app comes with new features to enhance user experience and even took direct feedback from users of previous versions, showing a real commitment to listening to the Jeep audience for improvement.
New features in the updated Badge of Honor program app include the seven new trails; easier trail check-in and physical badge requests; easier location of Badge of Honor trails, directions, detailed trail information and highlights, as well as trail difficulty ratings; and ability to upload and share photos from your trail adventures with other Jeeps in the Jeep Badge of Honor community. New features suggested by users include "Suggest a trail", the addition of all-new trails, enhanced Badge of Honor community engagement that shares information on Jeep brand events with the fans, the ability to share Badge of Honor accomplishments on personal social media networks and not just the Badge of Honor/Jeep platform(s), and the ability to create a detailed user profile complete with personal Jeep vehicle information and modifications.
For those new to off-roading but want to become a Jeeper, no worries. There's an Off-Roading 101 section that includes off-roading basics, important safety reminders, the history of off-roading, information on dealing with different types of off-road terrain, and helps to define Jeep Trail Ratings for your first off-road adventure. Everyone can enjoy the outdoors in a Jeep, no matter the experience level. Looking for your adventure and a Badge of Honor? Join the Jeep Badge of Honor Program and find your Jeep at Aventura Chrysler Jeep Dodge Ram.
Photo Source/Copyright: FCA Media