Jeep and Ram Named Winners at 2018 Mudfest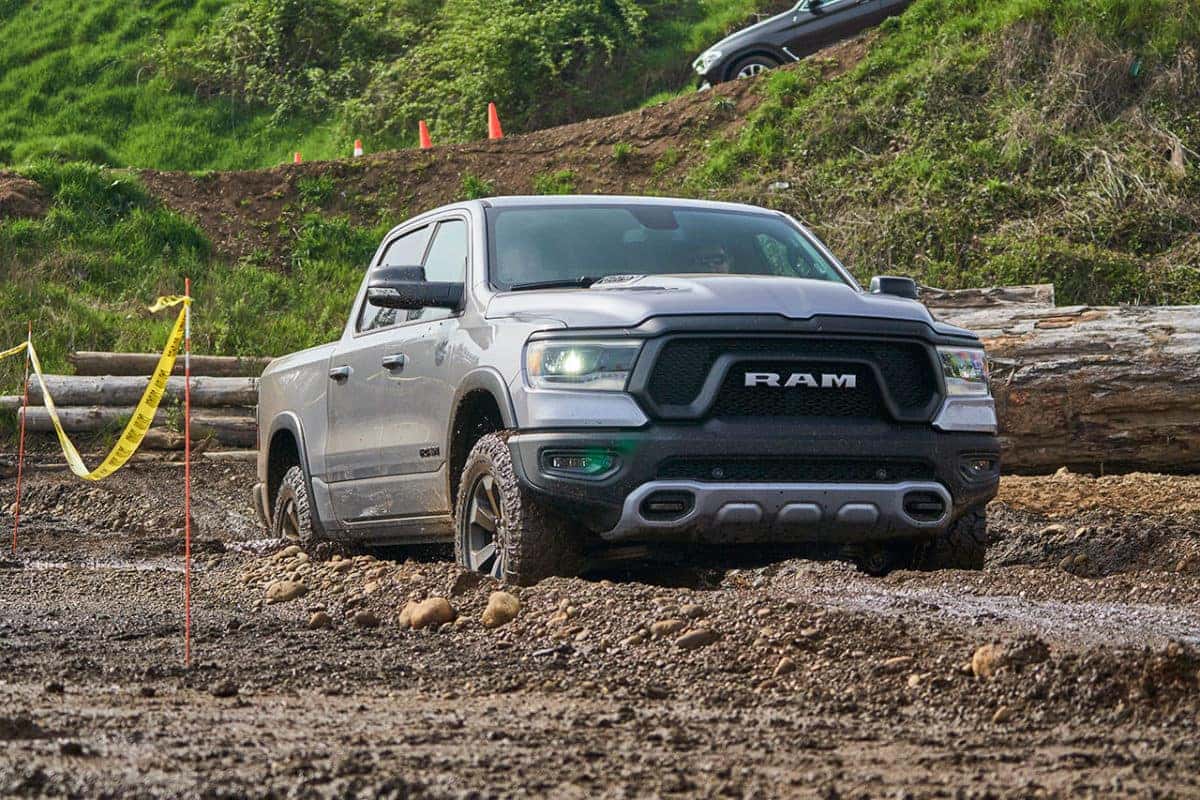 Every year, members of the Northwest Automotive Press Association get together and throw together their favorite spring tradition – Mudfest. It sounds like a fun event for the public, but actually, this is more so a competition for auto manufacturers. Every year, during Mudfest, the Northwest Automotive Press Association invites car manufacturers to submit the SUV, crossover, or truck of their choosing to undergo two days of rigorous testing on paved and unpaved surfaces. That means finding the best out of tens of vehicles that can handle the street and off-road mayhem. Three Fiat Chrysler Automobile Group vehicles dominated their class – two Jeep® vehicles and the 2019 Ram 1500 Rebel.
A Little More About Mudfest
Going on for 20 years now, Mudfest is a competitive event held by the Northwest Automotive Press Association to give automakers a chance to prove their vehicles' worth. Every year, the competition is held at a different location for various trails and tracks, and to make sure automakers don't try to plan ahead by overcoming any faults of the previous year. This year, 2018, the Mudfest was held at a new site, The Ridge Motorsports Park near Shelton, Washington.
There are two kinds of testing – paved and unpaved. For the pavement test phases, vehicles drive on an autocross course and The Ridge's go-kart track. Sounds a little amusing, imagining big names like BMW, Jeep, Hyundai, and Ram racing vehicles around like a game of Mario Kart, but without the blue shells and banana peels. During this test, a vehicle's acceleration, handling, braking, rear-view camera function, and other performance features are evaluated.
The second round is a little more grueling. For unpaved testing, The Ridge actually designed and put together a custom man-made off-road course with dirt, mud, rocks and ruts. This design and off-road course will aid in evaluating a vehicle's ability to handle uneven, slippery, and steep conditions. There are also several optional sections of the off-road course that are exceptionally challenging. Kind of like extra credit, vehicles with extreme off-road capability can demonstrate their low-range four-wheel drive competence, axle articulation, and approach, breakover, and departure angles.
Competition and Results
During the competition, five different categories are set up for vehicles to win over: Subcompact, Compact or Midsize, Family, Premium, Truck, and Extreme Capability. Twenty-six vehicles competed at Mudfest 2018 during the first week of May, and thus twenty-six Northwest Automotive Press Association members selected a winner from each of the six categories, as well as an overall winner, the Northwest Activity Vehicle of the Year. The vehicle chosen for the Northwest Activity Vehicle of the Year is none other than the 2018 Jeep Wrangler.
A classic off-road vehicle and completely re-engineered for 2018, the Northwest Automotive Press Association noted that the 2018 Jeep Wrangler was able to deliver impressively civilized on-road handling, entertain with a complete list of the latest in automotive technology, and still be covered in mud by the end of the event. Looks great when clean, too! Specifically, the 2018 Jeep Wrangler Unlimited Rubicon won the "Compact or Midsize SUV" class and the "Extreme" class.
When it comes to the 2019 Ram 1500, it was none other than the new Ram 1500 Rebel Crew Cab 4×4. We've covered plenty about the "Off-Road Capabilities of the 2019 Ram 1500 Rebel" and what it can do. We know it's plenty amazing thanks to new 18-inch wheels with 33-inch Goodyear Wrangler DuraTrac tires driven by an electronic-locking rear differential, as well as the standard coil spring suspension, a one-inch factory lift, and designed Bilstein shocks. Now available in both quad-cab and crew-cab configurations thanks to the beefed-up frame on the new 2019 Ram 1500, when it comes to hardcore off-road truck buyers, the capability of the 2019 Ram Rebel 4×4 is all you'll ever need.
Do you agree with these choices made by the Northwest Automotive Press Association? We do. Let us know your thoughts on Aventura CJDR social media, or come on over and check out the new 2018 Jeep Wrangler or 2019 Ram 1500 for yourself any day of the week.
Photo Source/Copyright: Herald.net