Jeep Adds New High Velocity Color for Gladiator Model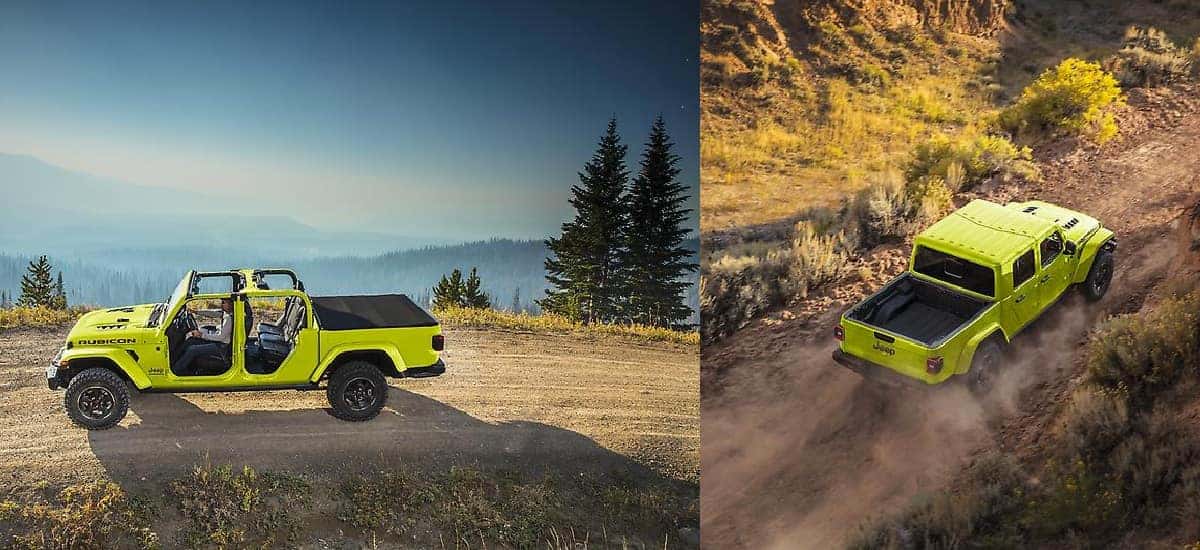 If there is anything to like about the Jeep brand, it's the level of customization the automaker allows for the Jeep Wrangler SUV and Jeep Gladiator pickup truck. Offering different door, roof, and windshield options, consumers can make a Jeep Wrangler or Gladiator their own, and this year has come out with a variety of options for Jeep models via the Jeep Performance Parts (JPP) catalog with Mopar, and recently, two new additions to the Gladiator. These include the Dual-Door Group and the newest addition to the Gladiator color palette – High Velocity Yellow!
"Since the Jeep Gladiator arrived for the 2020 model year, customization has been a huge part of its identity…In response to customer requests, High Velocity is the latest example of another bold shade that strengthens the enthusiastic personality of our loyal and avid Jeep community." – Jim Morrison, senior vice president and head of Jeep brand North America
Exterior paint colors are just one more way consumers can personalize and customize their vehicles, and probably the one with the most history. Many Stellantis automakers have heritage colors, known as High-Impact Colors for Dodge and its legacy, and Jeep has its own selection of exterior paint colors that make Jeep models really pop! This year, High Velocity joins Firecracker Red, Hydro Blue, Sarge Green, Silver Zynith, Sting-Gray, Granite Crystal, Black, and Bright White are all available exterior paint colors consumers can choose for their 2023 Jeep Gladiator pickup truck. Yes, on all Gladiator trims, including the Sport, Overland, Rubicon, and Mojave can get an all new paint job. The High Velocity exterior paint will of course add a fee onto the starting MSRP, $395 for the paint, starting MSRP of 2022 Jeep Gladiator at $37,565*.
The new addition of the High Velocity paint color comes hot on the heels of the Dual-Door Group. Known for its basis off of the Jeep Wrangler, the Jeep Gladiator already has many of the same customization options. This includes the choice to have doors, half doors without windows, or no doors altogether. There are a total of five roof options, giving consumers a variety of ways to enjoy some sun and the open air, whether they want a simple body-color hardtop, a zipperless Sunrider soft top for easy removal, or just go topless if that's their thing.
The new Dual-Door Group adds one more option for Jeepers who want an option to remove the windows at a moment's notice, just like the windshield, this group adds a weather-tight seal that features zippered plastic windows for quick-and-easy removal. Available in two options, the upper-window assemblies base model adds $4,590 onto the MSRP (sales code AJB in the JPP), and for consumers looking for a more premium feel for the upper-windows, the MSRP adds on $4,990 tacked (sales code AJS in the JPP). An added bonus, the new window seals are also covered by the Jeep new-vehicle warranty of three years/36,000 miles.
Not afraid to stand out, Jeep is known for its authentic style and customization. Want to get your own Jeep Gladiator to customize? Find new Jeep models at Aventura Chrysler Jeep Dodge Ram.
Photo Source/Copyright: Source: Stellantis Media/ Edit: Jordan Rodriguez