Dodge Announces Limited-production Challenger 50th Anniversary Edition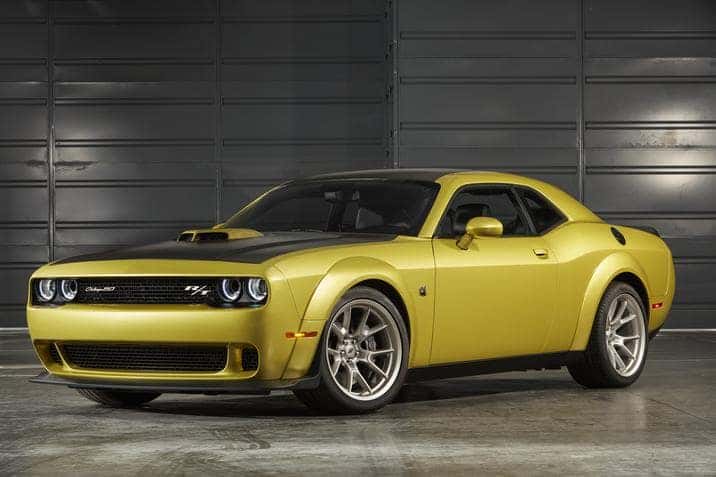 If muscle car fans were stoked when Dodge announced the Limited Edition 2020 Dodge Charger SRT Hellcat Widebody Daytona back in September 2019, then get ready to lose your lids again. Just before Thanksgiving, Dodge introduced a new Limited-production Challenger 50th Anniversary Edition at 2019 AutoMobility LA. 50 years is a long time to be in the game, especially the auto industry, and although the Dodge Challenger has a shaky history (get it? Because of the Shaker hood…), there's still a whole lot of purr in the lineup with the recent 797-horsepower Dodge Challenger SRT Hellcat Redeye. Still, we can't let adrenaline-pulsing engines have all the fun. Dodge is releasing the Limited-production 50th Anniversary Edition only on Challenger GT RWD, R/T Shaker, R/T Scat Pack Shaker, and R/T Scat Pack Shaker Widebody trims.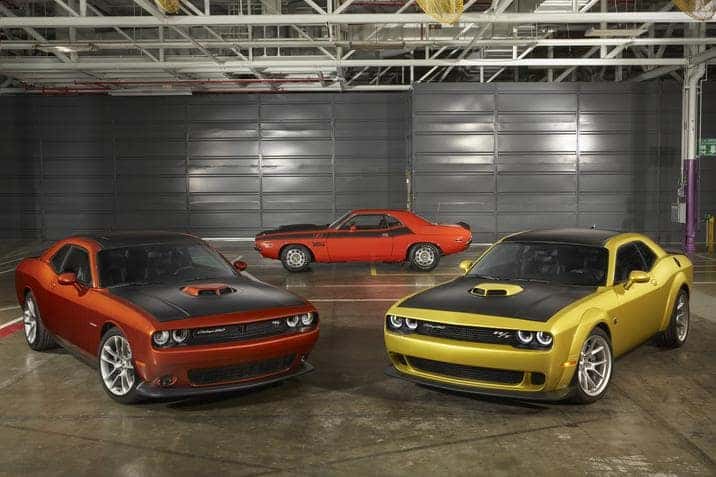 Limited-production 50th Anniversary Edition
Celebrating 50 years of the Dodge Challenger after also celebrating the same for the Dodge Charger, the automaker says now is the "golden age" of muscle cars, soon to be golden-oldies with plug-in hybrids and electric vehicles slowly taking over, and to celebrate the golden anniversary of the Challenger, what better way than to release a new limited edition? To think it was so long ago that Dodge entered the muscle car ranks to make up Detroit's Big Three – General Motors, Fiat Chrysler Automobiles, and Ford Motor Company. Even back then, Dodge has a large range of powertrain choices, from the small but durable 225-cubic-inch "Slant Six" to the fearsome "Elephant Motor" — the 426 HEMI®. That set them apart at the beginning and it's still what sets them apart today.
"2020 marks the 50th Anniversary of the Dodge Challenger, one of the most storied muscle cars in history…That history was built on a few key things: big attitude and big muscle, loud colors and loud exhausts, and an enthusiast community that is as unique and diverse as our special editions. So, to commemorate the 50th, we're celebrating with a cool new special edition that checks all of these boxes." – Tim Kuniskis, Global Head of Alfa Romeo and Head of Passenger Cars – Dodge, SRT, Chrysler and FIAT, FCA – North America.
So, what does this new limited-edition entail? The Dodge Challenger 50th Anniversary Edition comes Shaker hood scoop, hot wheels, and custom touches throughout the interior designed to display legendary Dodge performance attitude. This includes black, heated and ventilated Nappa leather and Alcantara suede performance seats with Sepia accent stitching and embroidered "50" logo seat backs, a suede, flat-bottom steering wheel, real carbon fiber IP and console bezels with a copper weave, and other high class materials that make this edition one of a kind.
A body-color Shaker hood scoop is standard on all HEMI V-8 engine powered R/T, R/T Scat Pack, and R/T Scat Pack Widebody trims for the 50th Anniversary Edition, and this edition marks the first time that a Shaker hood scoop will be featured on a Challenger Widebody model. With a Mopar cold-air intake, conical air filter, and optimized air box behind the Shaker hood scoop, lots of cold air can be directed into either the 5.7-liter or 392 HEMI V8 engine. With the variety of trims the 50th Anniversary Edition package is available on, those are the two powertrain options consumers will have to choose between.
Aside from that, every one of the 70 units will come with a custom look, straight from the factory with a standard Satin Black hand-painted hood and black-wrapped roof and decklid, Challenger 50th Anniversary logo badges on the grille and spoiler with a new "Gold School" finish, new "Gold School" fender badges, and a standard Satin Black fuel-filler door with heritage "FUEL" lettering. There will also be unique "Gold School" wheels, and Gunmetal brake color Brembo brakes (optional on GT and R/T, standard on R/T Scat Pack and R/T Scat Pack Widebody). Helping to mark the 50th Anniversary Edition, each unit will come with Illuminated Air Catcher headlamps that feature a 50th Anniversary Edition LED-illuminated "50" logo.
In case you didn't catch that, there will only be 70 units of the 50th Anniversary Edition package available. On the passenger side, an IP badge that displays the Challenger 50th Anniversary logo in a color-matched to the exterior will identify each unit as "x out of 70." As we keep mentioning, it is an add-on package, with an added MSRP of $4995 on top of the MSRP of the trim chosen, and orders for the 2020 Dodge Challenger models, including the 50th Anniversary Edition, have already started. Consumers can get the Limited-production Challenger 50th Anniversary Edition painted in one of six HIP colors available – Frostbite (new), Hellraisin (new), Sinamon Stick (new), TorRed, F8 Green and Go Mango – or stick with the newest addition to the HIP Legacy and standard on the 50th Anniversary Edition, Gold Rush.
Come to Aventura Chrysler Jeep Dodge Ram and put in an order for the Limited-production Challenger 50th Anniversary Edition today.
Photo Source/Copyright: FCA Media