Cummins and Ram Celebrate Production of Three-Millionth Engine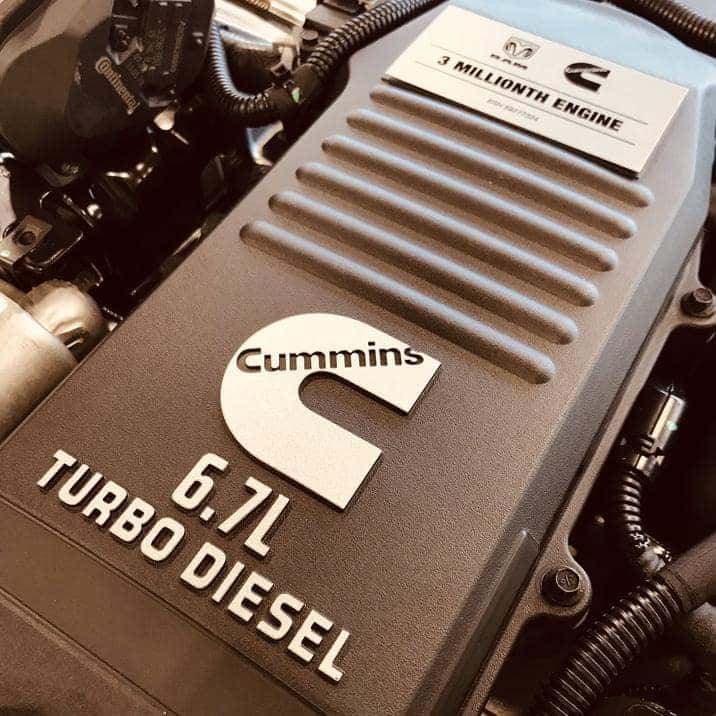 Pickup truck lovers, when you're looking for power, what name comes to mind? If it was "Cummins", then it seems like we're on the same page. That's good, because Cummins is a big name to know when it comes to Ram pickup trucks, especially the 2019 Ram Heavy Duty pickup truck lineup. Cummins has built a powerful engine available on a 2019 Ram HD, a 6.7-liter Cummins High Output Turbo Diesel engine capable of generating up to 1000 lb-ft of torque. This year, in September 2019, Cummins and Ram Trucks are celebrating the production of the 3-Millionth Cummins engine.
"The relationship that Ram Truck has with Cummins is one of the industry's most enduring, and continues to raise the bar for power and durability…Both companies have benefited from this partnership, but Ram customers truly get to enjoy the toughness and best-in-class capability that a Cummins-powered Ram Heavy Duty truck delivers." – Reid Bigland, Head of Ram Brand
What engine is the lucky 3-millionth? It's the same 400-horsepower, 6.7-liter inline six-cylinder turbodiesel high-output engine available in the 2020 Ram 2500 and 2020 Ram 3500 Heavy Duty pickup trucks. This is the very first engine to break the four-figure torque barrier thanks to a number of upgrades, including a new block, pistons, cylinder head and valvetrain, for more power, better fuel efficiency, and reduced Noise, Vibration and Harshness (NVH).
The landmark engine was produced at the Columbus Mid-Range Engine Plant in Indiana. Lucky number three million is also going to be installed under the hood of a 2019 Ram 3500 Longhorn Crew Cab Dually 4×4. Who ordered it? The purchaser of the Ram with the 3-millionth engine is currently unawares, but they will be identified after the truck is built. Ram is also planning a celebration of the completed truck at the dealership involved when it gets there. Oh, fingers crossed it's us!
To think the history between Cummins and Ram Trucks goes all the way back to 1988 when Cummins introduced the first diesel engine to go under the hood of a Ram pickup truck, debuted in the 1989 model year. Constantly pushing for more power, Cummins broke 200 horsepower in 1996 and then blew by 500 lb-ft of torque in 2001. That new 6.7-liter inline six-cylinder turbodiesel high-output engine had a predecessor – in 2007, Cummins launched a 6.7-liter, 350-horsepower. In 2013, Cummins was thought to hit its high-point when they reached 385 horsepower and 850 lb-ft of torque. Of course, we now know that's not true.
This relationship between Cummins and Ram Trucks had benefited both companies for over 30 years, and there's no sight of stopping. Ram Trucks now has the most powerful pickup trucks. When properly equipped, the 2019 Ram Heavy Duty is the most powerful, most capable pickup in the segment, with a towing capacity of 35,100 pounds and a payload capacity of 7,680 pounds. The 2019 Ram 2500 can tow up to 19,780 pounds and has a maximum payload capacity of 4050 pounds.
Starting MSRP for the new 2019 Ram 2500 starts at $33,645 (plus destination fee). The starting MSRP for the new 2019 Ram 3500 is $35,095 (plus destination fee). Come to Aventura Chrysler Jeep Dodge Ram and check out a 2019 Ram HD pickup truck today.
Photo Source/Copyright: FCA Media