Chrysler May Add AWD to the Pacifica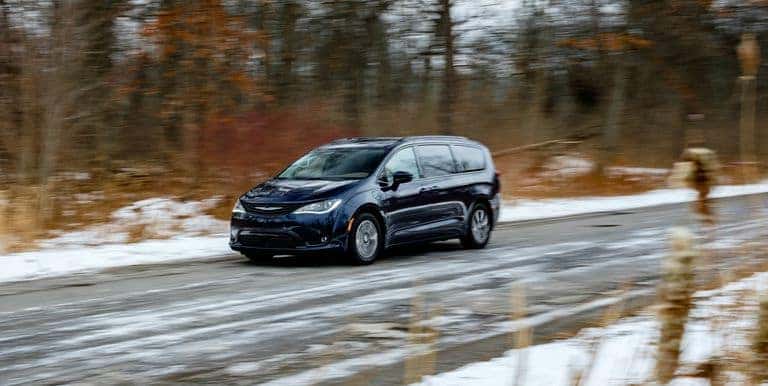 Ever since Chrysler came out with the news that it has a crossover in the works, it was nice to know that the Chrysler brand was finally expanding. After a small lineup of consisting just the Pacifica and 300, there wasn't a whole lot of variety. As it turns out, the new Chrysler crossover will be a rebadged Jeep® vehicle. Still mostly a concept with no debut, it may be a while away. So how could Chrysler keep in the game? It seems adding all-wheel drive to vehicles is one of many trends surfing through the auto industry. Adding all-wheel drive to their Chrysler Pacifica is the next step.
All-Wheel Drive
Don't confuse all-wheel drive (AWD) with four-wheel drive. Four-wheel drive, also known as 4WD and 4×4, the latter should seem familiar amongst Fiat Chrysler Automobiles (FCA) consumers. All Jeep vehicles come with a 4×4 configuration option that allows them to go off-road and enjoy the unbeaten path. Equipped into systems that are either full-time, part-time, or automatic, a 4×4 drivetrain does more than keeping torque balanced in all four wheels.
That's the main and only job of AWD. Unlike 4×4, where the system will only reroute torque when traction is reduced, AWD splits the torque between all four wheels at once. AWD also comes in part-time or full-time configurations, where rear-wheel drive (RWD) is the standard, but a transfer case will transmit torque to the front wheels when more traction is needed, like when driving in the snow or on a rainy day. Making the option available to large vehicles, like a minivan, is a smart move.
The Option is There
"I think it's definitely an opportunity with our market…If you look at some of the competitive vehicles, maybe not the traditional minivan, but even some of the bigger duty [trucks] you can get front-wheel and all-wheel drive. The all-wheel-drive take rate generally is quite high in all those offerings; I do think it would be an opportunity for us." – Mike Szymkiewicz, head of product planning at FCA Canada.
Truth be told, all-wheel drive isn't invisible to the minivan segment. In fact, AWD was once very common before Chrysler and Dodge dominated the minivan market and released Stow 'n Go seating. Everyone wanted a piece of that pie, and with the introduction of the handy storage feature, the quick loss was an option for AWD. Adding a driveshaft to send power to the other axle would make the Stow 'n Go design problematic, and this could be why Chrysler ditched AWD in the first place – yeah, the automaker had it on their vehicles before.
According to a report from the Windsor, Ontario manufacturing plant for the Pacifica, that might change. Of course, there could be some confusion, or someone misread the report. Perhaps all-wheel drive is coming back to Chrysler, but not the Chrysler Pacifica. Maybe that new crossover for the Chrysler lineup will be the one to get all-wheel drive added to the option of drivetrains. However, FCA refuses to provide any intel, as par the course, and Automotive News cites Dino Chido, national auto director for Canadian auto worker union Unifor, that represents workers at the Windsor plant, and Joe McCabe, CEO of AutoForecast Solutions. In the article, Chido said the automaker is looking into an AWD Pacifica.
We'll see what happens with that. Follow us on Aventura Chrysler Jeep Dodge Ram social media for any updates.
Photo Source/Copyright: Car and Driver