Can the Jeep Wrangler 4xe Go the Distance?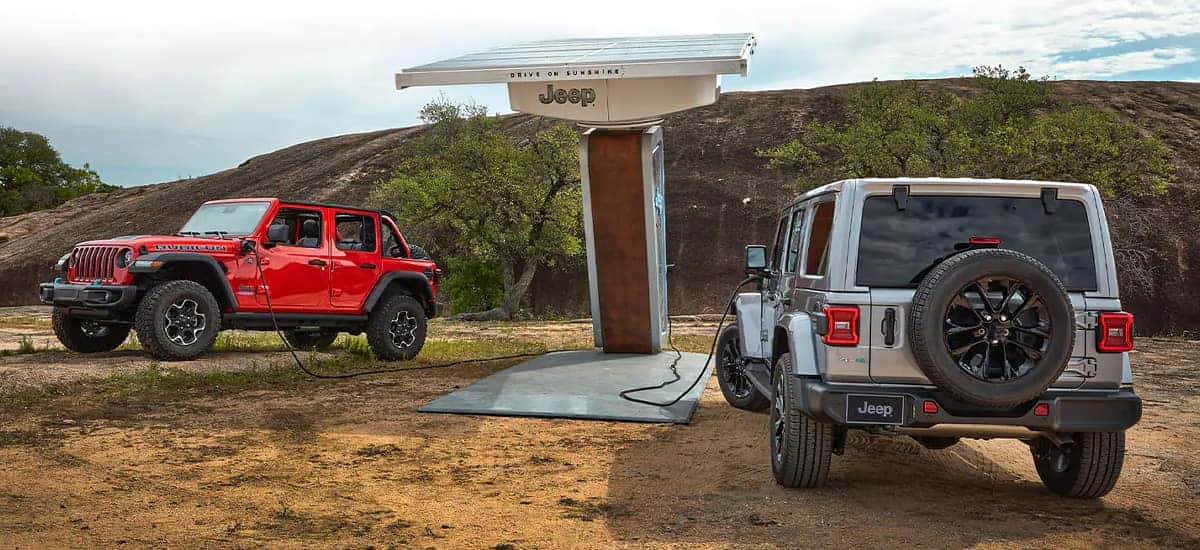 Can a plug-in hybrid electric vehicle (PHEV) really be a replacement for the true-blood all-gasoline off-road vehicles Jeep is known for? That's a question many Jeepers have been asking. Jeep models aren't just for going off-road – these vehicles are known for more than their rock-crawling prowess. Consumers also trust their Jeep to get them to their destination safely, with comfort and convenience, like all vehicles. Hybrids and plug-in hybrids tend to have better fuel efficiency and greater range, but does the all-electric range of 21 miles cut it? Aaron Bragman at Cars.com decided to put it to the test, and the results are surprising.
Here are the specs – the plug-in hybrid electric Jeep Wrangler 4xe is powered by a high-tech 2.0-liter turbocharged I-4 engine and a high-voltage battery pack that powers two electric motors. At the beginning of release, Jeep claimed the vehicle could travel up to 25 miles on electric-only propulsion, nearly silent and with zero-emissions, but the EPA-rating for this vehicle is only 21 miles on electric power alone. The total range of the Jeep Wrangler 4xe is said to be 370 miles, give or take with regenerative braking, but does 20 miles of electric-only power make it worth the extra dough a consumer needs to purchase a green vehicle?
The new Jeep Wrangler 4xe is available in three models –Sahara 4xe, Rubicon 4xe, and High Altitude. Like usual, the Rubicon trim is the trim that comes off-road ready right from the factory – including electronic locking front and rear differentials, electronic sway bar disconnects, a 4:1 low-range gear ratio, and a lifted suspension. Made to handle rock-crawling, off-road ready 33-inch tires are the standard, and the Rubicon comes with the Rock-Trac full- or part-time four-wheel drive. That's perfect for testing the true range of the Wrangler 4xe when it comes to going off-road, but what about distance? The Sahara and High Altitude are more focused on the street, equipped with full-time 4×4 systems, front and rear next-generation Dana 44 axles, and the Selec-Trac two-speed transfer case with a 2.72:1 low-range gear ratio.
For the Cars.com review, Bragman went with the Rubicon – readers may be thinking – well, wouldn't this just make the vehicle heavier, already hurting any possibility that the Wrangler 4xe has much to offer when only using the electric motor? That may be true, but like the regular Jeep Wrangler, the 4xe can get rid of the doors, the windshield, and the roof. So, how many miles can the off-road ready Jeep Wrangler 4xe Rubicon get when only powered by a battery?
30 miles. That's five more than Jeep estimated and nine more than the EPA rated the vehicle at. To be fair, Bragman took the Wrangler 4xe Rubicon through a designated mixed-speed route consisting of urban life, divided multilane boulevards, and moderate speed highway driving without going over 55. No off-road or dirt roads were actually driven during this test. On the way back, the Rubicon was put back together, and still, the 21-mile EPA rating was beat, with the 2021 Jeep Wrangler 4xe Rubicon getting 28.2 miles on electric power only (after recharging the battery).
Plug-in hybrid and electric vehicles (EVs) still have a lot of challenges to overcome in a market where gasoline is still the number one power source. With the industry shifting towards more eco-friendly choices, eventually the market will also shift. Let's take this test as a good sign that automakers are finding ways to go green and still deliver the reliable distance gasoline vehicles are currently known for. Whether looking for the 4xe or a regular gasoline-powered rock crawler, you can find your new Jeep at Aventura Chrysler Jeep Dodge Ram.
Photo Source/Copyright: Jeep