2020 Jeep Wrangler to Come with EcoDiesel Engine Option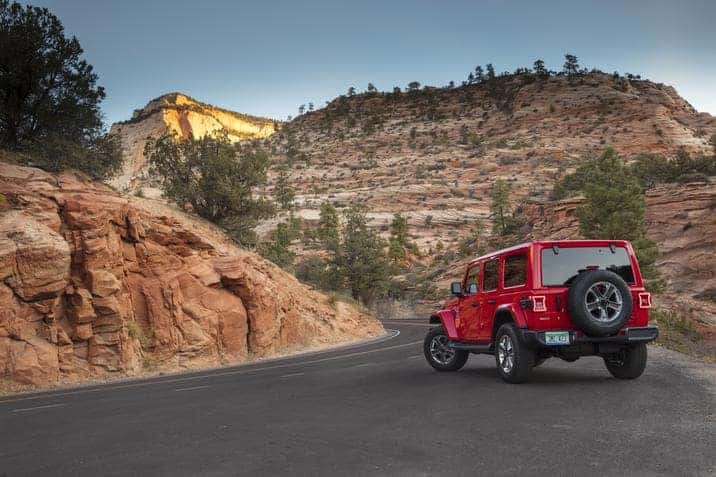 The Jeep Wrangler has some good news for the 2020 model year lineup. Now available with ultimate fuel efficiency and driving range, and 442 lb-ft of torque, the 2020 Jeep Wrangler has been improved with the new 3.0-liter EcoDiesel V6 engine. If Jeepers thought the Wrangler was already the most capable SUV, it's bringing the most fuel-efficient and highest torque-rated Wrangler engine with it. Too bad it will be limited to just a few models.
"One of the most common questions consumers have asked us over the last few years has been, 'will you please offer a Jeep Wrangler diesel?', and I'm pleased to answer that with a resounding, 'Yes!'…I recently drove the new Jeep Wrangler EcoDiesel on the Rubicon Trail and can unquestionably attest to its incredible off-road capability. Combining that unmatched off-road capability with the vehicle's fun-to-drive on-road performance, best-ever Wrangler fuel economy and incredible driving range underwrite the fact that our customers knew exactly what they were asking for." – Jim Morrison, Head of Jeep Brand – North America.
The brand new 3.0-liter EcoDiesel V6 engine, capable of generating at 260 horsepower and 442 lb.-ft. of torque, will only be available in the 2020 Jeep Wrangler four-door model. It's unclear why FCA would want to keep such a joy from two-door consumers, but for now, the powertrain option will only be made available to the Sport, Sahara, and Rubicon trims. For handling greater torque loads, the new EcoDiesel V6 has been optimized and paired with a newly added TorqueFlite 8HP75 eight-speed automatic transmission, most likely a result of the recently renewed contract between FCA and ZF to get hybrid transmissions ready.
Because the Sport, Sahara, and Rubicon trims all feature third-generation Dana 44 front and rear heavy-duty axles and a 3.73 axle ratio, they were the perfect choices to introduce the new EcoDiesel engine. These trims also come with two transfer case options – (1) the Rock-Trac two-speed transfer case, equipped with a 4.0:1 low-range gear ratio exclusive to Rubicon models, and (2) the Command-Trac part-time two-speed transfer case equipped with a 2.72:1 low-range gear ratio that can be found on the Sport and Sahara models.
Luckily, consumers won't need to wait for this powertrain option. The 2020 Jeep Wrangler EcoDiesel goes on sale during the final quarter of 2019. Wondering what makes it so good that the EcoDiesel engine can't wait until 2020? Designed with dual overhead camshafts (DOHC) with four valves per cylinder, the compression ratio has also been optimized to improve fuel economy and reduce engine noise. Even more helpful with fuel, this EcoDiesel V6 engine comes with stop-start (ESS) technology as a standard. Currently, the EcoDiesel is one of a kind, providing a lot of power with amazing fuel economy and minimal levels of noise, vibration and harshness (NVH). It's these kinds of upgrades that build on the EcoDiesel V6 engine's previous success and why the V6 continues to be a standard engine option in nearly every Fiat Chrysler vehicle.
When it comes to getting a Jeep Wrangler that can climb mountains and go the distance, there's nothing like a 2020 Jeep Wrangler. Look for your new 2020 Jeep Wrangler at Aventura Chrysler Jeep Dodge Ram today.
Photo Source/Copyright: FCA Media